What is the Difference Between Hariyali Teej & Hartalika Teej
Author:

Kirti

Published:

20th July, 2022
Teej is a prominent Indian festival celebrated during the monsoon season. The word "Teej" refers to the "third day or three days after" a new moon night. Therefore, people celebrate Teej, on the third day following a full moon night, which marks the beginning of the Monsoon season. Though Teej is celebrated twice a year, both occasions have different names and significance in Hindu mythology. So, let's dive into the history of Hariyali Teej & Hartalika Teej and know how it all began.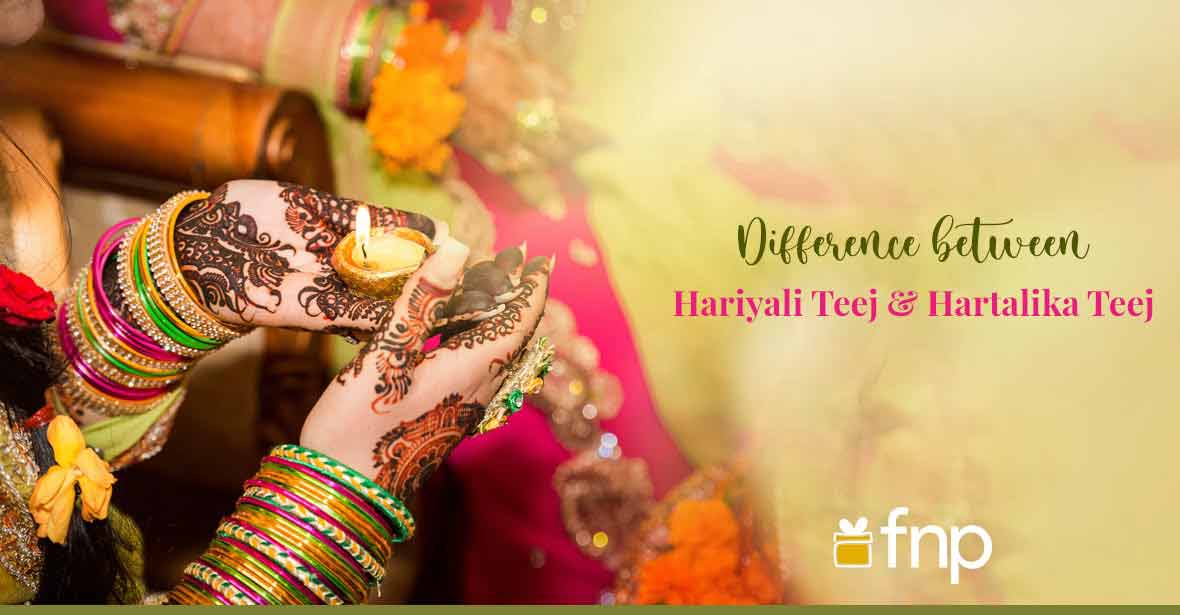 Hariyali Teej
Hariyali Teej happens on Shukla Paksha Tritiya or two days prior Naga Panchami. This holy festival has a high significance and is revered because it commemorates the marriage of Lord Shiva and Goddess Parvati. Coincidently, this ceremony happened three days after the full moon. After the ceremony, people started to see barren land turning green which binds the whole concept of Hariyali Teej.
To celebrate this day women wear new apparel and bangles of green colours, worship Lord Shiva and keep a "Nirjal Vrat" throughout the day. They also gather around to sing Teej-oriented songs and ride on swings while enjoying the festivities.
Hartalika Teej
According to mythological tales, Goddess Parvati was a devotee of Lord Shiva. She admired him a lot, however, her father, Himalaya, was determined to marry her to Lord Vishnu as he had promised Lord Vishnu for the union of his daughter. When Goddess Parvati was not able to convince her father, she reached out to a friend to kidnap her. Then, she went for a lengthy and intense meditation along the banks of the Ganga River to show her devotion to Lord Shiva. Even though Lord Shiva was a sage, he noticed her efforts that day and agreed to marry Goddess Parvati.
Hence, this day is named after the above story, as the word "Harat" and "Aalika" means "kidnapping" and "female friend" respectively. To celebrate the festivity, women keep "Nirjal Vrat". More so, as per the tales, it is believed that this fast will please God and shield their spouses, kids, and families from negative thoughts. Both married and unmarried women practise this fast. While married women fast on this day to pray for the long life and well-being of their spouses, unmarried women pray in the hope to get a husband like Lord Shiva.
Both Teej have different stories and significance, however, the key purpose of celebrating the festival is to honour Lord Shiva and Goddess Parvati's bond of love.