Why Do Chocolates Make the Perfect Gift?
Author:

Anushka

Published:

18th February, 2022
Soon to celebrate the birthday of the little one? Is a dear friend getting married? 50th anniversary of Mom and Dad? And the list of occasions and celebrations never cease to stop. If you are looking for a gift that suits all the occasions and makes them extra special, chocolates seem to take away the cake. Even after aeons, chocolates make the perfect gift both as an individual and hamper. The USP of them is that they are available in thousands of varieties and can be personalised to any recipient. Here are the prime reasons why chocolate makes the perfect gift.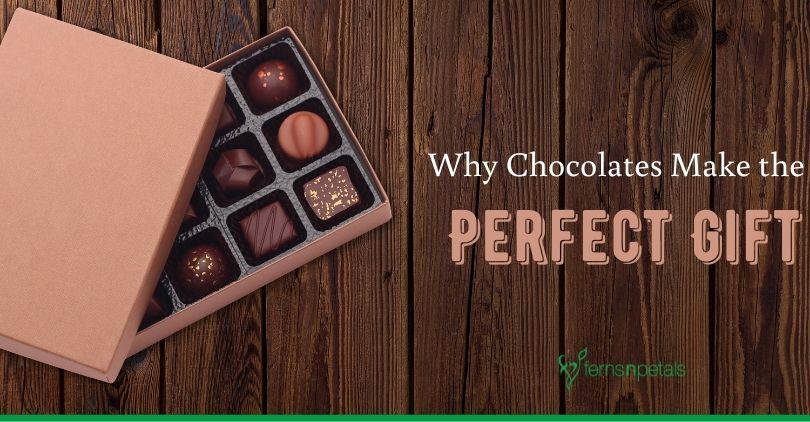 Oodles of Palate-Pleasing Flavours
Crunchy, soft and buttery! Chocolates are a versatile gift that comes packed with an array of flavours, combinations and textures. This way, it caters to every taste. You can choose from oodles of options such as cookies, cake pops, chocolate-covered pretzels, chocolate truffles, chocolate-covered fruits and so many more to meet every heart's needs.
An Expression of Love & Indulgence
Happiness comes wrapped in a gold wrapper! Yes, chocolates are the best gift that cast a love spell like no other. Be it chocolate truffles or a pack of assorted chocolates, a big smile spread over the recipient's face as they receive them.
Universally Appealing & Acceptable
There would hardly be a person who doesn't love chocolate. From millennial to Gen X and Gen Z to Boomers, chocolate carries a sentimental value, is enjoyed by (almost) everyone and the love for it goes beyond borders. Merely a bar of chocolate says 'I am thinking of you' or 'Hope you are doing well'.
Luxurious Gift that is Affordable
It's among the luxurious gifts that are affordable and can be enjoyed by everyone. Whatever is your budget, you can afford a high-end chocolate treat for your near and dear ones, without having to cut corners. Even the premium variants of chocolate are affordable and sure to make the recipient feel spoiled.
Health Benefits
Cocoa (a pure form of chocolate) contains mood-boosting antioxidants that increase the level of endorphins in the brain. Then there is dark chocolate that is good for the heart, protects skin from the sun, can improve blood flow and even lower blood pressure.