Exploring the Celebration of Hariyali Teej
Author:

Anushka

Published:

19th July, 2022
India is a land of exciting cultures, traditions and festivals. Among them is Hariyali Teej that leaves every face and heart smiling wide. It is essentially observed and celebrated in North India during the Sawan (the fifth month of the Hindu calendar). The festival holds high significance for married women and is celebrated with much fanfare. Applying Mehendi, wearing new clothes, dancing, singing and of course eating sumptuous food, there is a lot more to the festival. Here're the significant details of the festival.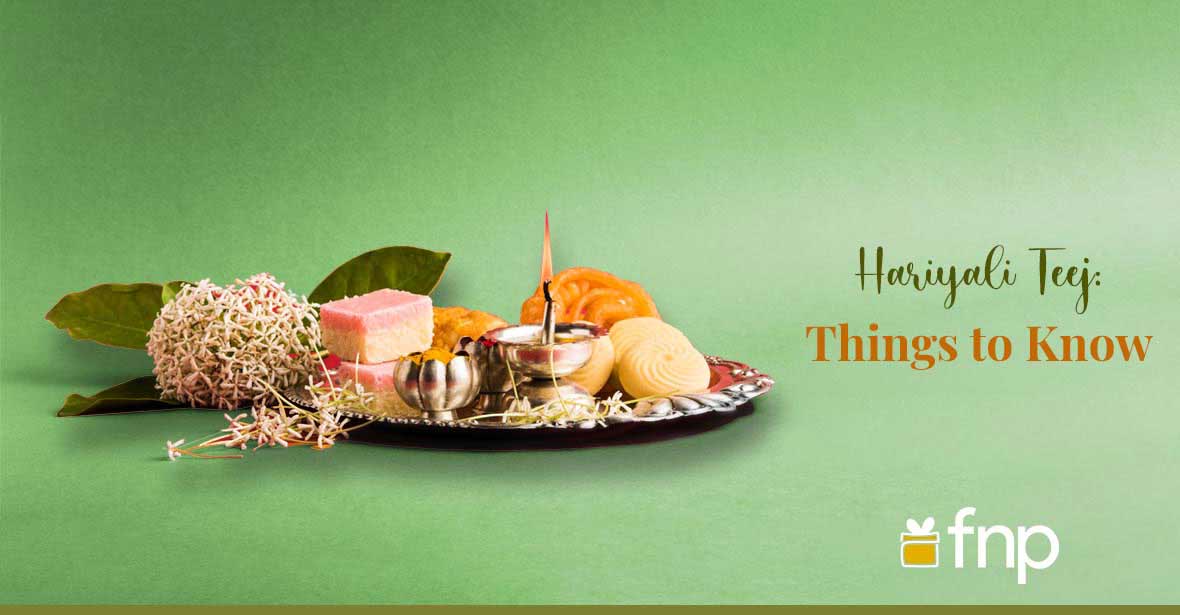 Why is Hariyali Teej Celebrated?
The Teej festival celebrates the holy union of Lord Shiva and Goddess Parvati. And like every festival has a story associated with it, so is the story of Teej or popularly known as Teej Vrat ki Katha. The legend has it that Goddess Parvati is the incarnation of Sati, Lord Shiva's first wife. He became withdrawn and grief-stricken after she set herself on fire when her father disapproved of her match with Shiva. And it took her 108 births until Lord Shiva accepted her as his wife again.
Goddess Parvati is also called Teej Mata and Hariyali Teej is observed in the memory of her penance and devotion. On this day, married women keep vrat for their husbands' long life, whereas unmarried women keep vrat to get a husband like Lord Shiva.
How is Hariyali Teej Celebrated?
Women come together to pray and observe fast for a peaceful and long married life. They dress up in their finest clothes and jewellery and worship Goddess Parvati. They get their hands decked with henna (Mehendi), accompanied by special Teej festival songs. Then there are swings where women take turns to joyfully swing on them while others sing, dance and play instruments around. Ghewar, laddoos, potato halwa and sabudana kheer are some of the sweet delicacies prepared and consumed during this festival.
These are different ways to celebrate Teej in some of the cities in India:
In Gujarat, women dress up in traditional attire, carry pots on their heads while singing songs in the glory of Teej Mata.
In Vrindavan, swings are set up in all the shrines where deities are made to swing and thus, the festival is also known as Jhulla Leela there. As the procession is taken out, the idols of Radha-Krishna are taken out of the temple and made to swing in a gold-ornamented swing.
The women of Maharashtra can be seen sporting green-coloured clothes and jewellery. They wear golden bindi and also apply Kajal for luck. A picture of painted coconuts is presented by them as a Teej gift to near and dear ones.
Well, that was all you needed to know about Hariyali Teej. To conclude, just like all other festivals, Hariyali Teej also brings people together and gives out the message of love. Celebrate the festival with full faith and in the traditional manner to enjoy its true spirit.