Handmade Gift Ideas for him
Author:

Shivangi

Published:

21st Dec, 2020
The sweetest gesture that wins everyone's heart is devoting time and effort in creating a handmade gift. No matter how small the gift is, it holds immense significance for the receiver. Preparing a handmade gift that can express your feeling and affection for the receiver is quite easy but requires a lot of patience. To make the special occasion of the men in your life a legendary affair, here is a bundle of handmade gift ideas for him that will leave him teary-eyed and will fill him with glee at the same time! Scroll down for impressive ideas!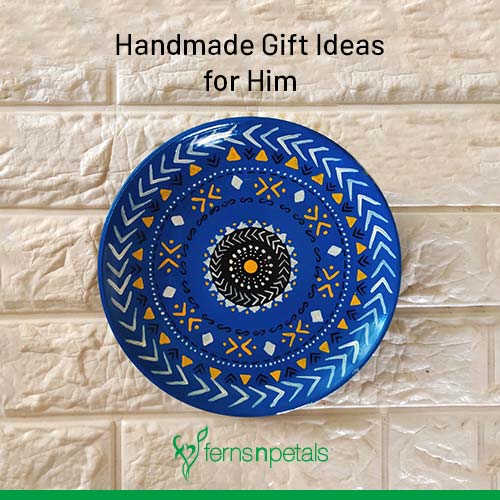 Bake a Cake
To sprinkle sweetness on your husband's or father's birthday, you can bake a delicious chocolate cake easily at home. The freshly baked cake has the power of impressing everyone and bringing a smile on their faces.
Handmade Chocolates
If the receiver is a fan of chocolates, then nothing will make him happier than chocolates. Get in the kitchen, make scrumptious chocolates and surprise him with your chocolate-making talent!
DIY Photo Frames
A thoughtful gift made with love always wins hearts. Take a print out of your favourite pictures of your husband or boyfriend, and make a photo frame with paper flowers or fresh flowers. The photo frame will be a token of your love, and he can cherish it forever. You can explore DIY videos and select the one that appeals to you.
Mason Jar with Quirky Notes
The easiest and the one that has the most value is a mason jar with quirky notes. Buy a small mason jar, paint it and add Led lights in it. Take a few chits and write quirky messages for your partner. These notes will surely leave him in awe.
DIY Lip Balm
Men need to be taken care of, and little things like a lip balm will indeed make him feel that you care. You can prepare a DIY lip balm by beeswax, shea butter, coconut oil, rose petals and essential oils. Collect all the products, take a look at a DIY video and prepare a soothing lip balm for him.
These handmade gift ideas for him are straight out from the list of things that men love. On this birthday or anniversary, go a little extra and make splendid handmade gifts for your husband, father, brother or a male friend and make them feel that they are irreplaceable and that you love them.