Why you Should Gift Birthstone Jewellery?
Author:

Anushka

Published:

09th May, 2022
There is nothing as exciting as buying/gifting something unique or considerate that celebrates your/their individuality. Whether you're playing a secret Santa, celebrating your sibling's birthday or simply want to treat yourself to your promotion - birthstone gifts will take the cake. From a classic pendant to a statement ring - the birthstones sit beautifully in the middle of each piece of jewellery. Altogether, birthstones are all in rage right now - and for all the right reasons! Keep reading to know what makes birthstone jewellery so special.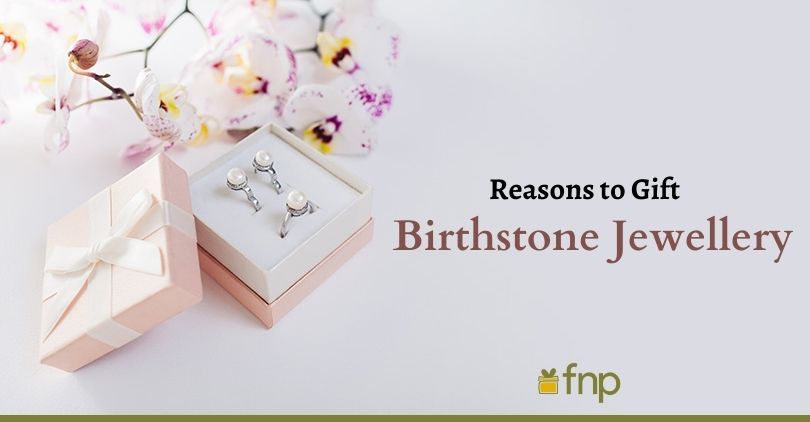 Unique and Personal: Each month features a special birthstone(s). Therefore, when you give someone birthstone jewellery, it shows you pull out all the stops to find something unique and meaningful. This will, in turn, make them feel valued.
Improves Heart Health: Laughing can also turn out to be a cardio workout for you, it gets the heart pumping. It is particularly the best alternative for those who are not in a condition to do any physical activity/exercise.
Usher in Luck and Protection: Wearing a birthstone is said to bring good luck, health, wisdom and wealth. Birthstones indeed are associated with special powers and privileges. Wearing one will make you feel energised, powerful and safe and protected as well.
Healing Properties: Just like birthstones are believed to welcome good luck, they are also said to reap the benefits of the healing qualities of the planet in concern. Each gemstone has different healing properties. For example, Opal (October's birthstone) radiates energy that boosts confidence, self-awareness and self-actualisation. Aquamarine, the birthstone of March, is believed to relieve the wearer of ailments related to the stomach, jaws, throat and liver.
Make Fashion Statement: Birthstones do make a fabulous fashion statement. These sparkly and bewitching pieces of stones make the heads turn like no other. Also, they are extremely versatile. Raw, polished or carved into different shapes - you can design them according to your personality and style.
A Beautiful Keepsake: Whether you choose to buy them for yourself or gift them to someone on their special occasion, birthstone jewellery is something the receiver is likely to enjoy forever. Also, given their positivity and symbolism, the gift will be well-loved and worn.