What Makes Thrissur Pooram Festival So Popular?
Author:

Anushka

Published:

08th April, 2022
In India, seldom a day goes by without any celebration. It is truly the land of festivals where people (from different cultures, ethnicities, religions and geographies) honour their heritage and culture with sheer enthusiasm. One such festival, that founds its roots in the land of coconuts, is Thrissur Pooram. Thrissur Pooram is a pious festival that is celebrated at the Vadakkunnathan Temple in Thrissur on Pooram day every year. Decorated elephants, firecrackers, parasols, music, delicacies, decorations - the festival brings out the true spirits of Keralites and all the spectators. What makes this festival so popular? Keep reading to know all about this royal festival.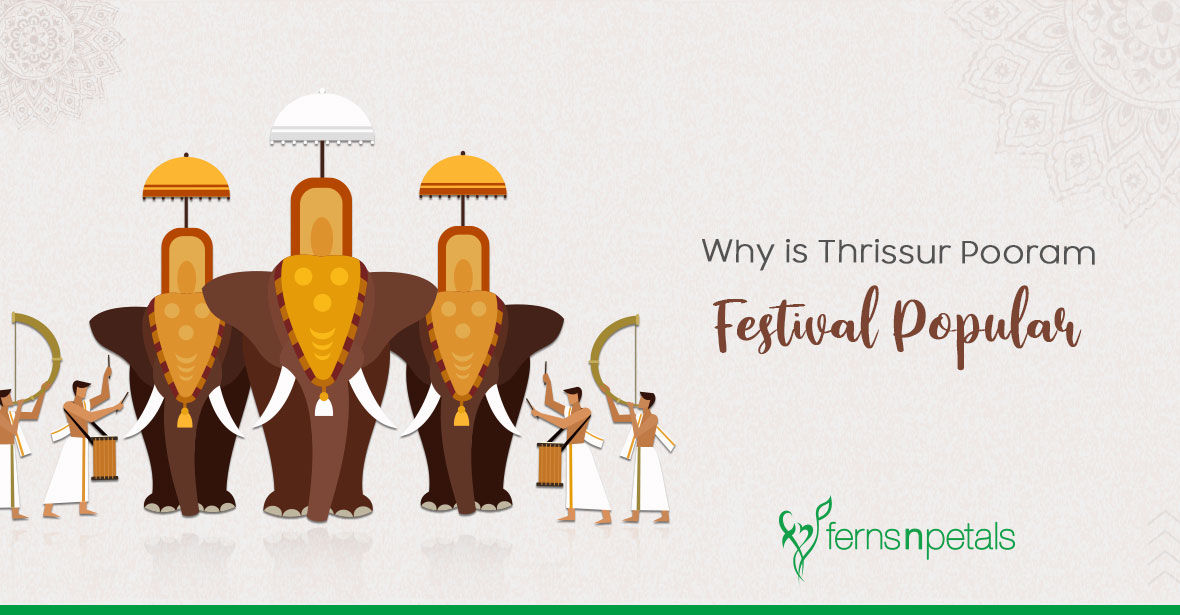 Thrissur Pooram - An Explosion of Sound & Colours
Celebrated annually in the Malayalam month of medam (April to May), Thrissur Pooram falls on Pooram day, when the moon rises with the Pooram star. This Pooram festival is the mother of all Poorams. Thrissur Pooram brings out the real culture, festive essence and way of living of South Indians. Gods and Goddesses are believed to visit the Vadakumnathan Temple premises during the festival on caparisoned elephants with grand ensembles of Chenda melam and Pancha Vadyam during this festival.
The festival is seven days long that begins with the Kodiyettam (or flag hoisting) ceremony. Post this, the kudamattom ceremony (a line-up of vibrantly decked up elephants) and ilanjithara melam (performance of traditional instruments) takes place. On the fourth day, there is a colourful and incredible display of firecrackers that leaves everyone feeling frenzied. On the sixth day (the main Pooram day), the Raja and the priests of two important temples - the Thiruvambadi Sri Krishna temple & the Paramekkavu Bagavathi temple - pay respect to Lord Shiva; the presiding deity of the Vadakkunnathan temple.
The priests of the other two temples and their processions stand opposite each other on this day to celebrate Lord Shiva with His idol placed in the centre. These two temples (healthily) compete with each other during the procession. Fifteen decorated elephants are brought from each side who compete with each other and accoutrements are added with precision.
History Behind this Extravaganza
Before the advent of Thrissur Pooram, the only major festival celebrated in Kerela was the Arattupuzha festival. One day, the devotees couldn't make it to the latter on time and since they arrived late, they weren't allowed into the premises of the temple. The officials informed Raja Rama Varma, the Maharaja of Cochin, about everything that happened. He, at once, declared another more extravagant and huge festival to make up for the eviction. He united ten temples that were situated around Vadakkunnathan Temple including Paramekkavu, Karamucku, Thiruvambadi Kanimangalam, Laloor, Ayyanthole, Choorakottukara, Chembukkavu, Panamukkampally and Neythilakavu. This marked the beginning of the pompous Thrissur Pooram festival as you know it today!