What do Holi Colours signify?
Author:

Anushka

Published:

22nd February, 2022
With February coming to end, it's time for one of the most awaited festivals in India, i.e. Holi. From chugging thandi-thandi bhaang to devouring sinfully delicious treats and from grooving to rich music to shouting Holi hai! Holi is a time of fun, merriment, joy and of course, colours. Though Holi celebrations vary according to different states, the central ritual of Holi revolves around throwing and enjoying vibrant bursts of water and powdered colours. Besides, each colour symbolises a feeling. Below is what some colours stand for: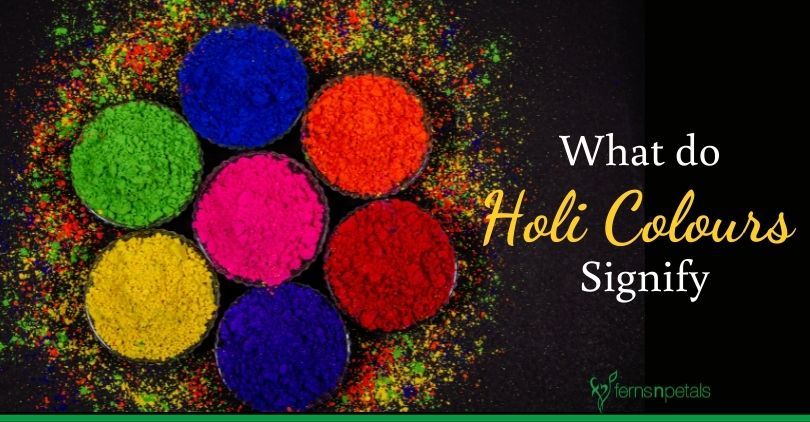 Red Colour
Popularly known as Gulaal, red is the most used colour and is associated with joy and happiness. It symbolises love, passion, fertility and weddings. It is associated with sindoor - a tilak worn by married women along the parting line of their hair - to symbolise marriage. Some people put up tilak or red dot as a sacred mark of protection and also put it on deities. More so, the red colour is one of the most popular and highest selling Holi colours online.
Yellow Colour
This bright and happy colour is associated with knowledge & learning and symbolises happiness & good health. The yellow colour was made using turmeric powder in the olden days. It is also related to God Vishnu, who is often depicted wearing a yellow-coloured dress.
Pink Colour
A colour of kindness and positivity, applying pink colour conveys the feelings of care and compassion. It's a commonly used colour of the festival and is usually prepared from beetroot.
Blue Colour
Blue is the symbol of life and strength. It is the colour of Lord Shiva. Lord Shiva or Nilakantha, the blue-necked one, is called so as he gulped down a pot of poison, blue in colour, to save creation. Blue reminds us that evil exists but can be overcome through courage and the right actions.
Green Colour
The colour green symbolises the new beginnings, freshness, virility and harvest. It also represents nature and its beauty. In some parts of the country, married women wear a green sari and bangles to honour Lord Rama. It is also a revered colour of Islam.
Purple Colour
It is a magical and mysterious colour hat symbolises new possibilities. The colour is vibrant, happy and soothing. People put it on each other while wishing Happy Holi.