Holi Celebrations in Different States
Author:

Shivangi

Published:

20th March, 2021
Famed as the Festival of Colors, Holi is celebrated with great gusto and excitement. This vibrant festival marks the beginning of the spring season in India. The first day is a joyous celebration of victory of good over bad. The second day is coated with colours, sweets and family celebrations. India is a religiously and ethnically diverse country and it is even evident in the way different states celebrate this fun-packed festival. If you are keen to know about how the Festival of colors is celebrated, then you must take a look at our detailed guide about Holi celebrations in different states. Scroll down to know more!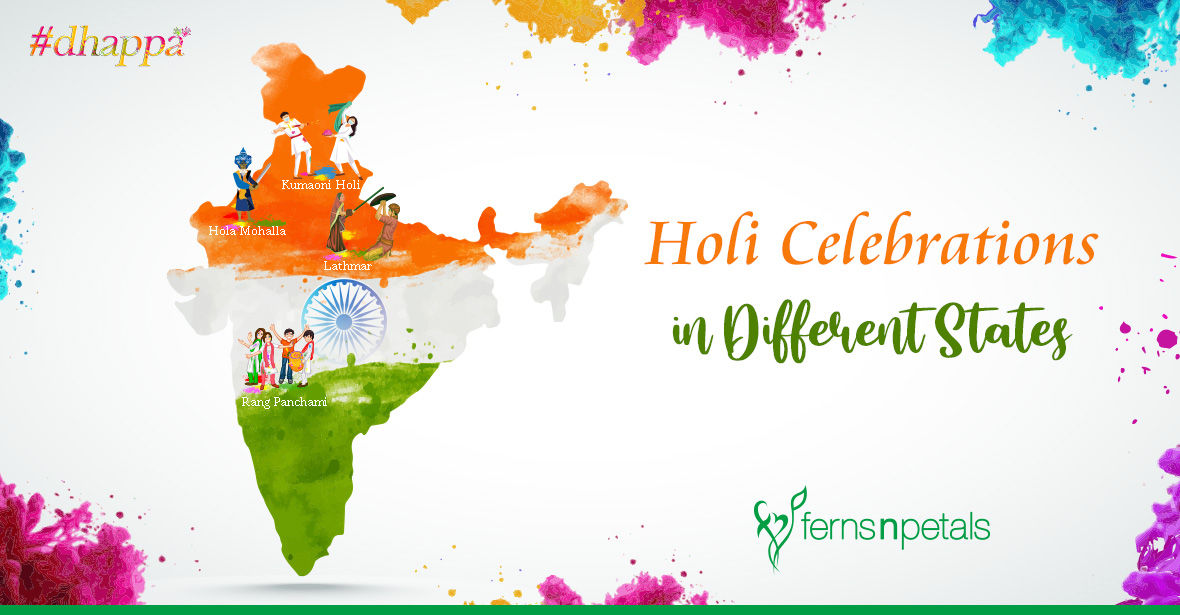 Maharashtra
Called Shigma or Rang Panchami, Holi celebrations are started after the sunsets in Maharashtra. On the first day, the tradition of lighting up a pyre of firewood is followed to celebrate the triumph of good over evil. The next day is all about playing with gulaal and coloured water while gorging on delicious sweets.
Uttar Pradesh
Uttar Pradesh is famous for its Lathmar Holi or Holi Milan. In this state, Holi is celebrated in different ways. In Mathura, Barsana and Vrindavan, there is a unique way of playing Holi. The women run after the men and hit them with Lathis (cane sticks) playfully and the men carry a shield and save themselves. Women sing folk songs on Holi in Uttar Pradesh and in some parts a fare is also organised which is called the Holi Mela.
Punjab
Holi is known as the Hola Mohalla in Punjab. It is mainly dedicated to the warriors and is celebrated a day before the actual festival. You can witness the interesting display of martial arts, horse-riding, and reciting poetry. The whole celebration is dedicated to the brave Sikh warriors also called Nihang Sikhs. The next day the whole state plays with colours and celebrates wonderfully.
Goa
Holi is popular as Shigmo in Goa. A carnival is organised on the main day. The locals play with colours, sing traditional folk songs, and street dances are performed. The two famous customs of Shigmo are Dhakto Shigmo and Vhadlo Shigmo. The former means small Shigmo and the latter refers to big Shigmo. Vhaldo Shigmo is celebrated by all the locals and Dhakto Shigmo is celebrated by farmers, labourers and the rural population.
Rajasthan
The royal state of Rajasthan celebrates Holi in a lavish way. The traditions of the Mewar royal family are followed. On the first day, a bonfire takes place and it is followed by fabulous horse parades and the royal band parades.
Uttarakhand
In Uttarkhand, Kumaoni Holi is celebrated in the Kumaon region. In this state, Holi is celebrated with music and colours. Baithaki Holi, Khadi Holi and Mahila Holi are three different forms of Holi in Uttarkhand. The locals sing folk songs and play classical instruments on Baithaki Holi. On Khadi Holi, the local men dress up in traditional dresses and dance on Holi Songs. Mahila Holi is for women and is similar to Baithaki Holi.
Kerala
Manjal Kuli or Holi is celebrated in Kerala in a very simple way. The locals sing folk songs and play with watercolours that have turmeric. These festivities take place near temples.