Holiday Food Traditions Around the World
Author:

Priyanka

Published:

19th March, 2021
Holidays are a wonderful time. It's that time of the year when everybody's home, away from all the work-related pressure in the world, enjoying life amidst the warmth and love of their families. Comfort is what everybody searches for during this time: The comfort of your home, the comfort of your family and the comfort of some home-cooked traditional food. But holiday traditions vary around the world and so does the food. Next time you find yourself on a flight around the world during the holiday season, don't forget to try out some of these holiday specialities: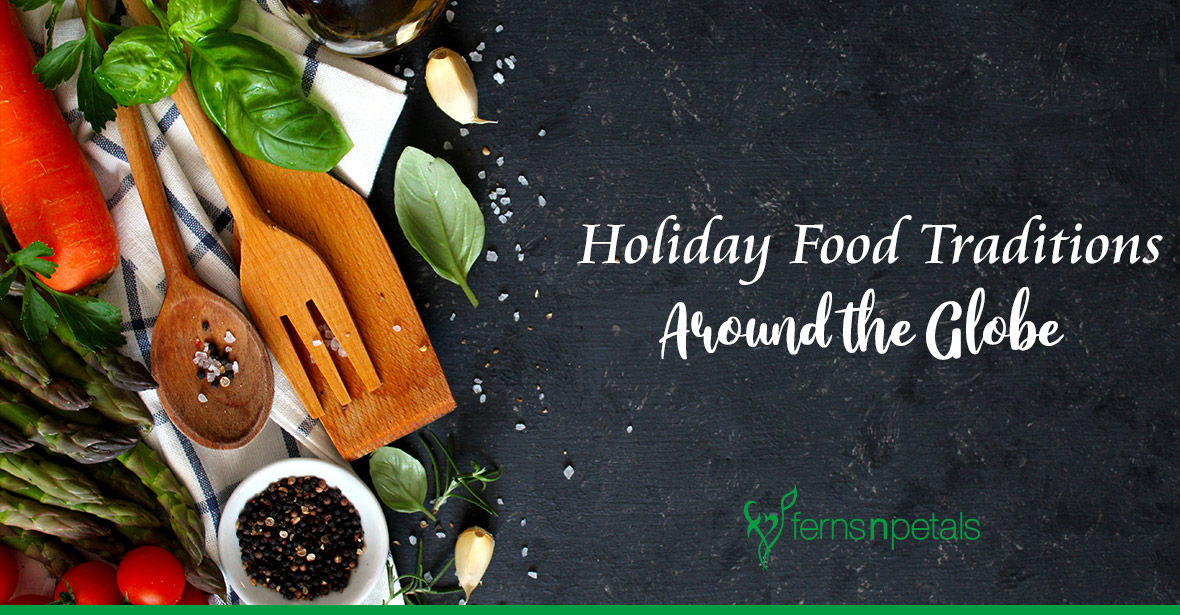 Japan: KFC on Christmas Eve
As deep-rooted as the Japanese are known to be in their culture, there is something very shocking about this Christmas tradition in Japan. KFC, an American fast-food restaurant chain, is where people choose to have their customary holiday meal every year. Allegedly, the process of placing an order with them for Christmas Eve starts two months prior to the D-day.
Israel: Latke on Hanukkah
This one takes a page out of the Bible. Quite literally! Hanukkah is celebrated to mark the happening of a marvel during the Maccabean Revolt, when a day's worth of oil miraculously lasted for eight days, allowing the Temple of Jerusalem to remain lit for all eight days. This is the same reason why everything eaten during this holiday is fried in oil. Latke is a particularly famous dish eaten during this time. It's a type of fried jelly doughnut that is had with applesauce or some other sweet topping.
Italy: Lentils on New Year's
It is a tradition for friends and family to gather around and eat together from a big pot of lentils on New Years in Italy. The celebration is called "La Festa di San Silvestro" or St. Sylvester's Feast. Italians associate money and prosperity with legumes and therefore believe that eating them together as a family will bring prosperity to them.
Iceland: Hangikjöt on Christmas
Popular holiday food in Iceland, Hangikjöt literally translates to 'hung meat' in English. It's a non-vegetarian dish made of either smoked lamb or mutton, which is hung in a smoking shed for weeks before consumption. The smoke gives it a nice, slightly burnt and salty flavour. On Christmas, this side of meat is eaten with potatoes, red cabbage pickle, green beans with a coat of white béchamel sauce.
China: Traditional Lunar New Year Feast
Much like the thanksgiving dinners worldwide, the Chinese go all out on Lunar New Year. It's one of the widely celebrated festivals in the country and the food is, without doubt, the best part of the celebrations. A traditional Spring Festival spread would include:
'Nian Gao' - A rice cakes dish that changes according to the region it's made in, but falls on the savoury side of the table, nonetheless.
'Chang Shou Mian' - A type of noodles that are believed to increase one's longevity. They are uncut and every strand is supposed to be eaten in a single go.
'Yu' - whole steamed fish. This is a common sight on any traditional Chinese feast table. The word 'yu' in Chinese is synonymous with luck and therefore eating a whole fish is supposed to bring prosperity the next year.
'Jiaozi' - This translates to dumplings. Some families have a tradition of putting a coin in one of the dumplings and whoever in the family gets it is supposed to have a lucky year (monetary wealth-wise).