Vishu: Significance & Celebrations of Kerala New Year
Author:

Anushka

Published:

13th April, 2022
Vishu, or Viṣu, is a spring festival that is primarily celebrated in Kerala and some areas of Tamil Nadu, India. It marks the New Year of the Malayalam calendar as well as celebrates the harvest festival in Kerala. Wondering about the significance of the festival? Keep reading to know all about this festival that embodies new hopes, beginnings and aspirations.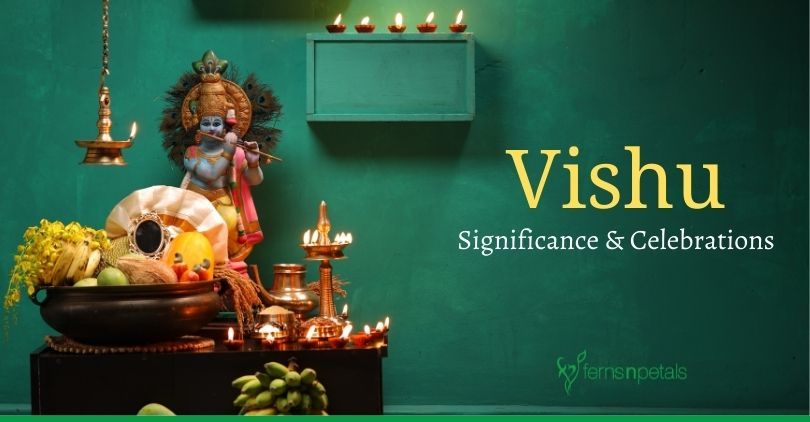 When is Vishu Celebrated?
As per the Malayalam calendar, the festival falls at the beginning of Meda Rashi; the first zodiac sign and the first day of the Medam month. It falls usually in the second week of April as per the English calendar. Traditionally, this harvest festival welcomes the season of spring.
What is the Significance of Vishu?
The term 'Vishu' means 'Equal' in Sanskrit. Hence it celebrates the spring equinox when day and night are of equal length. Also known as the day of Mesha Sankramam or Mesha Sankranti, Vishu is dedicated to Lord Vishnu and Lord Krishna. Vishu Kani, Vishu Kaineettam and Vishubhalam are the three highlights of this festival.
What is Vishu's Mythological Connection?
There are several mythological tales linked with the celebration of Vishu. One such story is when Lord Krishna killed the demon Narakasura. Another story goes that Vishu is celebrated as the return of Surya Dev. Some people say Ravana, the demon king, had prohibited Surya Dev or the Sun God to rise from the east. It was on this day, after Ravana died, that the sun or Surya Dev started to rise from the east. Since then, people celebrate Vishu with great zeal.
What are the Rituals of Vishnu?
People begin with early morning prayers.

In every household, the mother prepares Visukkani. It is arranged using coconut rice, cucumber, areca nuts, jackfruit, betel leaves, gold ornaments, coins in a silver cup, mangoes, a metal mirror, and lemon, along with a lit metal lamp in the centre. The setting is then placed before the idol of Lord Vishnu or Krishna.

The family members see the setting of Vishukkani first thing in the morning. It is believed to bring prosperity and herald a good year.

Konna, a special yellow flower, is a must in the Vishukkani.

People recite the holy text of Ramayana near the sacred setting of Vishukkani. It is a belief that the Ramayana recital has a sacred effect on the entire household.

Then there is a special feast called 'sadya' that has a pop of all flavours. The feast generally consists of rice, sambar, banana chips, curries, pickles, cabbage thoran and rasam.

Later, in the evening, children burst firecrackers and receive money & clothes as a gift from family and friends.

On this auspicious day, people also distribute coins to the unprivileged.

People look their best on this day. They wear new clothes. Women are usually adorned with gold ornaments and men can be seen wearing the traditional 'mundu' along with khadi shirts.