Ganga Dusshera 2022: Know its History & Significance
Author:

Anushka

Published:

24th May, 2022
India is a land of festivals. And we can see a myriad of festivals-religious, celebratory, related to seasons and linked to life. Among all these festivals celebrated in this country, Ganga Dussehra holds a lot of importance. Also known as Gangavataran or Dasar festival, Ganga Dusshera is a holy festival that celebrates the descent of the sacred Ganges to Earth. It is among the most auspicious festivals of the Hindu faith that goes on for a period of 10 days. Read on to know about its history, legends, significance and celebrations.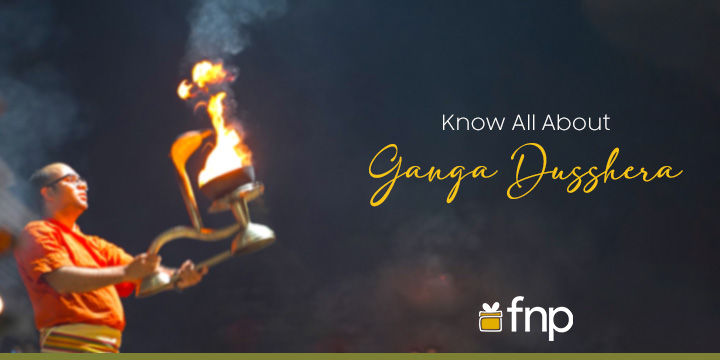 The Legend of Ganga Dussehra
There is a legend that goes that there was a king named Bhagiratha. He wanted to free the souls of his ancestors from Sage Kapila's curse. To help them attain Moksha, he performed intense prayers and rituals to please Lord Brahma and seek his blessings. Impressed, Lord Brahma blessed him by releasing the sacred Ganga from his Kamandal.
However, since the river was not ordinary, Ganga's sudden descent on Earth could prove devastating for the Earth and its people. Therefore, Bhagiratha prayed to Lord Shiva to hold the waters of Ganga in his matted locks and prevent destruction. Soon, when Ganga was released to the Earth, along she also brought the purity of heaven.
The Significance of Ganga Dussehra
The 10-days festivities of Ganga Dussehra stand for the 10 propitious Vedic calculations that signify Ganga's power to wash ten sins linked with actions, thoughts and speech. According to the legends, it is believed that those who offer prayers on this day are sure to attain salvation.
Also, on the pious occasion of Ganga Dusshera, the celebrants recite the Ganga Stotra to get relieved from all the sins they may have committed during their lifetime. Taking a dip in the holy water of Ganga is known to heal the devotee from any physical ailment as well.
The Celebration of Ganga Dussehra
Ganga Dussehra is celebrated with great enthusiasm in Varanasi, Allahabad, Rishikesh, Garh-Mukteshwar, Haridwar and Prayag. The priests perform aartis in the evening. Thousands of earthen lamps/leaf boats laden with flames are put to float while singing hymns in the praise of Goddess Ganga.
There is a great importance of the number ten as well. For example, people take ten dips while taking a bath in Ganga, there are ten types of lamps, flowers, oblations on the day and many more.
Also, devotees participate in humanitarian work by providing help to the unprivileged.