Beginner's Guide to Growing a Bonsai Tree
Author:

Anushka

Published:

1st October, 2021
Today's fast-paced, busy life of the 21st century has all of us reeling under worry and stress. Also, the hustle-bustle of city life has distanced us from nature. Therefore, people are getting more and more inclined towards buying or growing gorgeous greens not only to add bold green statements but also to boost positive vibes and stay sane.The bonsai tree is one such plant that has everyone awestruck with its beauty and cute size. This dwarf-potted tree has become the perfect houseplant that has everyone obsessed over it. If you have your heart set on the Bonsai and are confident enough that you can grow a Bonsai on your own, here's a beginner guide to growing a Bonsai.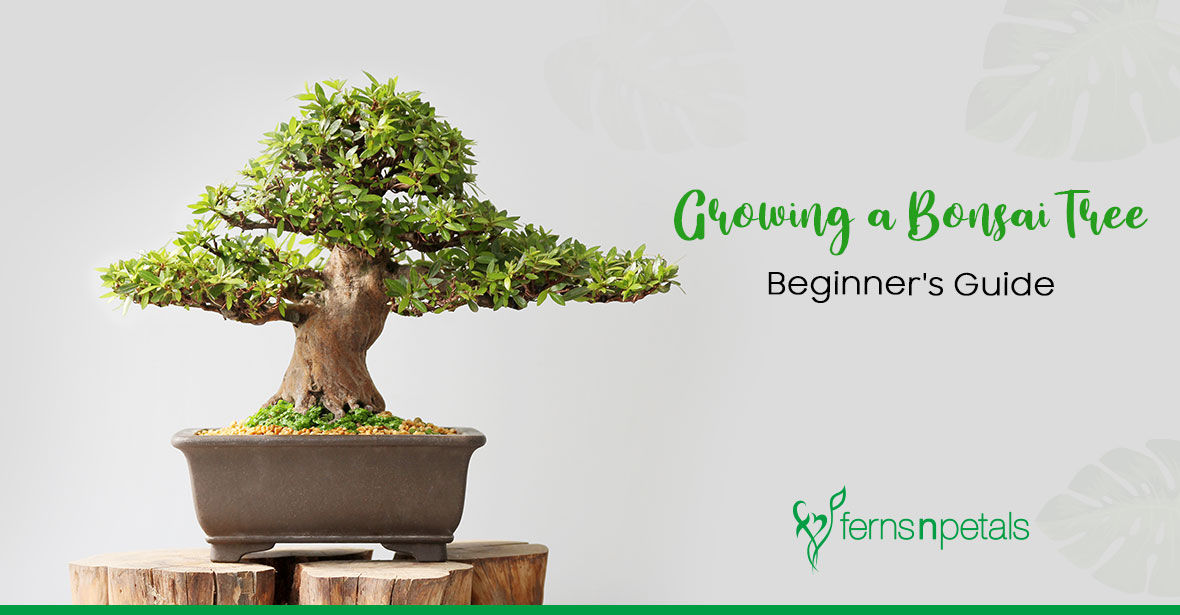 Select your Bonsai tree

Though Bonsai can be made from almost any type of tree, go for the one that has a thick trunk and will stay little. The most preferred choice is the Japanese Juniper as it can withstand the northern climate as well as some warmer regions. Other popular choices include pines, yews, oaks, cedars, Chinese elm and fichus. Before taking a final call, decide whether your tree will live under full sun or complete shade. That way, you can choose to grow your tree outdoors or indoors.

Choose the Right Container

You can go for a container made of either ceramic, rock or stone. Whicher style or material you choose, make sure that it has at least two drainage holes in the bottom. Do note that a small container is equal to a small tree.

Prune the Root Structure

Now is the time to decide how your tree would look once fully grown. To shape the tree your way, use string or sturdy wires. Next, remove the tree carefully from its original pot to keep the root structure attached. Also, don't sweep off the dirt from the roots and trim them such that you have long slender roots. Now put coarse-grain soil in your pot and then add a layer of rich growth medium. Make sure you leave a little space at the top to cover the tree's roots. Now shift the tree in the pot and cover the roots.

Set in an Ideal Condition

Depending on your choice of placement (indoor or outdoor), place the potted tree in the ideal place.

Water & Prune the Tree

Water the tree as required. In case the tree has leaves, prune the tree with pruning shears. Cut off the branches that are growing vertically and are tough to bend. Also, cut branches that hide the front of the tree's trunk. Don't forget to remove the branches near the top of the tree that is too thick.
You can also buy Bonsai online anywhere in India through Ferns N Petals.