Tropical Plants that Can Grow Indoors
Author:

Anushka

Published:

22nd December, 2021
Do you want to bring the earth tones, natural hues, tropical paradise and nature-inspired space in your house? Well, you're in luck as mother earth has blessed mankind with beautiful and blooming tropical beauties that grow well indoors. Despite the name 'Tropical', they are gorgeous, amazing, glossy and easy to grow inside. In fact, many of the tropical plants have a liking for the typical home environment. We have rounded up some of the popular indoor tropical plants that are easy to take care of and can thrive for years to come.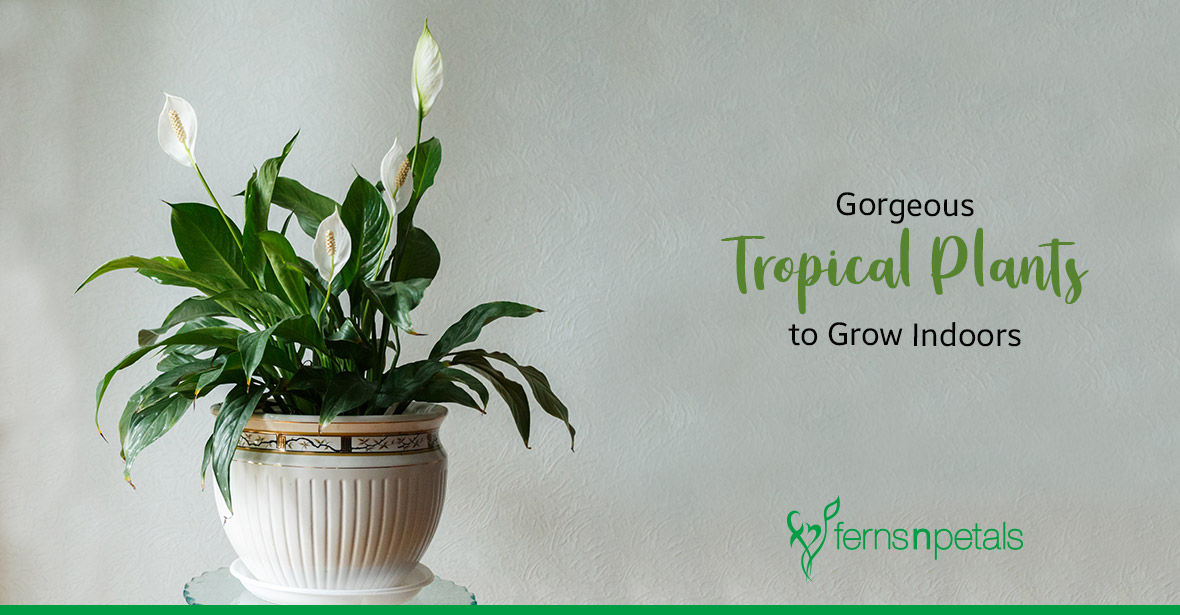 Peace Lily
Peace Lily needs no introduction! It's a beautiful houseplant that is celebrated for its beauty, deep-green foliage, long-lasting blooms and low maintenance. The plant is easy to grow even for someone with a black thumb and contributes gorgeously to your decor. Besides, they are highly beneficial in keeping the surroundings clean. Avoid keeping it in direct sunlight.
Golden Pothos
Another tropical houseplant that thrives well indoors is Golden Pothos or popularly known as, Money Plant. Featuring long vines and heart-shaped leaves, the plant can be grown in a regular pot. Likewise, Peace Lily, Golden Pothos is an excellent, natural air purifier that can even ignore moderate drought. Just keep it away from direct sunlight and water at regular intervals to keep it lush and green.
Air Plant (Tillandsia)
Air plants aka Tillandsia are perfect tropical plants for small-space living and great for people with a brown thumb. This tropical plant doesn't require potting soil and needs just minimal care on your part. Just keep them in a space with good lighting so that they grow their best. Rest, you can place them anywhere in your house and just watch them add a flair of tropical in any room.
Elephant Ear
Featuring large and dark green leaves, the Elephant ear plant contributes well to your home decor. It is the most popular tropical foliage plant that can be found in multiple hues including Black coral, Coal miner, Blue Hawaii and Diamond head.
Umbrella Plant
Umbrella plants make wonderful tropical houseplants. Their long, oval, shiny and dark green leaves sit gracefully and beautify your indoor space like no other. It doesn't do well in direct light so make sure to prevent it from the brunt of sun rays.