Know All About the Favourite Flowers of Hindu Gods
Author:

Anushka

Published:

24th September, 2021
Patram puspam phalam toyam, yo me bhaktya prayacchati, tad aham bhakty-upahrtam, asnami prayatatmanah [If one offers Me with love and devotion a leaf, a flower, fruit or water, I will accept it.]
- Lord Krishna
Flowers are auspicious and play a significant role in the religious offerings in India. No ritualistic worship or pooja is complete without the use of flowers. Though any flower can be offered with love and devotion, specific flowers are favourites to specific deities. Each flower can attract the particular principles of individual gods. Moreover, with the festive season around the corner, this article covers which flower should be offered in the worship of which Hindu god.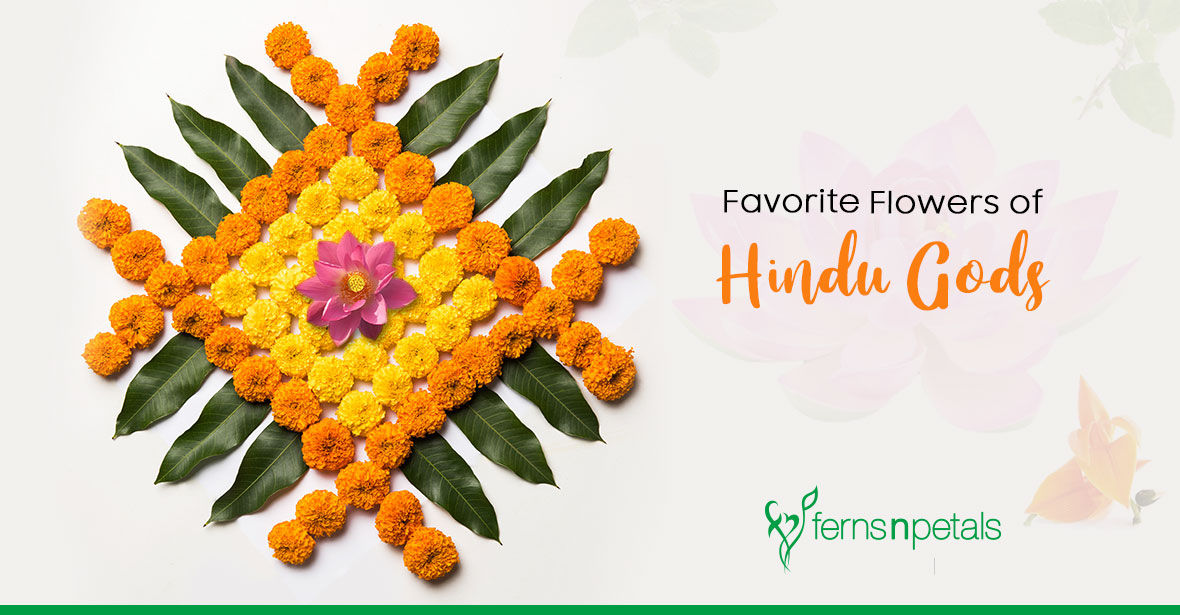 Lord Ganesha

Lord Ganpati can be offered any red (rose), yellow (sunflower) or orange (marigold) flowers. The lord of lords is particularly pleased by Jaswanti or Red Hibiscus and Marigold or Genda. Do note that all other flowers can be offered to the Vighnaharta except those that come under 'Tulsidal'. It is advised to use twenty-one different varieties of flowers during Ganesha pooja.

Goddess Laxmi

The goddess of wealth and prosperity sits on a lotus. Hence, the lotus is her favourite flower. If not a lotus, the deity of the highest honour accepts any kind of white and red flowers. To name a few, White Lotus, White Chrysanthemum, Red Rose, White Rose, Tuberose (Rajnigandha) and Arabian Jasmine (Mogra).

Goddess Saraswati

The goddess of knowledge and music is always clad in a white saree with veena, sitting atop a white lotus flower. Worship Goddess Saraswati with Magnolia (Champa) or Flame of the Forest (Yellow Palash) for her to bestow you with eternal knowledge. Since yellow is her favourite colour, you can also offer flowers like sunflower, rose, marigold, allamanda to Maa Saraswati.

Lord Shiva

According to Hindu mythology, the destroyer of the universe and one with the ultimate power - Lord Shiva is offered Datura, Nerium Oleander (Kane) flower, Dry lotus, Akondo, Kusum, Kush, etc. As per legend, Shiva consumed the poison that was obtained during the ocean churning. Doing so, Datura emerged from his chest and ever since, it is believed to be his favourite flower. The flower, in particular, is offered to Lord Shiva to let go of negative emotions and energy. He isn't offered any lovely flowers.
Hope this article will help you understand the relevancy of different flowers in worshipping the supreme powers. To offer your pooja in the right manner and maintain spiritual significance, buy pooja samagri boxes online from Ferns N Petals. Order them right away.