7 Stunning Flowers that Resemble Sunflowers
Author:

Anushka

Published:

13th Oct, 2022
We all know that sunflowers are one of the most iconic flowers. They are beautiful, associated with happiness and are popularly known for the massive burst of seeds within their head. But have you ever stopped to wonder if there were other flowers that look just like them? Well, there are! Though these flowers may not be as common, their resemblance is uncanny. Look at the compiled list of 7 spectacular flowers that resemble the iconic yellow blossoms that adorn our gardens in their honour.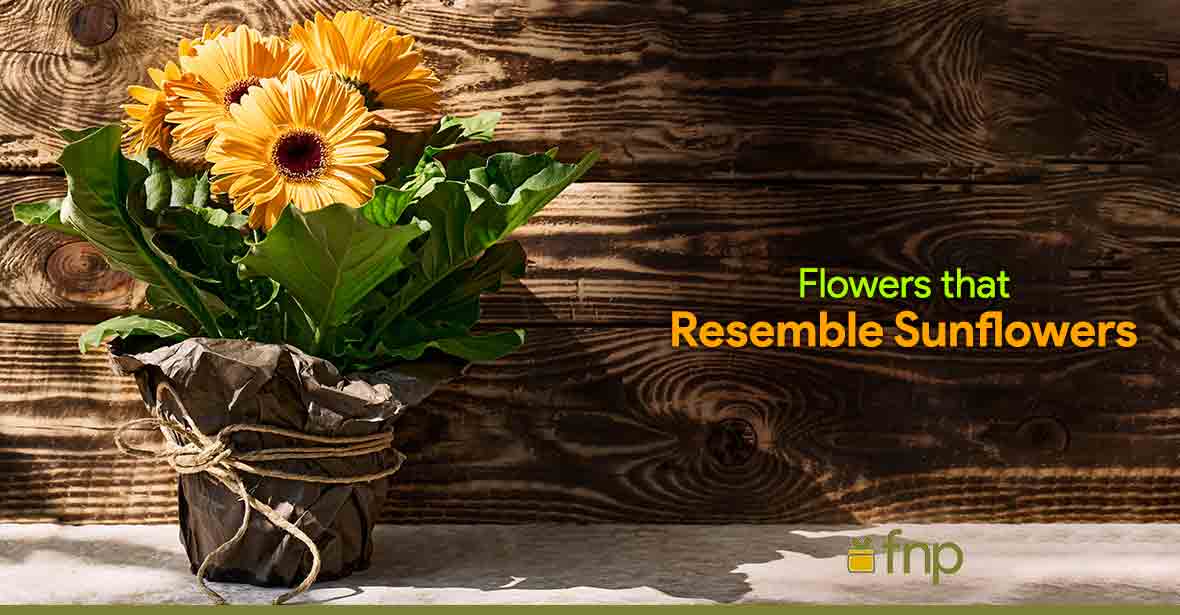 Pot Marigold
Both edible and medicinal, Pot Marigold is a popular annual that resembles a sunflower vividly. This flower comes with a cluster of round blooms with vibrant shades of yellow to orange. This cheery flower can also be found in subtle shades of red, pink and cream.
Black-Eyed Susan
Also known as Gloriosa Daisy, Black-Eyed Susan look uncannily like sunflowers! Sharing similar traits to a sunflower, this stunning annual features a dark-brown centre, surrounded by yellow petals. This is the prime reason it is often mistaken for sunflowers. The flower is also a desired choice among gardeners due to its low-maintenance plant qualities.
Coneflowers
To begin with, the coneflower is a member of the sunflower family. Next, it shares the classic colour of the flowers of the sun i.e. bright yellow. Moreover, it has many petals and a central disk resembling our star. It can grow up to 2 to 3 feet in height and is exotic, fit for royal cottages and English country-designed gardens.
False Sunflowers
Don't get fooled by its name as it is anything but real! It is a hardy plant that is native to North America that is easy to grow and tolerant to almost all soil types. False sunflowers make a great addition to any garden and give a long-lasting display of colours, beauty and vibrancy.
Mexican Sunflower
If you want pops of colour into your garden effortlessly, Mexican sunflower is the ideal choice for you. It is a beginner-friendly flowering plant that is highly preferable for cut flower arrangements. This flower typically grows up to 6 feet in height and has orange-yellow flowers with leaves having toothed margins.
Chrysanthemum
One of the most popular fall flowers, Chrysanthemum belongs to the Sunflower family. They grow exponentially in the shades of yellow, white, orange purple or red. Just like each flower head of a sunflower is made up of ~two thousand florets, so is the case with Chrysanthemums. The latter may look like they've hundreds of petals, each petal in itself is a small floret.
African Marigold
The last one on our list of flowers that resemble sunflowers is the African Marigold. It is a tall, sturdy plant native to Mexico and Central America but can now be found worldwide. It is pretty popular as a cut flower and is often utilised in religious ceremonies and celebrations. In fact, its scent is said to ward off evil spirits.