What are the Health Benefits of Carnations?
Author:

Apeksha Rawat

Published:

6th December, 2019
Carnation is a species of Dianthus, which is native to the Mediterranean region. Carnations got the name Dianthus from two Greek words- 'dios' which means 'God Zeus' and 'anthos' meaning 'flowers.' Thus they are known as 'The Flowers of God.' They have been cultivated for at least 2000 years because of their lasting fragrance and appealing flowers. Carnations offer completely natural medicinal properties and they are used in the treatment of cough, cold, and other ills. Growing carnations at home or garden will allow one to enjoy instant remedy for various health issues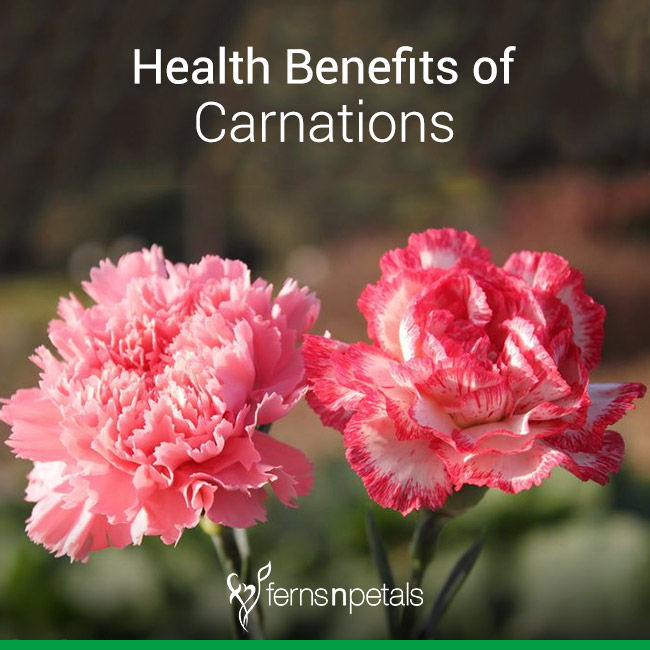 Read below some amazing health benefits of carnations:
In herbal medicine, carnation is used for treating nervous and coronary disorders.
Carnations contain substances that calm the nervous system and reduce inflammation and swelling.
The oil extracted from carnation flowers have therapeutic benefits, which is used for the treatment of skin rashes, minimise the appearance of facial wrinkles and eczema.
It is used as a tonic for fevers and stomach aches.
The freshly-brewed carnation tea provides relief from stress and nervousness. It is also a remedy for motion sickness.
Carnation is used for treating muscle spasms and improve heart health.
It is also useful for treating the problem of hair loss and sore muscles.
Consuming carnation tea is proved to be very effective against depression that can lift the mood of people instantly.
Carnation tea is also used as a treatment for diarrhea.
Carnation essential oil is used to massage paralyzed areas of the body.
Carnations have anti-inflammatory properties, which are used to reduce muscle tension in uterine tissues and reducing the pain and irritation of menstrual cramps.
Carnation oil is also used to treat toothache.
Carnations are rich in antioxidants that are great for fighting free radicals that cause the development of cancer cells.
The carnation essential oil helps with hair loss and aid in the treatment of excess gas as well.
The carnation tea is also known as a natural cleanser that breaks down toxins in bodies and helps improve blood circulation.
Last but not least, the carnation tea clears the throat and nourishes the lungs.