World's Most Beautiful Flower Gardens that are a Treat to the Eyes
Author:

Anushka

Published:

13th July, 2022
Beauty surrounds us, but usually, we need to be walking in a garden to know it.
- Rumi
Who doesn't enjoy a nice stroll through the bedrocks of colourful flowers & vines, surrounded by the melody of chirping birds and laden with fragrances! Even imagining the mere sight can be quite restorative to the body and soul. If you wish to witness such spectacular, unusual and stunning green spaces, then the world is your oyster. Admire the artwork of nature in these beautiful flower gardens that will leave you all spellbound with their beauty and charm.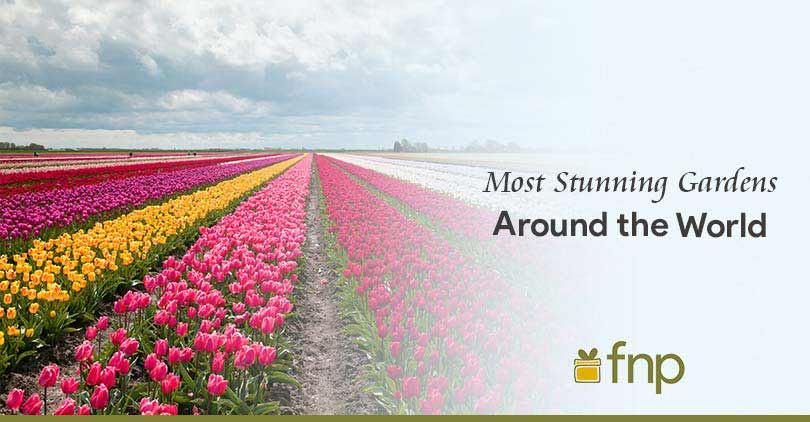 Gardens of Versailles, France
The Garden of Versailles is incredibly spread over 200 acres of land. Covered by flower beds, lawns, lakes canals, mountains and Orangerie, it looks no less than a paradise. It is designed in the traditional French Garden style by André Le Nôtre, a gardener appointed by Louis XIV in 1661. The ravishing beauty of this garden attracts over 6 million tourists every year.
Keukenhof, Lisse, Netherlands
Located in the Netherlands, Keukenhof is the world's largest flower garden that contains scenic fields of over 7 million flower bulbs. These flowers are available in a myriad of hues and bloom around spring. The garden primarily features ~800 varieties of tulips, lilies, hyacinths and daffodils. The place is open to the public annually from mid-March to mid-May.
Mughal Garden, India
Exploding with colours and fragrances, the Mughal Gardens of Delhi is a breathtaking garden surrounded by lush greenery. The garden is home to a wide range of flowers. It is truly a sight to behold not only because of the intricate flower arrangements but also the wonderful amalgamation of Mughal architecture with British style. This garden remains open to the general public only for a specified duration only, i.e. from mid-February to mid-March.
Dubai Miracle Garden, Dubai
Situated in the district of Dubailand, the Dubai Miracle Garden looks like a surreal work of art. Spanning about 18 acres of land, the garden was inaugurated on Valentine's Day 2013. It has an amazing collection of around 50 million flowers and 200 million plants. Other than having an oasis of plants and flowers, the heart-shaped floral arches, life-sized Emirates aeroplane, floral clock and butterfly garden are the highlights of this garden.
Nong Nooch Tropical Botanical Garden, Pattaya City, Thailand
Extending over 500 acres, Nong Nooch Tropical is one of the finest examples of an exotic botanical garden. The picturesque place offers you an extensive collection of hundreds of plants, ornamental flowers, fruit plantations and stunning Thai-style houses. The Animal Kingdom Exhibit, Elephant show, the Dinosaur enclosure, Orchid arrangements, Thai cultural shows and cultural flair are its major highlights that you should not miss out on.