Trending Personalised Gifts Under Rs. 500
Author:

Rima Ghosh

Published:

19th August, 2019
Love surely doesn't follow a trend – it follows the heart. But when one has to express the heartfelt emotions of love towards family members, relatives, or significant other – one must study the latest trends once. Why? Because trending things make one feel relevant to the time and owning such trendy things is a matter of pride too. The world of gifts is vast as a sky however one trending yet classic gift option is a personalised gift. That's because personalised gifts add the touch of "ownership". The print of someone's name or photograph makes a simple thing more attractive.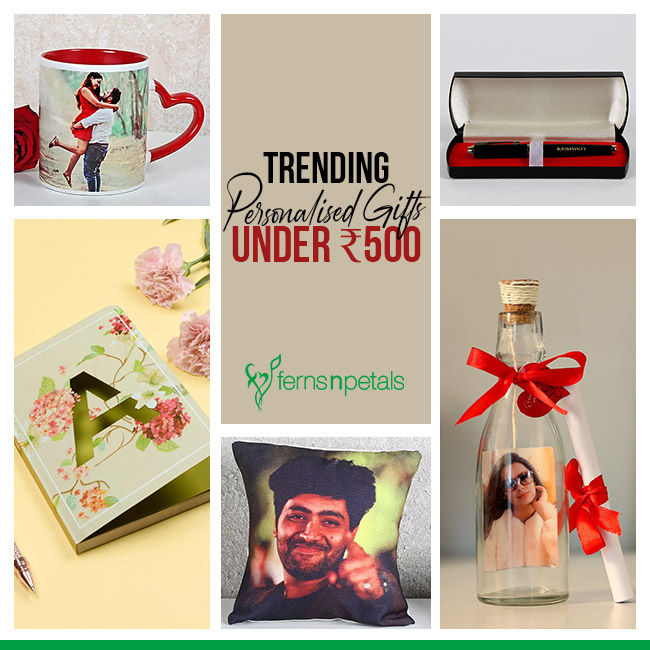 When it comes to personalised gift, Ferns N Petals is the undisputed leader in the world of e-commerce. Here are some of the trending personalised gifts that one can buy withing INR 500.
Personalised Mug:

Those who love tea/coffee/beverages multiple times a day would love to be gifted a personalised mug. It can also be used as a pen stand, planter, or cutlery holder. Taking a sip from a personalised mug featuring a lovely photograph – it is a great feeling indeed.

Personalised Cushion:

A cushion is often seen on the bed, sofa, or chair. It comforts people with a fluffy and soft texture. As a gift, a cushion is the symbol of love, care, and tenderness of the heart. To express the deepest feelings of love and respect for someone special – a personalised cushion is the right choice. Priced at INR 349, this cushion would take care of the budget too.

Personalised Table Clock:

The prime motive of a clock is to show time but when one personalises a clock – the time becomes more meaningful. A beautiful image of a couple, mother-son, father-daughter, or brother-sister – would make a simple table clock become a representative of eternal love.

Personalised Water Bottle:

Water is the most essential thing that a human body requires. From providing a flawless skin to aiding in weight loss, proper digestive system to clean blood – water is very helpful. One can promote the good habit of drinking water by presenting a personalised water bottle to their loved ones. Easy to carry this bottle comes with a holder that will make it easier to hang from a bag or in the kitchen.

Personalised Zipper Wallet Pouch:

A zipper wallet pouch for girls – this one is made from a premium grade PU leather and comes with poly twill lining. It has two zipped pockets & one slip pocket with four card slots that will accommodate easily in any bag or pocket. This wallet pouch is less susceptible to be lost too as it is personalised.

Personalised Wooden Photo Frame:

Pictures speak silently. They take people back to the old days and revisit the stories of yesteryears. The story behind a picture is best known to the one who is featuring there. Keeping a personalised photo frame at the coffee table, study table, work table, or in a cupboard – would always make people remember of the days gone by. The wooden photo frame here is priced at only INR 399 and that's really inexpensive.

Personalised Caricature:

A fun, cool, and exciting way to celebrate someone's special event is to gift that person a caricature of his/her own. Looking at the caricatures, one feels younger. On occasions like a birthday or Friendship Day or New Year – this would be a lovely gift option to impress people.

Personalised Diary or Notebook:

Those who are writers or have a knack of keeping notes on a daily basis would love a personalised diary or notebook. The spiral binding or hardcover binding – the personalised diaries or notebooks are available in both types. Some come with the printed theme while some have a name inscribed on them. Those who don't write would also be tempted to write in these beautiful notebooks.

Personalised Fridge Magnet:

Flaunting some love in the kitchen area would add more happiness and positivity in one's home. The more one adds "signs of love and romance" – the more the emotions of love and air of warmth floats in the air. The heart-shaped fridge magnets come in beautiful design and will make the refrigerator look elegant.

Personalised Pen:

The pen is mightier than the sword – it is a popular proverb that was authored by English author Edward Bulwer-Lytton in the year 1839. That proverb indicated that written form of communication (referring to press or book) is a powerful agent to bring a revolutionary change in the world. The power of the pen is still the same but owing to digital advancement – the use of a pen has become less as compared to the yesteryears. Still, to sign any important document – one needs a pen. Those who have a knack of writing on paper, love to collect pens too. When a pen is personalised – it becomes an exclusive thing for someone. When taken out of the case or pocket – the prestige would also increase. As a teacher's day gift or birthday gift – this one would be a nice choice.