Top 7 Best-Selling Exotic Flower Arrangements
Author:

Rima Ghosh

Published:

12th August, 2019
The word "exotic" means "originating in or characteristic of a distant foreign country". Thus, "exotic flowers" refer to those unique flowers that are native to certain land and are introduced to a foreign ecosystem. Some of the most fascinating exotic flowers are hydrangeas, lisianthus, or bird of paradise. In India, not many online floral stores have these breath-taking exotic flowers. Ferns N Petals is an undisputed leader in this segment. This creative online flower portal has come up with unique, classy, and elegant exotic flower arrangements which are hugely appreciated by people.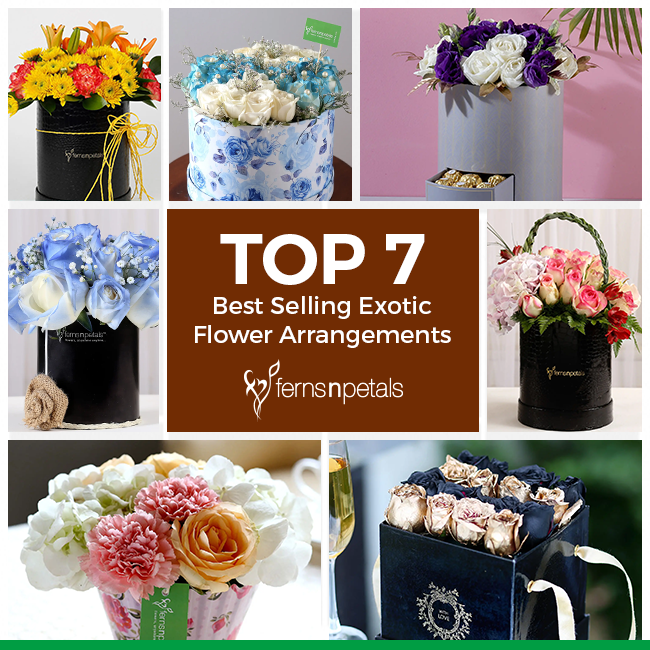 As a gift option for that special date or as a décor item for decking up the house for a get-together – nothing can match the appeal of these exotic flowers. Moreover, these flower arrangements are also promising enough to provide the social media addicts a perfect Insta post.
Take a look at the top 7 best-selling exotic flower arrangement by Ferns N Petals:
Asiatic Lilies & Carnations Mixed Bouquet: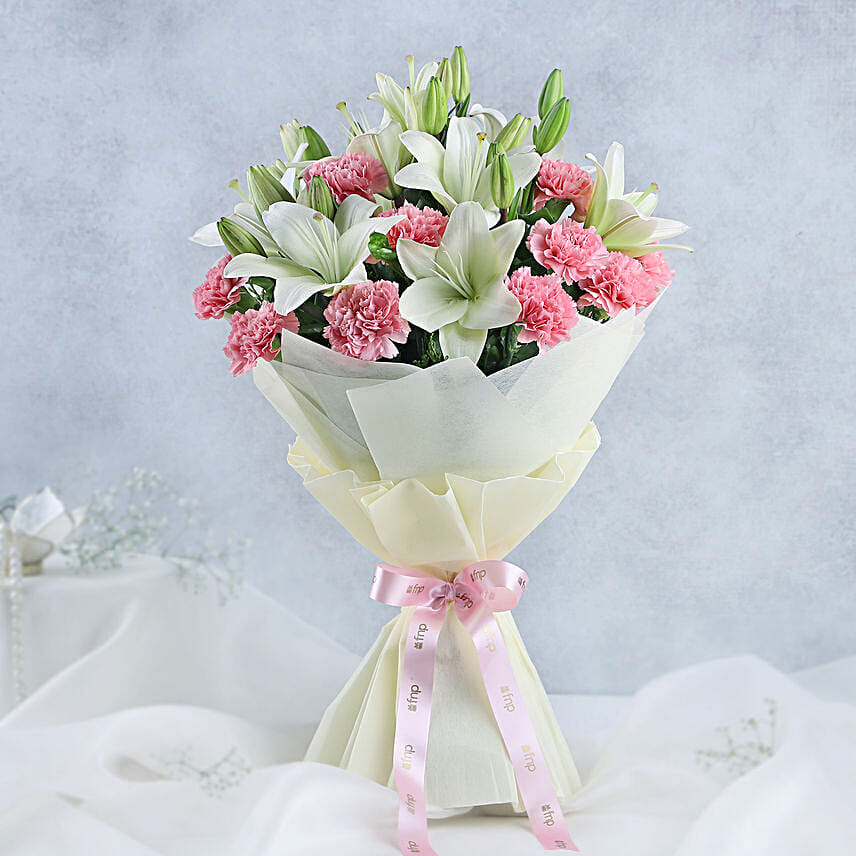 White Asiatic lilies and pink carnations make a vivacious yet subtle mix. White lilies are the signs of purity and perfection while pink carnations imply mother's love, admiration, gentleness, and gratitude. This gentle flower arrangement is radiating with elegance and would be a much-appreciated gift for loved ones.
Basket of Purple Orchids & Anthuriums: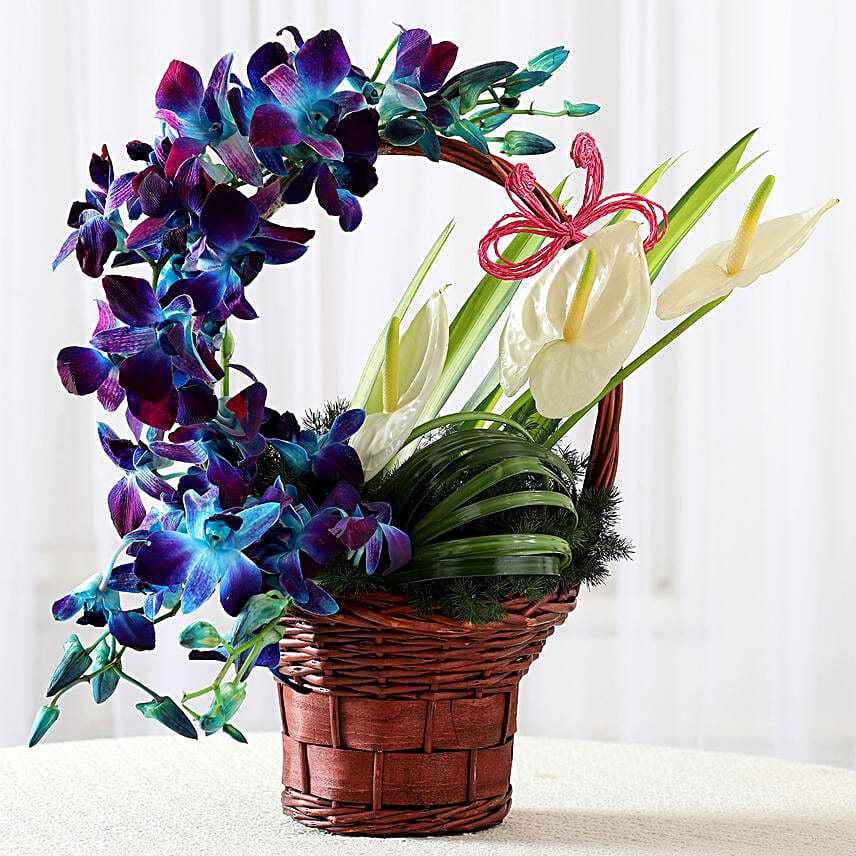 It is all about the creative bend of mind that wins the hearts of people. Purple orchids, white anthuriums, and green lily grasses are the ingredients of this floral gift that is playing creatively with a cane basket. Purple orchids are regarded as the royal flowers symbolising admiration, respect, and dignity. White anthuriums symbolise happiness and abundance.
This mesmerizing exotic flower arrangement is radiating with divine beauty.
Shaded Love- Blue Roses Arrangement: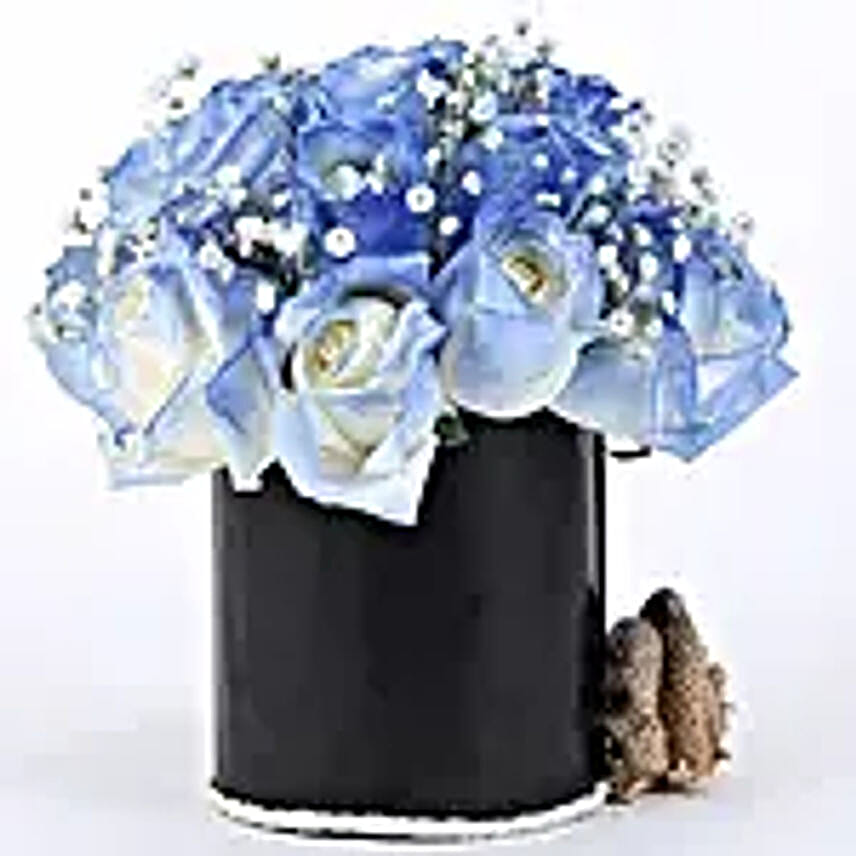 A cute and romantic box arrangement of blue spray roses and white & blue gypsophila is here to charm the spectators. As a study table or office table décor, this soothing flower arrangement would be an intelligent addition.
Elegant Anthurium Basket: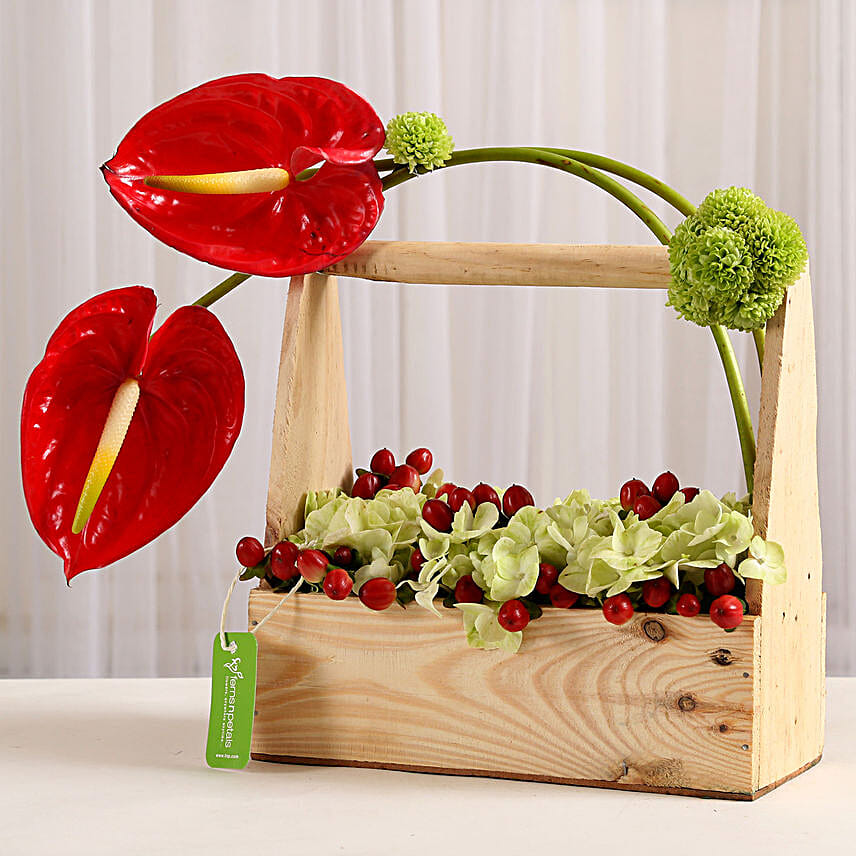 Ferns N Petals knows exactly how to create an everlasting impression with the floral gifts. One such proof is right here. This is a wooden box arrangement of colourful and zesty flowers. It contains red anthuriums which is one of the most popular exotic flowers in the world. It also has light green hydrangeas and to top it all, the red hypericum berries are added to enhance the whole personality of this floral gift. As a décor item for the central table – this exotic flower arrangement would be a masterpiece.
Pink & Purple Mix Flower Arrangement: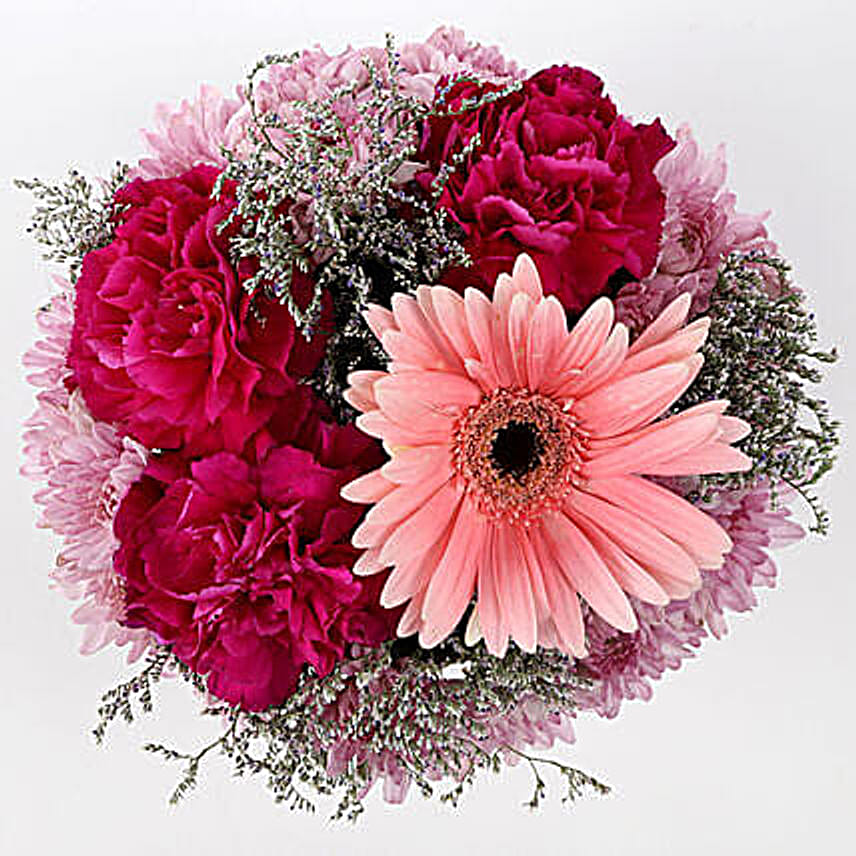 Purple carnations, pink daisies, Limonium, and light pink gerberas are arranged in a cupcake shaped décor pot. Purple carnations stand for royal vibe while the pink daisies symbolise appreciation. Limonium suggests remembrance while pink gerberas symbolise grace. As a surprise gift for moms or to let someone know "I remember you every day" – this exotic flower arrangement would be effective.
Bird Of Paradise Bunch: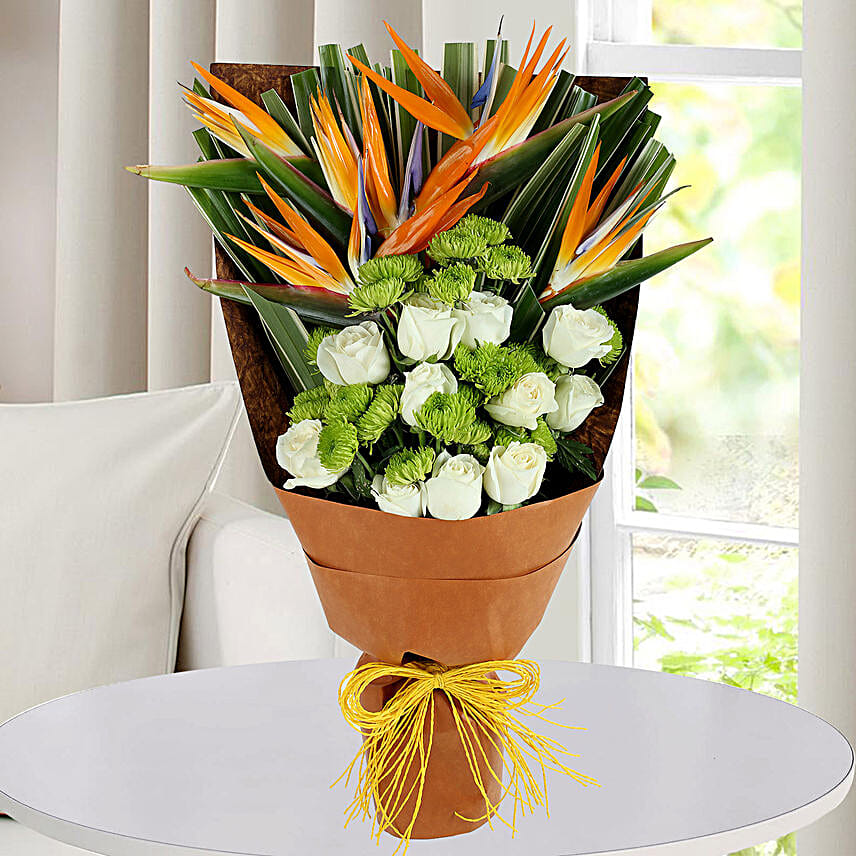 Bird of paradise is a flower that resonates with the spirit of freedom and paradise. The bright colours and unconventional appearance of this flower make it one of the best-selling exotic flowers. In this arrangement, it is seen in contrast with the sacred white roses.
Roses & Lisianthus Box: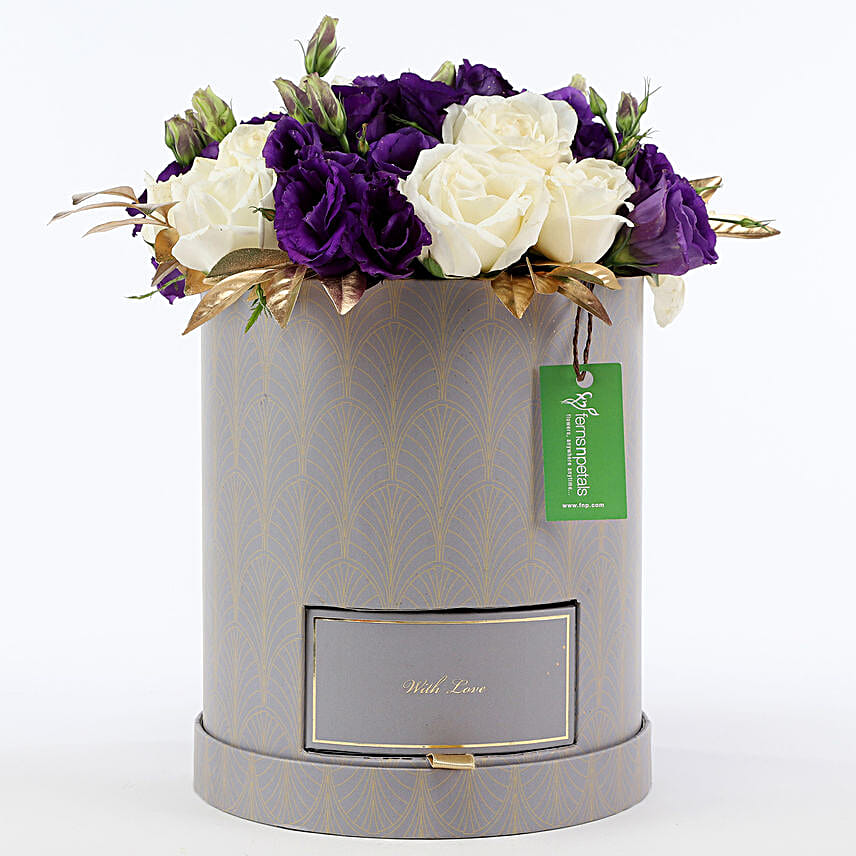 White Roses and Purple Lisianthus – sounds like a heavenly combination. Lisianthus is also known as Eustoma which are native to the south of the USA. White roses are reminiscent of innocence and purity of the soul. On the other hand, lisianthus symbolise appreciation and admiration. White and purple together create the perfect colour contrast that is bound to attract eyeballs. Another USP of this product is that it comes with the tasty Ferrero Rocher chocolates. This flower arrangement is the perfect way to flatter someone.
Different from the regular flower arrangements, these exotic flowers come with dazzling looks and an aesthetic appeal like no other.