Things To Remember While Choosing Personalised Gifts
Author:

Tanya Sood

Published:

21th August, 2019
Choosing a gift consumes an awful lot of time. A lot of things need to be taken into consideration like the feasibility, the personality of the receiver, and if the person receiving the gift will like it. Finding a perfect gift is not easy and at such times the best option to go with- personalised gifts. They are affordable, charming, and definitely will be loved by the receiver. Choosing personalised gifts is easy, but a few things need to be kept in mind so the person at receiving end is enthralled for sure.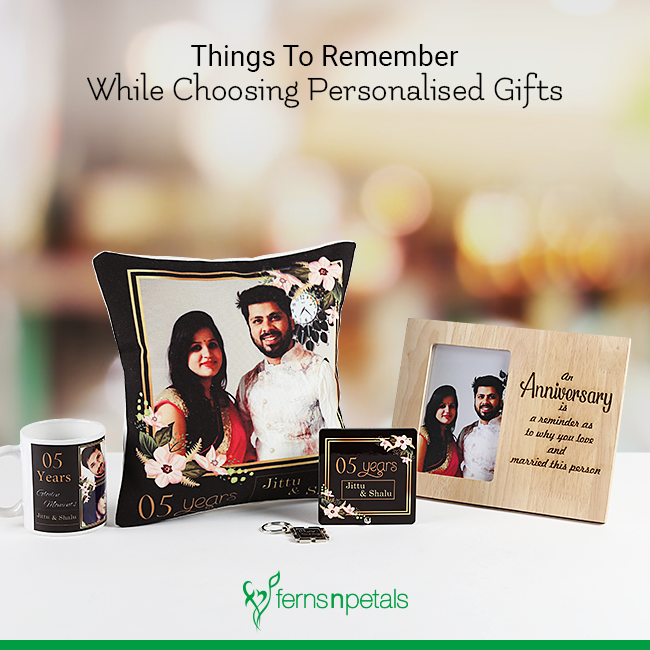 How To Choose Personalised Gifts?
Are you planning to gift someone a personalised gift? Here are a few things you need to keep in mind while choosing it:
Keep An Open Mind
While choosing personalised gifts keep an open mind. Don't go as per the stereotypical agendas like women like hearts, men like funny things, cartoons are only for kids, and so on. When it comes to personalised gifts, experimenting is the key. Take your time and think about what gift can convey your message in the best way? Choose wisely.
Recipient's Personality
It is very important to keep the personality of the receiver in mind while choosing a personalised gift. Your gift needs to be considerate, which is why it needs to be what a person may like. Is it for a friend? Is it for your spouse? Is it for your parents? Is it for a kid? How does the gift represent the personality of the recipient, and will it bring a smile on their face? Think like the person receiving the gift and this will help you choose the gift easily.
Personalised Gifts Can Be Useful
There is more to personalised gifts than just being decorated, they can be resourceful to the recipient. Do they love coffee? Choose a personalised mug. Do they love stationery? Gift a personalised diary or a personalised pen. Do they love decorating the house? Gift them a picture frame. Do they love plants? A plant with a personalised plant seems like an amazing option. There are so many options if you think rationally. A useful personalised gift will not only remind the recipient of the memories but will be adored by them.
Colour Scheme Is Important
While you choose a personalised gift, visualize it in your mind. Choose the colour scheme carefully. If you are gifting a personalised mug and the graphic on the mug is predefined, choose the image you want wisely. Choose something which will go along with the colour will complement the mug because a personalised gift is an investment in memories and they can not be returned.
Double/Triple Check The Content
If you are getting text printed on the gift, make sure you double-check your grammar. Make sure to give your content thoughtfully because you can't undo it. It will be a memory for life.
Think Ahead
Understand that personalised gifts are not like gifts which are readily available in the market. They are made on order so plan them in advance. You may get the same day delivery of these gifts but you need to give time to make sure they arrive on time.
Message & Memories
Remember that personalised gifts are memories, so while choosing, think about the memories it would reflect, the emotions you can express and the message it would convey. While choosing a personalised gift you need to think but using your heart. Make sure the memories printed are pleasant, and the message conveyed is thoughtful.
There is something about personalised gifts which really excites people. Gifting personalised gifts is like gifting wrapping up memories into a box, and letting someone know they are your favourite ones.