September Birth Flower- The Aster
Author:

Apeksha Rawat

Published:

12th September, 2019
Each month has a specific flower, which is commonly known as the birth month flower of the people born in that particular month. Every birth month flower has a unique meaning and characteristics, which are known to be inherited by the people born in that certain month. The people born in September are considered extremely polite, believes in doing the right thing, and appreciates beauty. They are over-thinkers, looks for perfection in the right thing, and know how to please their partners very well. Gifting a bouquet or arrangement of aster is a great way to extend birthday wishes to the September born people.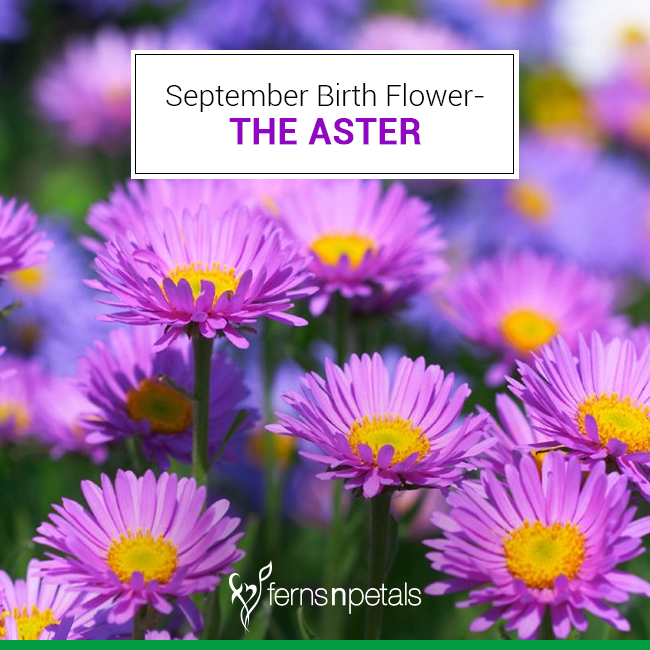 The aster is the September birth flower that epitomizes patience, elegance, love, purity, and innocence. Aster is a genus of perennial flowering plants with around 180 species. Many species and varieties of aster are popular as garden plants because of their bright and attractive flowers that bloom in late summer and autumn. Asters are star-shaped flowers that come in a variety of colors, such as red, white, orange, pink, and purple. They attract bees and butterflies and provide them with the supply of nectar.
History about Origin of Asters
According to Greek mythology, the Goddess Asteria was deeply in love with stars but saddened by the fact that they appear only in the sky and not on earth. One night, she got upset and started crying. The tears that streamed down her face and hit the ground turned into beautiful star-shaped flowers. These flowers were named aster after Goddess Asteria.
Meaning Of Different Colors of Aster Flowers
Different colors of aster flowers carry different meanings: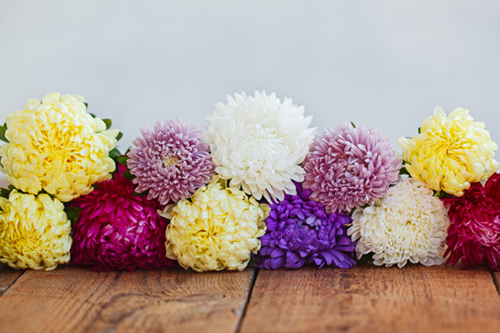 The pink aster flowers symbolize love, kindness, romance, and femininity.
The red asters are best to express the strong and deep message of love towards a special person in life.
The yellow aster flowers are perfect to make someone's day joyful, positive, and optimistic.
The purple asters symbolize good taste, royalty, and sense for beauty.
The blue aster flowers define faith, depth, stability, and calmness. They make a perfect gift for birthdays, weddings, and baby showers.
The white asters epitomize purity, innocence, spirituality, and new beginnings.
Interesting Facts about Asters
Several interesting stories and facts are related to Aster. Read further to know: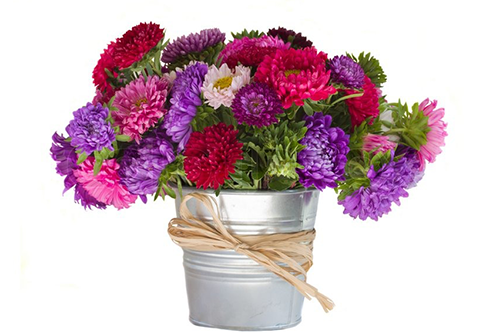 Asters are drought resistant that makes them great for desert landscaping.
The ancient Greeks burnt aster leaves to ward off snakes and evil spirits.
The bushy aster species have seeds that are of similar shape as a parachute and carried away by the wind.
If you try and put aster flowers in wine, it will taste like honey.
In ancient time, Greeks used aster flowers to heal wounds and dog bites.
In France, the aster was known as the eye of Christ. The aster flowers were laid on the graves of dead soldiers that symbolize that they were killed in battle.
In earlier times, it was believed that magical fairies used to sleep under the petals of aster flower at sunset.
Famous Birthdays in September
Narendra Modi (17th September) - The Prime Minister of India.
Lata Mangeshkar (28th September) - A famous Indian playback singer & music director.
Sharat Chandra Chattopadhyay (15th September) – He was a famous Bengali novelist and short story writer.
Dev Anand (26th September) – He was a noted Hindi film actor, writer, director, and producer.
Kareena Kapoor (21st September) – A famous Bollywood actress known for playing a variety of characters in Hindi movies.