How to Write a Motivational Letter for Mom
Author:

Shivangi

Published:

25th March, 2021
Mothers are the epitome of selfless compassion and love. She is the one who is our best friend, who motivates us and who pampers us with loads of love and kisses. Her arms and laps are just like a soothing cradle and her smile brightens up our days. Mothers mean the world to us and to make her feel special and loved, we can do anything and everything. Let's start with writing a letter that not only expresses your love but also motivates her. Wondering, how to write a motivational letter for mom? Here is the stepwise process that you surely don't need but it will make expressing a little simple for you.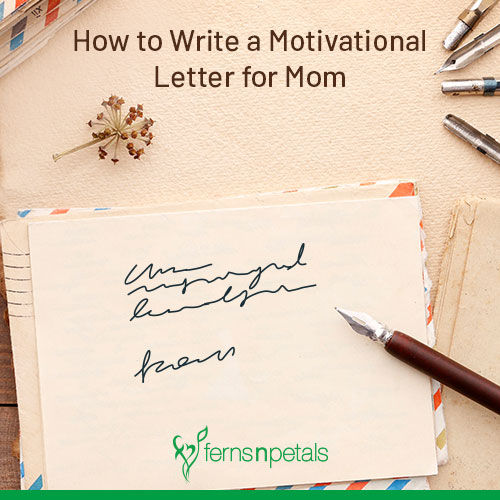 Start with a Beautiful Poem or Quote
Make her feel extremely special by picking a poem or quote that describes her. Whether you want to write a letter to your working mother or the one who stays at home but works more than any of us. The simple starting of a letter must have a quote or an extract from the poem that reminds you of her.
Tell her You are Proud
Start expressing by telling her that you are proud of her and that she is your whole world. Let her know that she is your idol as she works hard and is so selfless.
Focus on What you Feel for Her
Whether your mother is a housewife or is working somewhere, write down a few points that come to your mind when you think about her as an individual. Combine all the thoughts and put them in the letter.
End it With a Motivational Quote or Lines
Tell her that she does a lot for you and you are completely in awe of her. Let her know her hard work isn't being ignored and that your life is incomplete without her. Let her know that managing work and home together or home alone is quite a tough task and the way she nails it is impressive for sure.
Express all that you got in a letter and let your mother go all teary-eyed as she deserves the appreciation of her efforts and selfless love that she gives you.