How To Get Same Day Delivery Of Personalised Gifts?
Author:

Rima Ghosh

Published:

24th September, 2019
Life is not devoid of special occasions and festivals. What enhances the fun and excitement of these special moments are gifts. Gifts express love, care, respect, gratitude, and a whole lot of other emotions towards people. Some gifts can be put to some use, some can be eaten, some adds aesthetic values, and then there are some gifts that make one travel back in time. Those are called personalised gifts. The universe of gifts is a vast one and personalised gifts are the brightest stars in it. Made with photographs and personal messages – these gifts have an eternal appeal.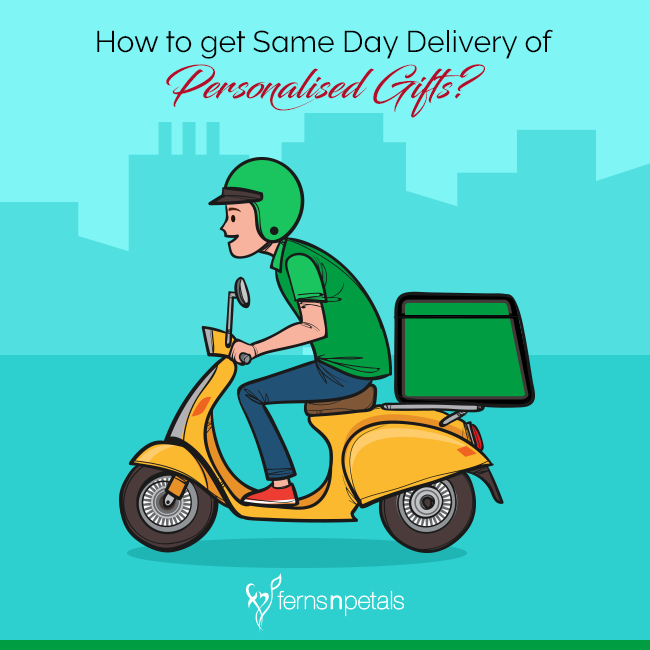 People love these gifts because they tickle the best memories in them. On various occasions like a birthday, anniversary, Women's Day, Mother's Day, Father's Day, Diwali, Valentine's Day, New Year, etc. personalised gifts are the best options. Now, with most of the places, one must be facing "time issues" and that's exactly where Ferns N Petals can serve people brilliantly.
Ferns N Petals has its unique same-day delivery service which is extended to the category of personalised gifts. No one else in this game of e-commerce can guarantee a same-day personalised gift delivery.
Here is how one can get the same-day personalised gift delivery through Ferns N Petals:
There are countless products in this category like- mugs, cushions, photo frames, clocks, lamps, chocolates, glassware, keychains, handbags, watches, mobile covers, and t-shirts.
Once the category of personalised gifts to be ordered is clear, one can proceed towards the next step which is the selection of PIN Code and date.
One can proceed to the "date" tab only after filling the "PIN Code" details.
Now, the calendar will show "today's" date i.e., the day on which one is placing the order.
If this date is selected, then, there will be a pop up of the special delivery services.
One is a free delivery service and the other is premium delivery service.
For free delivery, the delivery time limit is from 9 A.M. to 9 P.M.
For premium delivery, one needs to pay INR 49 and choose the delivery slots. There are two delivery slots in case of premium delivery, one is from 8 A.M. to 4 P.M. and the other one is from 6 P.M. to 10 P.M.
But one needs to remember that there are limited products that can be ordered for same-day delivery. To avail this instant gift delivery, one thus needs to be fast in placing the order.
One can place orders for personalized gifts with same-day delivery service only till 4 P.M.
Ferns N Petals is working hard to get into that zone where they serve same-day delivery of personalized gifts all over India. But for now, they are offering same-day gift delivery of personalised products only in the mentioned cities- Delhi, Mumbai, Bengaluru, Chennai, Hyderabad, Chandigarh, Gurgaon, Bareilly, Noida, Ghaziabad, Vijayawada, Jabalpur, Guwahati, Guntur, Begusarai, Gaya, Bhopal, Kota, Faridabad.
One should not worry about the festive moments because our offer for same-day delivery of personalised gifts is valid for all big, medium, or small festive moments.