How To Celebrate Onam Festival?
Author:

Rima Ghosh

Published:

9th September, 2019
Onam is a huge festival in the Indian state of Kerala. As per the legendary tales, this festival is celebrated to commemorate the King Mahabali. It is said that his spirit visits Kerala during the Onam celebration. Apart from remembering King Mahabali, Onam also celebrates rice harvest. Onam is also one of the three major annual Hindu celebrations along with Vishu & Thiruvathira. This vibrant festival is celebrated on the 22nd Nakshatra Thiruvonam as per the Malayali calendar month of Chingam (the first month in Malayali calendar). The English or Gregorian month is generally August or September. The Malayalis placed anywhere in the world celebrates this day with fun and excitement.
The major festivities take place over 30+ venues in Thiruvananthapuram. Even the Christians and Muslims of Kerala take part in the celebration. It thus helps in building trust and friendship across religion and culture.
Onam takes place on the Chingam month – the 1st month in the Malayali calendar. Thus, it is also the Malayali New Year. The festival is spread over 10 days and each day is marked by some kind of traditional ritual or custom.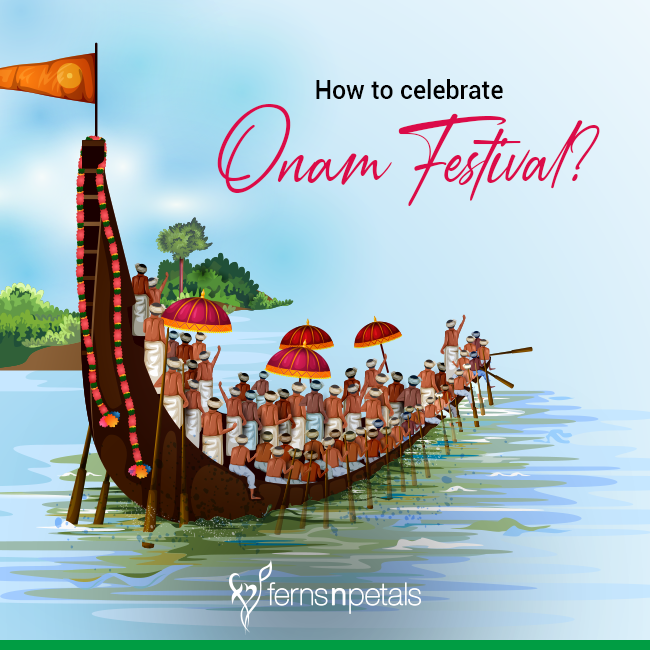 Read Below And Know How To Celebrate Onam:
Atham or Day 1:
The 1st day or Atham kick starts the festivities at Vamanamoorthy Thrikkakara temple in Kochi. This Vishnu temple is considered as the pivot of Onam and the abode of Mahabali. A flag is raised and parades are held which shows the colourful culture of Kerala. It is believed that on this day, Mahabali starts to prepare to descend to his home. This day also marks the start of Pookalam with yellow flowers whose size grows every passing day. Along with all these, the statues of Vamana and King Mahabali are also installed in houses.
Chithira or Day 2:
On the 2nd day of Onam celebration, the girls or women of a family add more or new flowers to Pookalam while the guys of the family arrange the flowers. Cleaning of households starts on this day and people also sit down to discuss the proceedings of this 10-day festival.
Chodi or Day 3:
Chodi or Chodhi is the 3rd day of the festival when people begin their shopping. New clothes or jewelry or household items are brought and also gifts are selected to greet relatives and friends. Also, more flowers are added to the beautiful Pookalam. The market areas are hugely crowded on this day as everyone is engaged in shopping to deck up themselves and their households both.
Vishakam or Day 4:
On this day, the women who have to prepare the elaborate meal of Onasadya on Thiruvonam (for the last day) gets engaged in the prior preparations. Various pickles and papads are prepared. Plus most of the competitions begin on this day.
Anizham or Day 5:
In various parts of Kerala, the famous Sanke Boat Race or Vallamkali Boat Race starts. It is the most thrilling day of the festival. One will find most crowd near the river Pamba at Aranmulla.
Thriketa or Day 6:
The schools, colleges, and offices get a four day off and that mostly starts from this day. The last 4 days are the most engaging and exhilarating ones and that's why people who stay away from their hometown start visiting their families and relatives.
Moolam or Day 7:
A new design of Pookalam is drawn on this day along with kondattam (gaiety). The most vivacious and beautiful flowers would be seen on pookalam on Day 7. Generally, households are filled with close and distant relatives, friends, and other guests. In some places, Ona Sadya and the dances related to the festival are being staged. The state has been decorated beautifully by this time.
Pooradam or Day 8:
The worshippers or devotees produce clay idols in the shape of small pyramids called Ma. On this day the statues of Vamana and King Mahabali are washed and installed in the middle of the Pookalam. Also to remember is the fact that the gorgeous Pookalam by now is at its vibrant best.
Uthradom or Day 9:
People buy fresh vegetables and women of the household cook the traditional meals which are lavish. It is said that King Mahabali reaches Kerala on this 9th day and that's why it is the most important day out of the 10 days. A swing is also hanged on a high branch of a tree and is decorated with flowers. The youngsters or kids of the family enjoy swinging and singing here.
Thiruonam or Day 10:
On the final day, people take an early morning bath and attend the special prayers in temples and distribute gifts. The Onam Special Meal or Thiruona Sadya is prepared in every household and people sit with their loved ones to enjoy the grand meal.
It must be said that Kerala looks at its grandiose best on the final day of Onam. There is cultural programs, music festivals, and feasts and all these make Kerala a joyful place.
Other Notable Things of Onam Celebration:
Onam Sadya:
the grand meal of this festival is an interesting one. This traditional Onam meal resonates with the spirit of the season. All the seasonal vegetables are used to make this meal like ash gourd, cucumber, or yam, etc. Generally, it is served on a banana leaf and consists of 9 types of dishes. The maximum number of dishes can reach 20 to 24 also. The main dishes of Onam Sadya are:
Banana Chips, Sharkaraveratti or fried pieces of banana coated with jaggery, Pappadam or Papad, Injipuli or Pulilnji (various vegetables and soups), Thoran (curry leaves and crunchy coconut cooked with grated carrots), Mezhukkupuratti (stir-fried long beans), Kaalan (gravy based dish made with yam & plantains, curd, and coconut), Olan (white pumpkin,cowpeas, and coconut milk), Avial (mixture of all types of vegetables except the soft ones), Sambhar, Daal served with ghee or clarified butter, Erisheri (pumpkin, cowpeas, and coconut), Molosyam, Rasam, Puliseri (ash gourd, coconut milk, and buttermilk), Kichadi (don't confuse with khichdi), Pachadi, Moru (buttermilk), sweet and sour pickles, and coconut chutney. All these vegetables are served with rice. In the end, Payasam (Kheer) is served as they say everything should end on a sweet note.
In Kerala, people say "Kaanam Vittum Onam Unnanam" which means "One must have the Onam lunch even by selling one's property if need be."
Vallamkali Boat Race:
The most well-known races are Aranmula Uthrattadhi Boat Race and the Nehru Trophy Boat Race. The best oarsmen come forward to take part in this amazing competition. It is interesting to note that in Singapore as a tribute to this unique Boat Race, a similar snake boat race is organized during Onam. It takes place at the Jurong Lake.
The Tiger Dance or Pulikali:
This beautiful dance sees the performers painted like tigers in bright hues of red, black, and yellow. Mostly, this dance show takes place in the cultural district of Thrissur and many people come to attend the shows.