How Kolkata Becomes An Art Lovers Paradise During Durga Puja?
Author:

Rima Ghosh

Published:

1st Oct, 2019
They say there is no measure invented till now that can gauge the extent of happiness and grandeur of Durga Puja in Kolkata. The excitement or frenzy of all the great festivals of the world can be put together but still one cannot match up to the level of Durga Pujo fun in Kolkata. It is the biggest festival in West Bengal and Kolkata being the capital draws a maximum crowd.
The world sees only the 5 days of Puja in Kolkata but for those 5 days there remains relentless work for 2-3 months. That's why during these 5 days of Durga Puja, one can only smell, see, hear, touch, and feel art. Every year Kolkata proves that it is the "the cultural capital of India" and through the creative art, it never fails to spread joy (the other nickname of this city is "city of joy").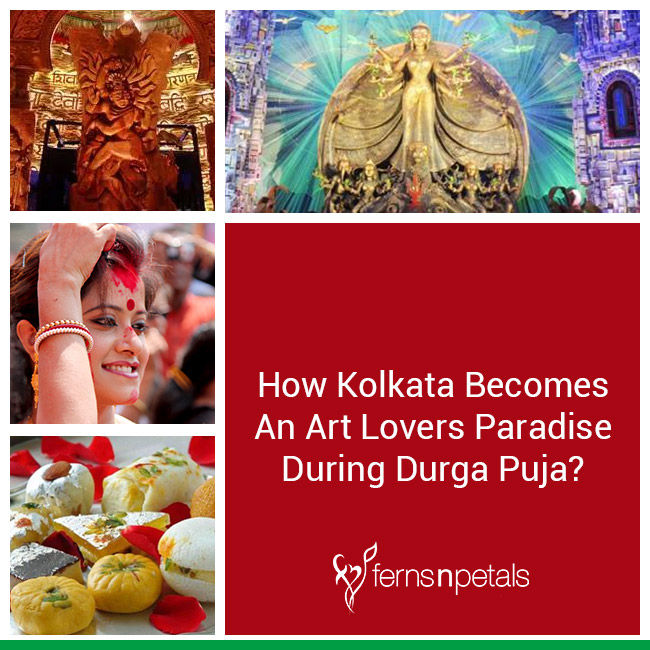 Exhibition of Creativity:
Last year a piece of news was circulating during Durga Puja that Kolkata showcased the largest Rangoli display in Lake Road area of Kolkata. Unveiled by Prosenjit Chatterjee (the most famous Movie Star of Bengal) during Mohaloya (the beginning of Puja) this Rangoli or Alpona was created by 325 Art Students. They transformed that 1.23kms stretch of rustic road into an emotional one. The impeccable play of design and colours made the jaws drop. Well, that can perhaps happen in Kolkata. This was just an example from the last year. Every year one will come across such creative work of people from various corners of West Bengal. One can say that this season of Durga Puja fills the minds of people with extra creativity and when they are unleashed – it becomes praiseworthy.
Theme Pandals:
The craftsmen here can do anything. They can recreate a Mahishmati to the Sanjay Leela Bhansali Padmavat set. Thousands of artisans come together a couple of months before Durga Puja to convert art into a reality. These craftsmen spend days and nights and face climatic challenges to give a result which the audiences would enjoy. From "save water" or "save environment" themes to "Inca civilization" – one will be startled to find a large display of art all over the city. One must not miss the intricate details inside the pandals and get mesmerised.
Bright Light Work:
This is another department of art without which Durga Puja is not complete. From bulbs of yeasteryears to LED lights of this generation – all are used to deck up the streets. Some clubs invest heavily in idols, some on pandals, and some depend on light work to win various competitions. This light work plays a crucial role on the last day of Pujo as every club goes for a round through the local areas showcasing their best light work. It is a fun galore. People come out of their houses on Doshomi or the last day of puja and watch this procession till 3-4 A.M.
Traditional Ancestral Pujas:
While the creative work of various clubs becomes the buzz during Kolkata Durga Puja, the traditional ancestral houses draw attention too. To witness the authentic traditional and old-world puja (known as Bonedi Barir Pujo), one must not forget these ancestral houses in Kolkata and remote districts of Bengal. Sovabazar Rajbari, Rani Rashmoni Family Pujo, Laha Family, etc. are some of the most famous pujas in the city. Here one can come and feel the true Bengali culture of Durga Pujo. The décor of Bengal houses of past centuries, the wide courtyard with big Rangoli at the center, or the women draping the red-bordered white sarees in traditional style – art is everywhere and one needs eyes to observe that.
There are many Zamindar houses in remote locations of Bengal which have transformed into boutique hotels who offer full package of an old-world puja and its related rituals.
Food & Sweets:
Food and sweets form an intrinsic part of every festival. The people of West Bengal are known to be big-time foodies. The five-star restaurants all deck up in the flavour of the Durga Pujo. They change their décor, add a new menu, serve the special traditional food thali. Luchi, Alur Dom, Begun Bhaja, Khichuri, Rui Machher Kalia, Khasir Mangsho Kosha, Roshogolla, Mishti Doi, etc. are decorated on terracotta thalis and attract all art lovers. After all, art resides in all departments of life. Also, not to forget is the famous lip-smacking street food of Bengal. They are found all over the city and people who go for pandal hopping have a great time.
From bright lights to food choices, pandals to rangoli – Kolkata becomes the embodiment of creative art which attracts the eyes and minds of all art lovers across the world.