How Did A Gifting Brand Revive The Kalamkari Art Form?
Author:

Shivangi

Published:

23rd July, 2021
The beautiful art form of Kalamkari translates to 'pen craftsmanship' and it originated in Andhra Pradesh. The painters of Machilipatnam are known for introducing the world to this brilliant art form that is all about hand-painting and block printing. This colourful art dates back to 3000 B.C. And, the Mughals promoted Kalamkari in the Golconda and Coromandel provinces during the medieval period.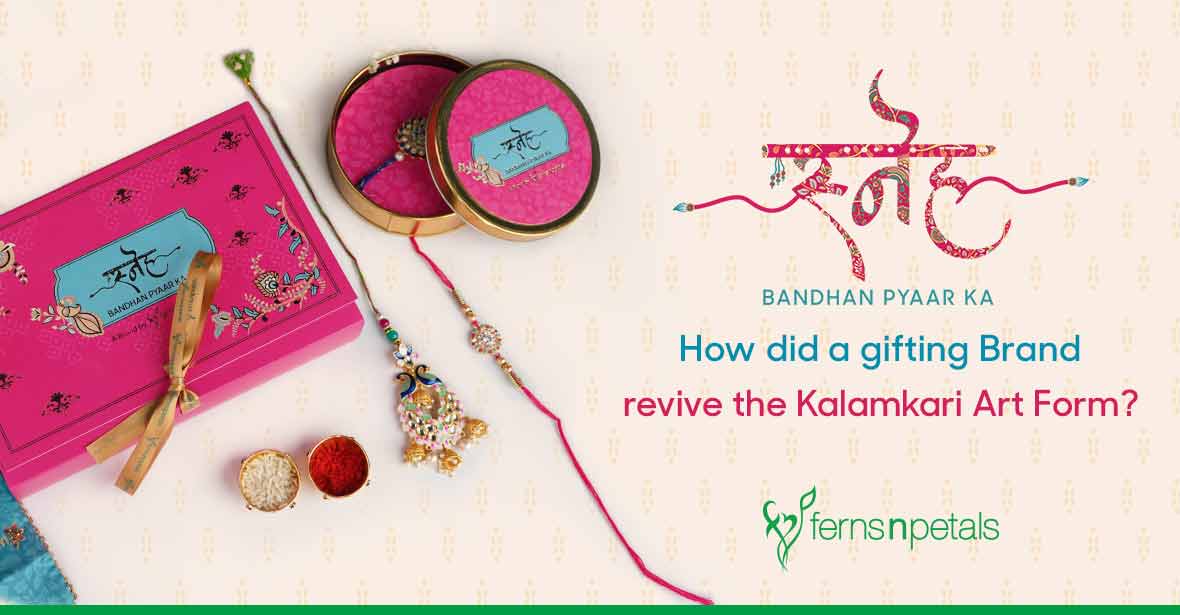 Old is gold, and so, Ferns N Petals thought of reviving this art form and blending it with India's most celebrated festival- Raksha Bandhan. This led us to launch our first Rakhi Label- Sneh.
Our Karigaars have handcrafted the strings of love and affection that ties siblings together. Our Sneh range has JDashing Jodi Sneh Box, The Chokor Sneh Box, Sneh Tassel String, The Golconda Sneh Box, and The Artsy Sneh Potli. All these creations revolve around the Kalamkari art form and are adorned with motifs of flowers, peacocks & paisleys. All Sneh boxes are handmade meticulously by one of the many 'kaarigars', and they convey the affectionate bond between the siblings. This Raksha Bandhan, celebrate the affectionate bond of Nok Jhonk and love with our Sneh label and surprise your siblings with a premium gift range and more. Take a look at some exclusive Rakhi Gifts from our Sneh Collection!
Dashing Jodi Sneh Box
This gorgeous couple box has threads of Rakhi & Lumba for your brother and sister-in-law!
The Chokor Sneh Box
Our Kalamkari designer Sneh Box holds the sacred threads of love that strengthens the relationship between a sister and a brother.
Sneh Tassel String
Holding our Solo Rakhis, the Sneh Tassel string is an envelope that is tied with a tassel, and it conveys your love in a simple yet impressive way.
The Golconda Sneh Box
A timeless tin box that has traditional rakhis, and shouts out love and affection.
The Artsy Sneh Potli
The Artsy Sneh potli looks extremely beautiful and holds Lumba Rakhi for your sister-in-law!