Flower Traditions in Mexico
Author:

Shivangi

Published:

22nd Feb, 2021
Famed as the Land of Enchantment, Mexico is one destination where you get to relish everything from Tacos to Tequila. This lively country is also known for its flower traditions. Blessed with vibrant blooms all around and at all times, it is indeed a paradisiacal land. Flowers are considered holy objects that play a big part in all religious rituals that take place in the country. If you are keen to know about the flower traditions in Mexico, then you must check out our handcrafted guide.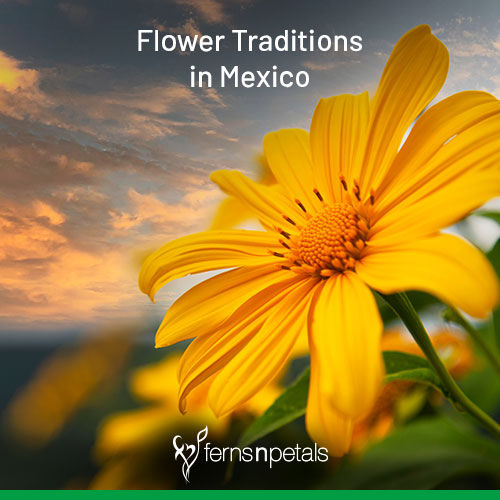 Famous Flowers in Mexico
Marigold: Marigold is a symbol of grief and despair in Mexico. It is mostly used on the Mexican holiday Day of the Dead on which people keep the flower on the grave of their family and friends. It is considered the purest offering for Mexican deities and is used in religious ceremonies.

Dahlia: Dahlia is the national flower of Mexico. It represents dignity, elegance, and creativity. Dahlia is known as Mexico's National Summer Flower and comes in various colours and sizes. It is used in festive seasons and for romantic bouquets as it looks beautiful.

Poinsettia: Known as the Christmas flower, Poinsettia is a symbol of the Star of Bethlehem. It is the most famous winter flower and is popular as Nochebuena in Mexico which means goodnight. It is mainly used during Christmas week.

Mexican Sunflower: Sunflower blooms between the summer season and early autumn in Mexico. This gorgeous flower symbolises faith and loyalty. You can spot sunflowers in the shades of red and yellow in Mexico. It is considered as the flower that you can give to your parents or beloved.

Laelia Orchid: Laelia Orchid is famous as rosy-tinted laelia in Mexico. It is a symbol of love, luxury and beauty. Laelia Orchid grows throughout the year and is a ravishing flower that is used in all ceremonies, festivals and for expressing love.
Tips for Sending Flowers in Mexico
Red flowers are considered bad luck in Mexico. Red flowers are only used on Valentine's Day gifts or Christmas.
Yellow flowers are a symbol of death. Try not to send them on special occasions.
The purple flowers are also used for mourning. When they are used in a bouquet with other flowers, they can be used for all occasions.