All you need to Know about Kisan Diwas
Author:

Apeksha Rawat

Published:

23th December, 2019
Kisan Diwas or National Farmers Day is observed across India every year on 23rd December. This day commemorates the birthday of Chaudhary Charan Singh, who was the 5th Prime Minister of India. On this day, several seminars and programs are organized for farmers and the political leaders visit the former PM's Samadhi at Kisan Ghat in New Delhi. The famous 'Kisan Ghat' in New Delhi is dedicated to Chaudhary Charan Singh due to his contribution to causes related to farmer's communities in the North.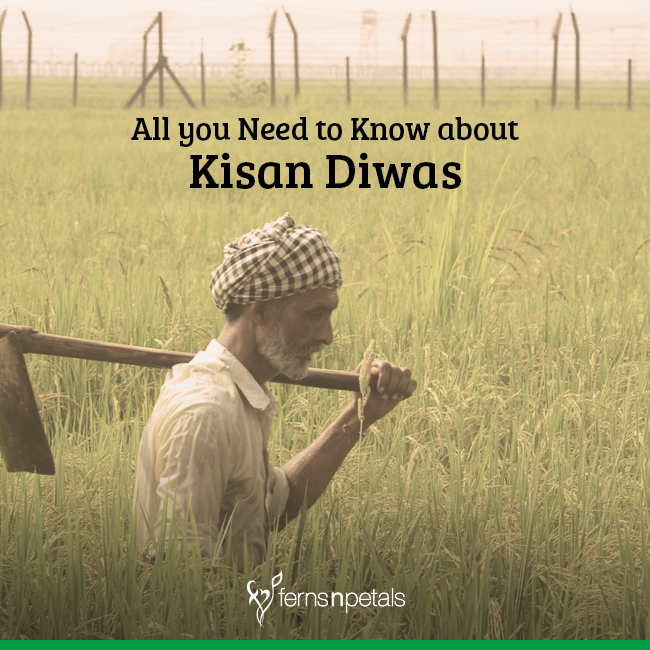 Chaudhary Charan Singh was primarily a farmer himself, who was born to a Jat couple of Noorpur in 1902 and led a simple life. He served as the Prime Minister of India from 28th July 1979 to 14th January 1980. Chaudhary Charan Singh made a big contribution to the improvement of Indian farmers. He is credited for starting several reforms and introducing new policies in India. He was also a very efficient author and expressed his views on farmers and issues related to them and their remedies. Kisan Diwas celebrates the contributions of Chaudhary Charan Singh made for the farmers of our nation.
Read further to know some interesting facts about Chaudhary Charan Singh:
Coming from a peasant family, Chaudhary Charan Singh understood the real condition and problems of farmers and did his best to support them.
Chaudhary Charan Singh introduced Budget 1979 that was designed to fulfill the demands of farmers in all respects. This budget introduced many policies in favour of farmers that bring them together against the landlords and moneylenders.
He introduced Agricultural Produce Market Bill in the assembly, which was meant to guard the welfare of farmers against the greed of dealers.
Chaudhary Charan Singh framed and implemented the famous Zamindari Abolition Act
He conducted the battle against the collectivist land-use policies of Jawaharlal Nehru to protect Indian farmers.
Being a very effective writer, he penned his thoughts on farmers and problems faced by them and solutions.
How Kisan Diwas is celebrated throughout the nation?
The government announces fresh policies related to farming, agriculture, and seeds for the benefit of the farmers.
Kisan workshops and seminars are arranged at the divisional, district, and block levels.
The agricultural officers and agriculture scientists educate farmers about the newest data in such seminars.
Various farmer seminars are conducted at various agriculture science venues and knowledge venues.
The district rural development firm conducts seminars, exhibitions, and fests on several facts of agriculture and rural development.
The farmers are also educated about new agriculture insurance schemes.
5 Amazing Facts about India's Farmers-
An average farmer in India owns around 5 acres of land, which is used for agriculture.
Indian farmers are quite tech-savvy and regularly use the internet to get relevant information about the weather.
Other than tending to their crops, Indian farmers also take on the role of mechanic, weatherman, businessman, veterinarian, marketer, and scientist.
As of 2013, India has the 2nd largest agriculture output in the world. It is also the 7th largest exporter of agricultural goods.
Based on data from the agriculture ministry, India produced 95.9 tons of wheat in the year 2013-14.