What are the Health Benefits of Lavender?
Author:

Rima Ghosh

Published:

18th December, 2019
Lavender belongs to the mint family and is native to Cape Verde, Canary Islands, East Africa, Southwest Asia, Southeast India, and the Mediterranean. The light violet coloured flower has been in use for a long time especially in medicine and cosmetic industry. Lavender oil is the primary thing that is extracted and profusely used in various ways.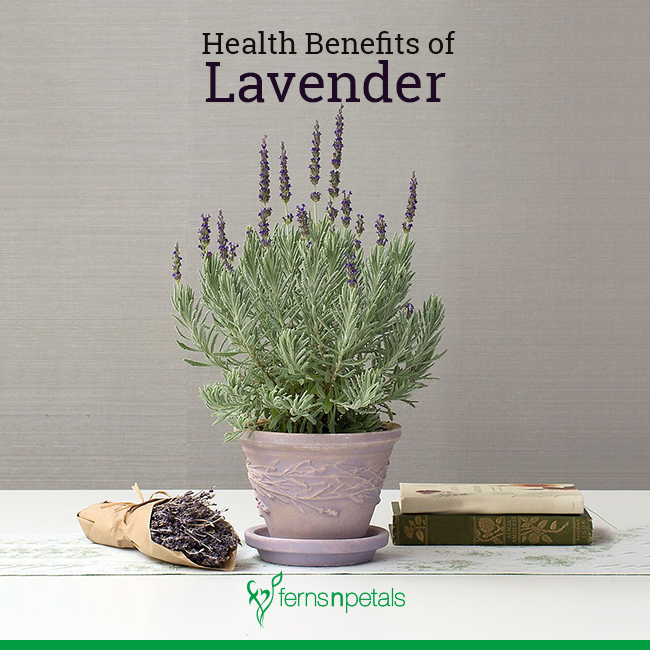 Some of the popular lavender uses and benefits are mentioned below:
Improving the quality of sleep
Good night sleep is one of the major signs of a healthy mind and body. There are people who face sleep-related issues like sleeplessness or insomnia. Lavender helps to curb such issues. Putting two drops of lavender essential oil on the pillow before going to sleep has often resulted in people experiencing improvement in the quality of sleep.
Fights fungal infection
As per the latest studies in medical journals, it has been proven that lavender oil can be effective in fighting antifungal-resistant infections. It is also said that the essential oil distilled from the Lavandula genus of this plant is brilliant in destroying the membranes of fungal cells.
Prevents hair loss
Hair loss is a common problem often faced by people due to unhealthy lifestyle and pollution. Lavender oil has been proven to cure hair loss. It effectively treats alopecia areata too which is an extremely bad condition of hair loss from some or all areas of the body. Mixed with the base of coconut oil or olive oil, lavender oil works towards hair growth.
Treating anxiety-related problems
As per some medical journals, Silexan – a lavender oil preparation is effective in curing anxiety and related problems. Silexan is generally available in 80mg gelatin capsules. Lavender scent can also be used to combat anxiety.
Reduction of blood pressure
A test was conducted among patients with high blood pressure who had risky heart conditions too. They inhaled lavender essential oil after open-heart surgery and that resulted in reduced blood pressure and a normal heart rate.
Reduced hot flashes during menopause
Many women face hot flashes during their menopause. Due to that the face turns red and triggers perspiration. So, in such conditions, aromatherapy with lavender oil for 20 minutes per day will be helpful.
Reduces stress
People get tired after a long day of hard work and professional life will continue to provide stress. Lavender essential oil is effective in reducing stress. One can apply lavender essential oil in bath water and take a shower. One can also mix it in lukewarm bathtub water and soak the body in it for 10 minutes for the best results. The signs of stress would vanish.
Apart from the use of lavender essential oil, the consumption of lavender tea would be suggested to enjoy all these health benefits of lavender. Take 200 gms of water and pour 4 tablespoons of lavender buds in it. Allow to boil for 10 minutes and strain it. One may add a spoon of honey for sweetness and enjoy the cup of good health.