Top 6 Flowers That Bloom at Night
Author:

Anushka

Published:

20th December, 2021
Flowers! What a stunning creation of God! Something that fills up the whole landscape with a splash of beautiful hues and has the overbearing power to captivate us. They continue to bask in the glory of the Sun. However, there are some flowers that are nocturnal and come to light at night. Titled 'night flowers' or 'moon flowers', such flowers come up when the sun goes down. And planting a few of these night-blooming flowers in your garden will keep you wide awake but for all good reasons. Take a look at the most stunning night-blooming flowers that blossom while you sleep.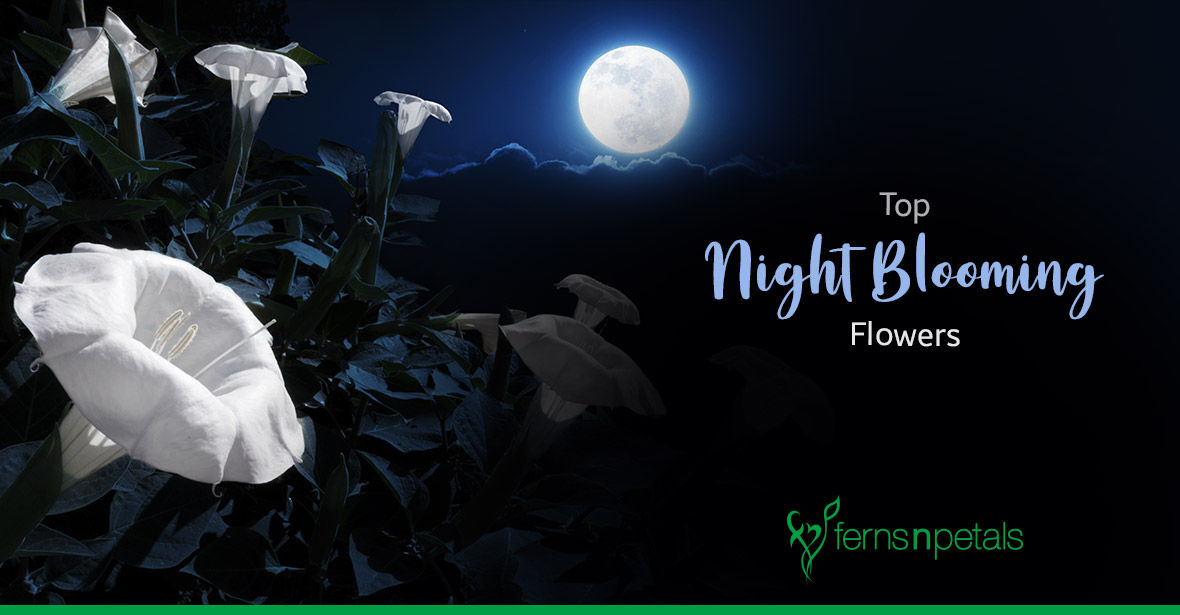 Moonflower
Boasting large white and pink flowers, the moonflower makes an appearance at dusk and stays that way until dawn. Staying true to its name, the flower gives out a moon-like charm and a lovely fragrance. Though extremely stunning, do note that some of the species of moonflowers are highly toxic. Therefore, be mindful when choosing this night flower for your space.
Evening Primrose
Since it blooms only from evening until night, hence the name evening primrose. The yellow-coloured wildflower is not only eye-catching and sends out a lemon-scented aroma but also has medicinal benefits. Its leaves, seeds and oil are known to have many medicinal uses.
Datura
This trumpet-shaped flower is a common sight near roadside trees or gardens. Sometimes referred to as 'Devil's trumpet', the flower is highly appreciated for its bewitching beauty by night owls. Therefore, they make a beautiful addition to a garden. However, since they are highly poisonous, they should be planted in areas away from children or pets.
Night Phlox
Also known as midnight candy, Night Phlox is highly regarded as the queen of the night flower. It fills the air with a sweet honey-like aroma and blends your space with a splash of bright, yellow hues. Other than this, it can attract butterflies, bees and birds to give a picture-perfect.
Four O'Clocks
Just like the name suggests, Four O'Clock or Mirabilis Jalapa blooms open in the late afternoon, giving out a lemony spice scent. It can produce more than one colour of flowers and sometimes, even a single flower will have more than one colour. The colour variations you might see are yellow, pink, red, white or magenta.
Night Gladiolus
Night Gladiolus is among the most gorgeous flowers that not only add fragrance but also paint your garden all bright. The plant grows best in the area with heavy rainfall and is attractive to bees, butterflies and insects. Just keep it out of reach for pets and children as it is also poisonous.