Surprises Made More Special With Our Personalised Gifts & Services
Author:

Rima Ghosh

Published:

27th June, 2019
The dictionary meaning of "Surprise" is an unexpected or astonishing event, fact, etc. Expectations are normal in any relationship and when these expectations are not met – they bring fights and quarrels. But when someone goes way ahead of expected levels – those moments stay forever in hearts and minds. That's why the element of surprise plays a vital role in retaining a healthy relationship.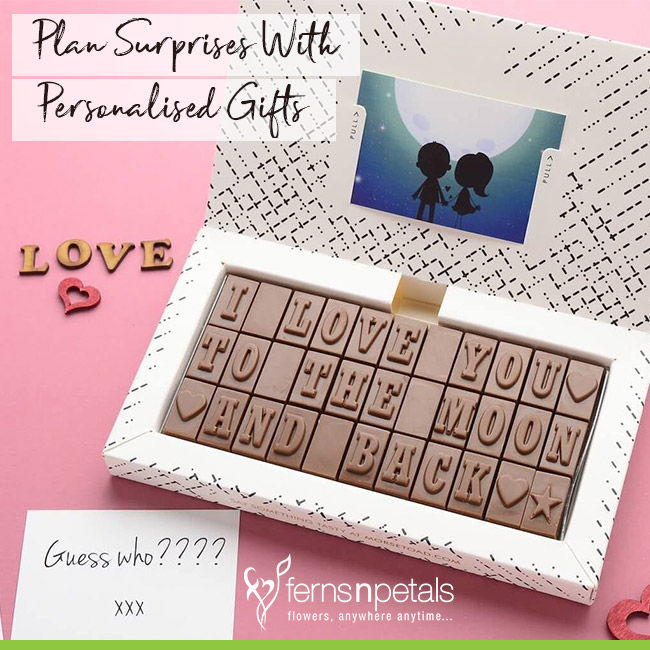 Why Surprises are Important in Relationships?
The book "Surprise: Embrace the Unpredictable and Engineer the Unexpected" written by Tania Luna and Leeann Renninger narrates that surprise (of all sorts) bring vitality in lives of people. It is further stated that surprise works on the dopamine system in the brains of people. That, in turn, helps people to focus their attention and inspire them to look at situations in refined.
To understand the psychology of surprise, knowing the 4 stages of surprise response is essential.
1st Stage: Freeze- At this stage, people stop their normal track because of the unexpected event.
2nd Stage: Find- At this stage, people get hooked into the whole surprise package and try to understand what is going on or how things happened.
3rd Stage: Shift- During this stage, the shift of perspectives change.
4th Stage: Share- At this stage, people feel comfortable in sharing this "surprise" with others.
Know the Benefits of Surprise:
Boosts Memory
The researchers from the University of Magdeburg, Germany opines that hippocampus – the part of the brain that helps to process & store information becomes active while surprising events occur. Therefore, the brain remembers the minute details of the "surprising moment" as compared to the regular or expected ones. All the exciting childhood events, sudden call of a long lost friend, or the sudden arrival of a gift box – people seem to remember the time, date, expression, and every other detail of such moments.
Enhances Happiness
Many psychological studies reveal that the human brain is more energetic while "surprising" moments occur as compared to the expected moments of happiness. That's why when a gift is received on any random day or without any occasion like a birthday or Christmas tends to bring more happiness and gratitude among people.
Adding Spark in Relationships
Any relationship expert would say that doing anything fresh and novel with a romantic partner brings more spark in the relationship and ultimately that leads to satisfaction. Living with each other over the years leading the partners to know each other more than 100%. That's why there is always an expectation regarding the "moments when he/she will shower love or give a gift". When a partner surprises with something "out of the box" that leads to more closeness, comfort, excitement, and in the end happiness in that relationship.
Nothing can be as captivating as personalized gifts when it comes to surprising near and dear ones. Over the years, the trend of gifting personalized gifts has increased. The joy of adding your personal touch to gifts is unmatched.
How Can One Design A Nice Surprise With Personalized Gifts?
Only selecting a personalized gift and ordering is not enough - one must know the ways to surprise their loved ones too.
On a birthday or anniversary of the "significant other" or "parents" a midnight delivery of personalized hamper consisting of a mug, cushion, chocolates, etc. would be a great gift option. They definitely know that a "gift and greeting" is on the way but exactly at 12 midnight, when the doorbell rings – there is a certain doubt in the mind. But when the door opens and the delivery guy hands over a box of gifts – that moment is worth cherishing.
Life is not always a cheesecake. Sometimes, it is really harsh and people all around may seem brutal. There are many friends or relatives who never forget to greet and bring a gift on obvious occasions but only a few would think to gift during a rough patch. So, a gift in those hard days speaks a lot about the sacredness of a relationship. A surprise gift idea for a long distance boyfriend or grandparents or kids during those difficult times would enhance love in the relationships. A personalized cushion would be perfect for such moments as they symbolize comfort.
Sometimes anger makes people speak some harsh words. After cooling down, it is often realized that those harsh words were not necessary. Sorry can be said through an SMS or a WhatsApp message but wouldn't it be more compassionate if a personalized photo frame consisting pictures of "happy times" or a personalized love message in a bottle is sent right on the same day? This simple step of sending a surprising personalized gift on the same day of the fight would not only save a relationship but also take the relationship to better levels.
Just as a gesture of Thank You for parents or roommates, best friends, or siblings, express delivery of personalized mugs or personalized pen holder or personalized table top can be opted. This delivery can be scheduled for any Monday when the week starts and everyone is at their busiest level at office.