Benefits Of Opening A Ferns N Petals Flower Shop
Author:

Apeksha Rawat

Published:

16th August, 2019
Franchising is an agreement where one party grants another party the right to use its trademark and business system to distribute their goods and services. Two levels of people are involved in a franchise system- the franchisor, who establishes the brand's trademark and a business system and the franchisee, who pays an initial fee for the permission to do business under the franchisor's name and system. Ferns N Petals is a renowned online flower shop that has widely grown over the last 25 years. With the ever-growing demand of flowers for gifting and decoration during weddings and special occasions, Ferns N Petals come across as the trusted flower franchise business.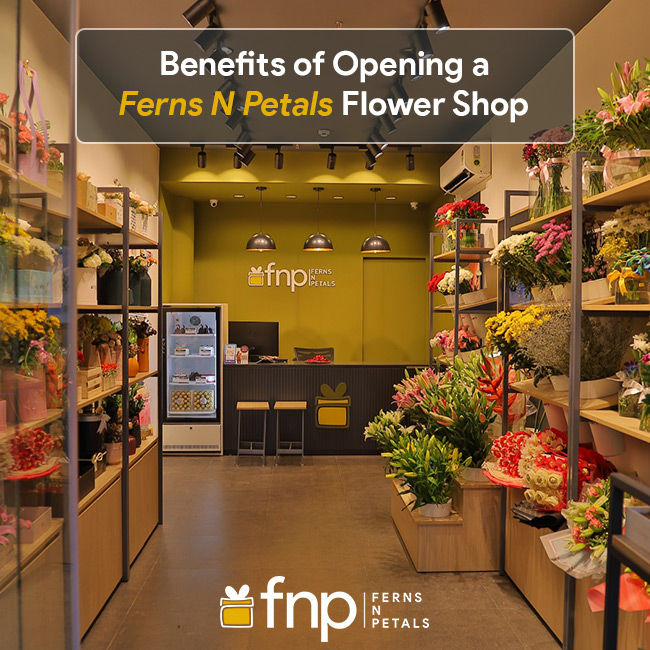 What makes Ferns N Petals the right choice for the franchise?
At present, Ferns N Petals has 350 franchise stores PAN India- 300 flower stores and 50 cake shops. The numbers of physical stores are increasing every year along with the increase in revenue.
400+ Stores, 40% are managed by women entrepreneurs.
Ferns N Petals is the world's largest low investment franchise chain of the floral business. Their franchise idea is formulated to help the aspiring businessman investment starting from 15Lac.
A flower bouquet is sold every 5 seconds at Ferns N Petals and they are adding a new franchise flower shop every week. They have franchise retail stores in Tier 3 cities as well.
Their flower shops are present at every 200 kms in India covering 56,100 sq. ft. of retail space PAN India.
They have 1,472 skilled artists throughout the retail network.
It takes 3 to 4 months to recover the operational expenses and 8 to 10 months to recover the capital investment.
Requirements for FNP Franchise:
Area – 300 sqft minimum.
Franchise Fee – 5 Lac plus GST
Décor Cost – 5 Lac approx.
First Fill – 3 Lac Approx.
Office Equipments – 1.5 Lac Approx.
Total – Approx 15 Lacs.
Benefits of Opening FNP Franchise Retail Store:
FNP is a world-famous brand name, which has carved a niche for itself in the market.
They help franchisee select the right business location.
FNP provides business partners with trained technical manpower support, FNP website support, and fixed monthly E-commerce business.
They conduct comprehensive franchisee training programmes from time to time and provide regular support of innovative designs for wedding, car decorations, and jaimalas, etc.
FNP provides daily camera supervision report of the franchise stores to keep track of daily activities like store assistant's behaviour with customers, whether the assistant is properly dressed, if the quality of products is maintained, or the proper store opening and closing timings are followed.
In every 2 months, the FNP quality control team visits every franchise retail store for the upkeep of the store and provides necessary merchandising support. It helps store managers keep track of their performance and assist them with ways to improve it over time.