Affordable Home Decor Tips With Artificial Flowers
Author:

Apeksha Rawat

Published:

16th July, 2019
Every flower is a soul blossoming in nature.
- Gerard de Nerval
Flowers are the delicate creations of nature that possess the power to fill any space with beauty, color and sweet fragrance. They always come across as the primary choice to decorate living spaces and add the perfect finishing touch to the décor. As beautiful as natural blooms appear taking care of them is equally demanding. The regular trimming, pruning and watering flowers require a lot of time and patience. The artificial flowers are a great alternative for someone who wants to incorporate flowers in home décor but does not have enough time to maintain them. The faux flowers look equally graceful as natural flowers and add cozy vibes to the home.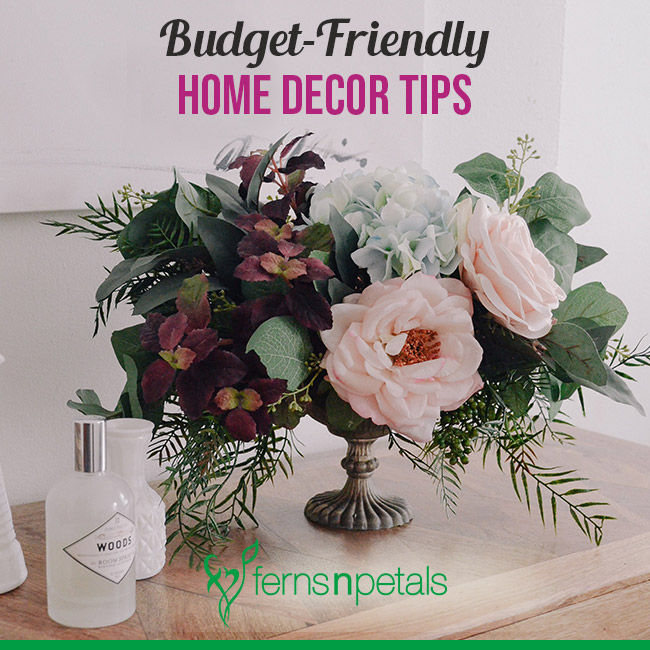 Why Decorating Home with Artificial Flowers is a Great Idea?
All the artificial flowers are available in all seasons. One doesn't have to be dependent on the growing season of particular flowers.
They are affordable as compared to the fresh blooms and last longer.
The artificial flowers do not have a limited shelf life. If taken regular care they'll still look as beautiful as the day they were purchased.
The artificial flowers are lightweight as compared to the natural flowers which are easier to arrange into a sophisticated display.
They add a pop of color, texture and visual appeal to living spaces without making them fussy like natural flowers.
Once arranged, the stems of artificial flowers do not require regular cutting or trimming. They do not require any maintenance except the occasional cleaning with a damp cloth.
As artificial flowers don't have pollen or pesticides, they are non-allergic to humans.
Tips To Decorate Home With Artificial Flowers:
Arrange in a Bouquet- Brightly colored artificial flowers arranged together in a bouquet wrapped with garden twine will make an appealing visual when placed on a patio table or side table. The gorgeous artificial flower bouquet is absolutely perfect to add a pop of color when kept at a reading nook or on a wall shelf.
Use as Table Centerpieces- A tasteful artificial flower centerpiece looks elegant and keeps the coffee table or dining table look lively all year round. It is important to ensure that the color and shape of the floral centerpiece compliments the look and feel of the table. Pink roses, blue hydrangeas, and delightful mixed daisies work just as well for centerpieces in every season and keep the atmosphere in the house fresh and airy.
Up The Ladder- Got a ladder and empty wall in the house? If yes, then we have got a great home décor tip, which is quite easy and affordable. Arrange the pretty artificial flowers of pastel shades and twine them up the ladder. Place the ladder against the wall and suddenly the most ignorant corner of the house will turn into an interesting and colorful one.
Try Quirky Decorative Vases- The charm of the artificial flowers increases many times when arranged in quirky and colorful vases. The terracotta designer vases, miniature bicycle vases, ceramic bottle vases, glass vases and slant neck vases stuffed with faux blooms will work great and adorn the nook and corner of the house, which is neglected otherwise.
These artificial flower decoration tips will come handy that will instantly liven up the interiors of the house by changing their entire look and feel.