5 Ways to Surprise Your Sister on Her Birthday
Author:

Priyanka

Published:

18th Feb, 2021
For a lot of people, their sister is the most important person in their lives. Having a sister (either younger or older) is believed to have a much lesser negative emotional trauma on you growing up, compared to not having one at all. They promote harmony and are believed to be the kindest and most genuine encouragement source in the family. If any of this sounds familiar, congratulations, you have a soul sister for life!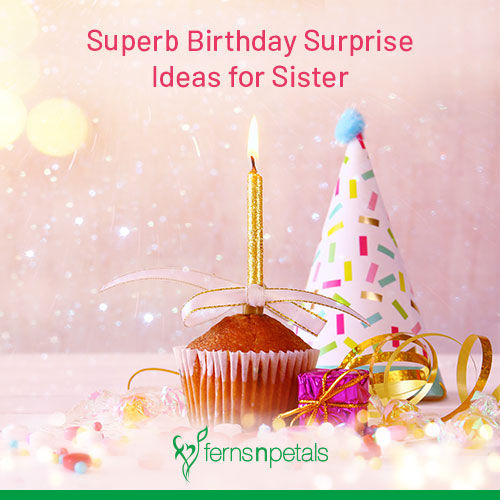 We believe that a perfect sister should have a perfect birthday. Here are some ways you can make your sister's special day even more exceptional on her next special day:
Take her to her Favourite Band's Concert
This would be a dream come true for her. Having her favourite band perform while surrounded by the people she loves would be the perfect birthday gift. To add a little zing to the whole birthday atmosphere, shower her with a couple of personalised gifts after the event.
Throw a Surprise Birthday Party at Home
If your sister loves surprise birthday parties, invite all of her best friends for a surprise birthday party at home. If thematic parties are something that everybody is up for, you could also go for that. Complete the surprise with a themed birthday cake, something on the lines of her favourite movie, or her favourite
Take her on a Shopping Adventure
Plan a full day of fun, shopping and adventure with her. With school, college and office overtaking all of our irreplaceable precious time these days, there's hardly any left to invest in ourselves. Convince her to take a day off and let go. If you're both located on opposite sides of the globe and cannot meet, take the adventure online. Get on a call, spend the day talking about useless stuff and shopping online. After all, birthdays only come once a year, and the time you take to bond with each other is unforgettable.
Make a Collage of your Memories Together
There is nobody who knows your sister as you do. You've spent all your life together and share every little detail of your lives with each other. She's your go-to person to confide in. Precious moments like that need to be adored in a way only she would understand. On her next birthday, convert all these memories into a DIY collage project and gift it to her. It may well be an interesting emotional rollercoaster ride, but worth it.
Gift Her a Playlist: Old-School and Cool
You can go a little retro for this one. Remember the days when we used to make playlists for the person we cared about? You can bring it back into fashion. Make her a playlist of your favourite tunes and gift it to her on her birthday. If you don't want to go back into the past with a physical mixtape, make her one on Spotify.
Lastly, accept her for who she is: her flaws, her accomplishments, and her failures. Open lines of communication, for we understand that there's nothing more important than a constant support system like your sister.