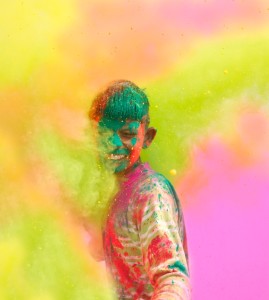 Holi is a day filled with bright colors, water balloons, lavish Gujiyas and melodious songs. With these ingredients, a perfect Holi is celebrated in different parts of India. It is celebrated on the last full Moon day of Falgun, according to the Hindu calendar. Holi is not just a fun filled and colourful festival but also has a religious significance attached to it. According to the Mythology, the festival celebrates the killing of Holika, the sister of Hrinyakashyapu. It is also significant of with respect to mark the end of winter. With the cold chilly winter neatly tucked up in the boxes, it is time to come out of our cocoons and celebrate the bright and vibrant spring festival. It also glorifies good spring harvest.
When we think of Holi, there is an image sketched in our mind of water balloons squirted on passerby, friends thrown in a pool of colour, teasing and laughter, getting intoxicated on bhaang and reveling with companions is perfectly acceptable. In fact, it is one day when nothing is taken against you and if something goes wrong, it is dismissed by saying "Bura Na Mano Holi Hai!!!"
Popularly Known as Holika Dahan, numerous legends and stories associated with Holi make the festival more exuberant and vivid. According to the legend, the word Holi is derived from Holika, the sister of mythical megalomaniac king Hiranyakashipu who commanded everyone to worship him. But his little son Prahlad refused to do so. Instead, he became a devotee of Vishnu, the Hindu God. He ordered his sister to kill Prahlad. Holika being blessed with the power to walk through flames unharmed, picked up Prahlad and sat into the pyre. Prahlad, kept chanting the name of his Lord and was unharmed by the fire however, Holika perished to death as she did not know that her powers were useful only to protect the innocent and not to the other way.
Holika is celebrated by lighting huge bonfires as a part of community celebration. People gather around it and sing folk songs. Mothers often carry their children five times clockwise so that her children get the blessings of Agni Dev, the god of fire.
Once the Holika is celebrated, next day is celebrated as Parva. The day when anything everything is allowed and people do not mind what happens. The holi colours also bring along with themselves the spirit of joy, naughtiness, passion and enthusiasm. Faces are coloured to such an extent where no individuality remains. All that is prevalent is a big group of vibrant and bright spirited people. It is one festival which makes us forget the barriers of caste, creed and religion.
Holi is also considered as the festival to celebrate the undying love of Radha for Lord Krishna. Celebrate the bright colours of your relation this year. Wish your family the bright hues of holi wishes with this amazing gift hampers and gifts from ferns n petals. At the occasion of Holi, ferns n petals have introduced an entire range of gifts and hampers. Starting from natural and herbal Holi colours to scrumptious lavish Gujiyas, all the ingredients required to make your holi celebration is available under one roof.
You May Also Like This: