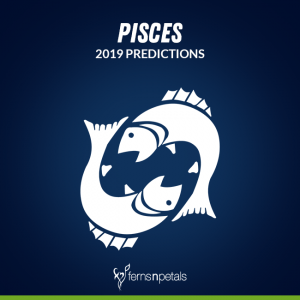 Pisces is a water sign and thus a sensitive and compassionate one! Pisces people are emotional and artistic too. This sign is ruled by Neptune who is the Roman God of Water. He rules over the deep fathomless places and it is said that he was the Patron God of Sailors. The symbol of this zodiac is "two fish" who are entwined but swimming in opposite directions. We are in the 2nd month of February and following the zodiac calendar the birthday time for Pisces has started from 18th February and it will continue till 20th March. So, all you Piscean there – do you want to know how 2019 would treat you? Well, in one sentence – In 2019, there are chances of many new and unusual events to occur in your life.
Read The Detailed 2019 Predictions For Pisces Zodiac Sign Below:
Love & Relationship:
In the department of love & relationships, the moon generally controls your life but in 2019 it is Venus that will take the charge. Friendship will remain the basis of your long-lasting relationships. Love will take a light-hearted leap in 2019. There might be some jerky waters ahead in 2019 and there can be friction in marital relationships. But the best thing about 2019 is that it will lead to the death of all the toxic relationships in your life. So, there will be much happiness, peace, and satisfaction in your life. The singles may meet some interesting people online belonging to different countries and cultures. If the couples try to avoid misunderstandings, then 2019 can be a great year for socializing.
Career:
Jupiter is in your 9th house at the beginning of 2019 and this indicates that you are going to have a prosperous year ahead. As you are a creative person and your current job doesn't offer you much space to unleash your creativity, then, you must change your job now. As 2019 is a lucky year for you career-wise, therefore, you must take up this opportunity and find a suitable job for yourself rather than the one that is choking you somewhere. In the beginning, you may not get handsome pay but don't worry about that as this is the time to focus on your job satisfaction. If your creative cells are satisfied with the "skills required" at your job, then everything else will fall into place. So, opt for an organization whose goals are exciting and pleasing to you.
Health:
For you Pisces, the "health & wellness" is related to spirituality and mental peace. So make sure that your anger, frustration, fear, or any negative emotion should not control you to limit your happiness. So, it is suggested to keep your expectations from everyone realistic this 2019. Always remember that a stress-free mind is very important in shaping a healthy body. Thus, practice yoga, meditation, or some freehand exercise and eat more fruits & vegetables to face life in 2019. It is also advised to all Pisceans to stay alert around August & September as some Piscean may fall prey to the hands of seasonal allergic reactions. So, don't stay out in the wind for too long.
Finance:
In matters of finance, 2019 will bring improvements in your life, dear Pisces. It can be said that the Pisceans will gain quite a lot financially in 2019. The chances of profits would be higher in June-July. And it is the ripest time to invest in short-term schemes that have a minimum guarantee on returns (like Mutual Funds). Dear Pisces, if you have ever thought to be an entrepreneur, then 2019 is the year to start with something small. In case, you are working in an office, then a job shift will bring a handsome pay hike. It will also cut down your expenses. All your past investments will bring great results in September-October.
Share these predictions for 2019 with your Piscean friends and relatives while greeting them a Happy Birthday!
You May Also Like This :