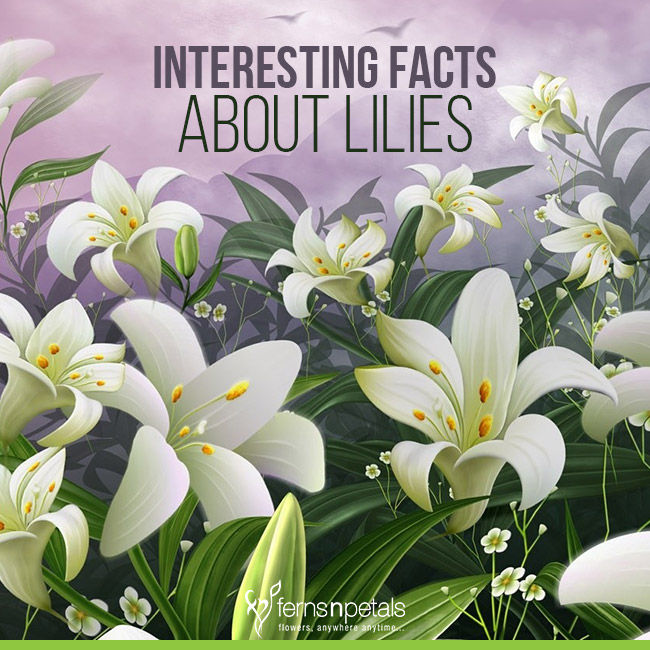 Head Held High With Pride
& Elegance Spread In Every Petal
When She Blooms With Royal Attitude
It Exudes Only Passion, Purity, & Renewal
Lily is one of the most adored and loved flower of the world. The big petals, gorgeous looks, and an enticing fragrance win the hearts of people worldwide. It has a different connotation in various cultural set up all across the world. In China, lily is the most famous wedding flower because it refers to love for eternity. Lilies belong to the family of Liliaceae. There are perhaps more than hundreds of varieties of lilies and most of them lie in the Northern Hemisphere- Asia, Europe, and North America and that's because temperate or tropical climates are conducive for its growth. Lilies symbolize beauty, royalty, elegance, renewal, rebirth, good luck, youthful energy, fertility, and purity of the soul. Do you know that lilies are one of the top ten flowers in the world? There are many such interesting facts to learn about lilies.
Read these erudite and interesting facts about lilies here and share them with your friends too!
There is nothing like "off-season" for lilies because they hardly go dormant. Lilies are perennial plants and can grow pretty well without much human intervention. Lilies are resourceful flowers and can develop from bulb or seed both. They grow anywhere between 2 to 6 feet.
Apart from white, yellow, red, and pink lilies, there is something called Tiger Lily that is orange in color and carries brown spots or freckles.
Lilies are quite extrovert and social. It cannot grow well alone. Put them in a group of 4 or 5 and see how fast and brilliantly they grow.
The flower sellers are always running with a profit with lilies. Why? Because people prefer lilies for its long life as a cut bloom. Those bouquets or vase arrangements of lilies come with a great lifespan to mesmerize your home or office or wherever you keep them! Well, the trick is to clear out the pollen from the centers to make lilies live longer.
Lilies are kind to humans but poisonous for cats. So, make sure you keep your dear cat away from the lilies.
As said earlier, lilies have a mesmerizing fragrance that has a positive effect on the mind. But it is only the white lilies and tiger lilies that have that sweet and compelling fragrance. So, keep that in mind while buying a bunch of lily flowers for your home or a lily plant for your garden.
As per the Greek Mythology, Apollo- the God of Healing presented Lily of Valley to Aesculapius, his son while teaching him the art of healing.
In Chinese culture, lily is also a symbol of healing. People in Chine give lilies to those friends or relatives who are going through a heartache or recovering from the loss of someone dear. There is a firm belief that this flower helps in recovery from depression or anxiety.
Lily is also edible! Yes, Chinese people love to gorge on those dry lily bulbs. They either use it to garnish food or to make a proper vegetable. One such famous dish is called "Jai" or "Buddha's Delight". People prepare this stew on the New Year day because it brings good luck!
Pink lilies or Stargazer lilies symbolize ambition and encouragement while white lilies refer to innocence and purity. Red lilies signify passion and can be gifted while proposing to someone or as a wedding day gift. Yellow or golden lilies symbolize good health and healing.
To decorate your home before any major festival or occasion, opting for lilies would be a great choice. As a center table, side table, office reception, or conference hall décor also, flower arrangement of lilies are appreciated. Another festive season of Christmas and New Year is approaching and thus you can plan to order some lilies from our website.
Lilies come with a secret message for the world:
"Carry a regal attitude and cuddle your own power. Never forget that renewal is just around the corner and that the expiration of one thing heralds the commencement of another"