Love is in the air and to enhance your romantic feelings, we are here with a heart-warming collection of flower & cake combos. The gorgeous flowers and tempting cakes make a perfect combo reflecting love, admiration, gratitude, and appreciation. Be it a birthday, anniversary, or the upcoming Valentine's Day – these combos would perfectly match the spirit of the occasions.
Take a look below and see how beautifully you can express your love.
10 Red Carnations & Pineapple Cake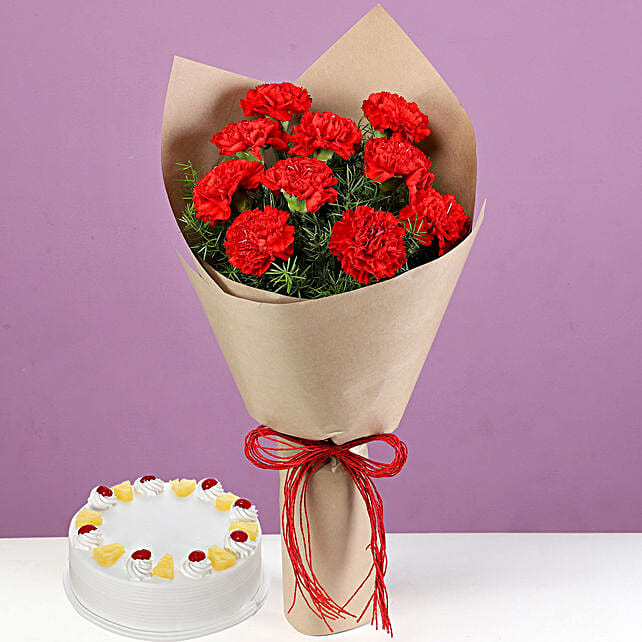 Red carnations symbolise deep love and affection. The ravishing red carnations are paired up with a sweet yet tangy pineapple cake. Those who love pineapple cake would love this combo.
Red Carnations Bouquet & Black Forest Cake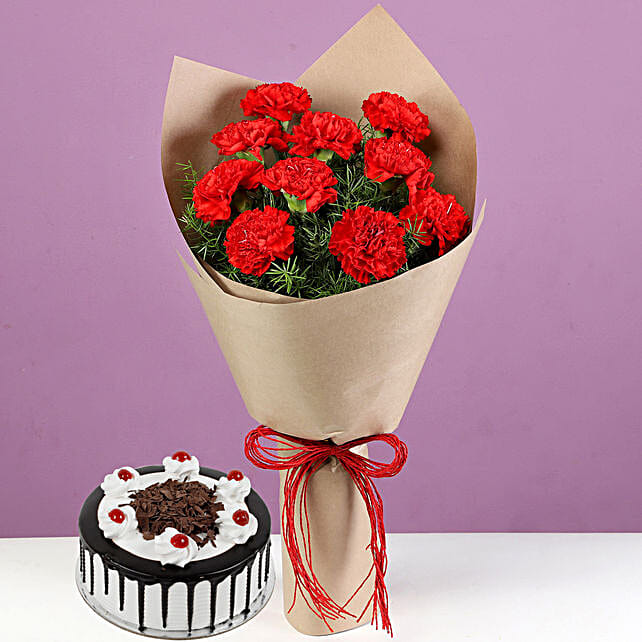 To let someone one about your deep love, care, and admiration, this is a perfect flower & cake combo that you can choose. The delicious black forest cake would surely intensify your bond of love.
Bouquet Of Red Roses & Chocolate Cream Cake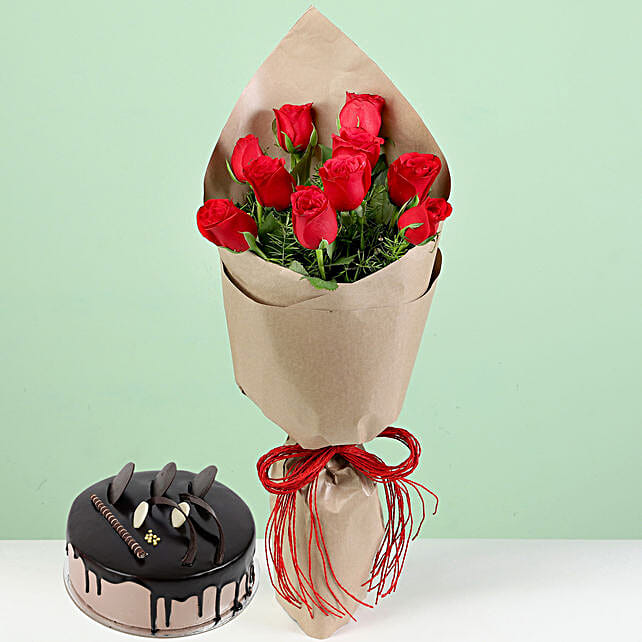 You can never be wrong with a magnificent bouquet of red roses. And we have added a heavenly chocolate cream cake to add more excitement to your special day.
10 Red Roses & Butterscotch Cake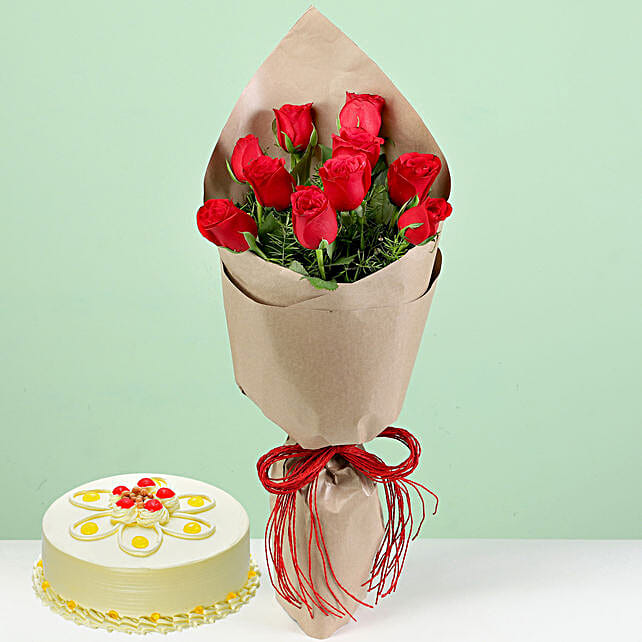 Red roses are the best messengers of love, romance, and desire. Make your statement of love stronger with this lethal combo of a bouquet of 10 red roses and a butterscotch cake. Let there be an extra sweetness to your special day.
10 Pink Roses & Chocolate Cream Cake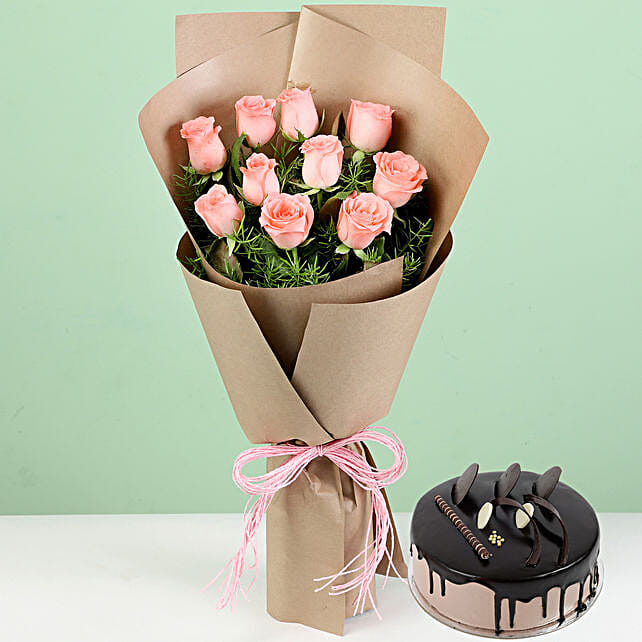 Pink roses symbolize affection, admiration, and appreciation. If you are thankful towards your lover for some reason, don't think twice to gift him/her this attractive bouquet of 10 pink roses and a chocolate cream cake.
10 Yellow Carnations & Pineapple Cake Combo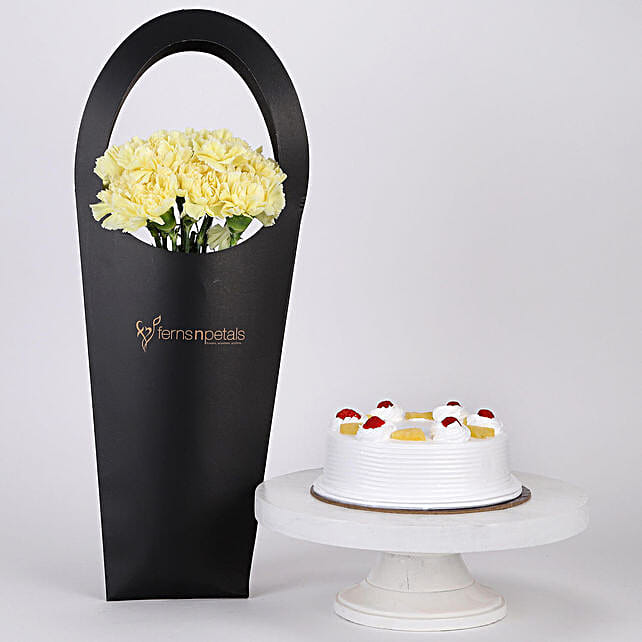 If you are looking out for something charming and bright for your best friend, you can opt for this beautiful combo of yellow carnations and a pineapple cake. Also when you want to uplift the mood of your sweetheart this combo would be a perfect choice.
Chocolaty Red Roses & Truffle Cake Combo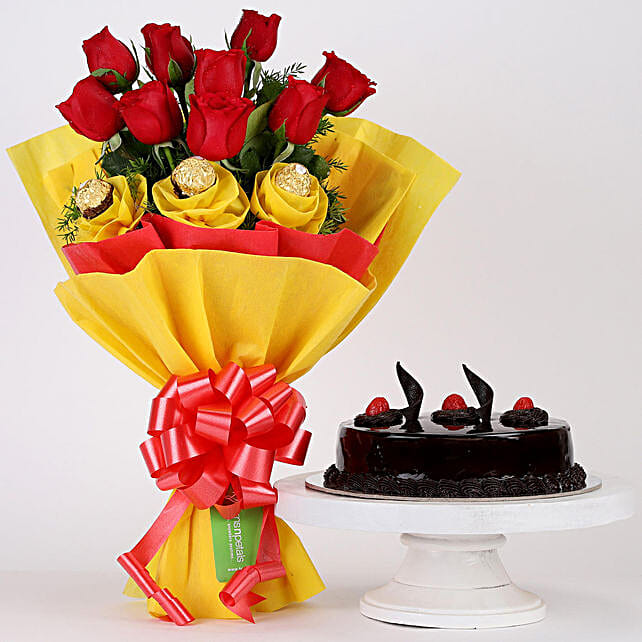 This is a unique bouquet of love and you must present it to your significant other. Red roses are decorated in a bouquet along with Ferrero Rocher chocolates and they are looking temptingly beautiful. The delightful truffle cake is adding more pleasure to this combo.
Purple Orchids Posy & Black Forest Cake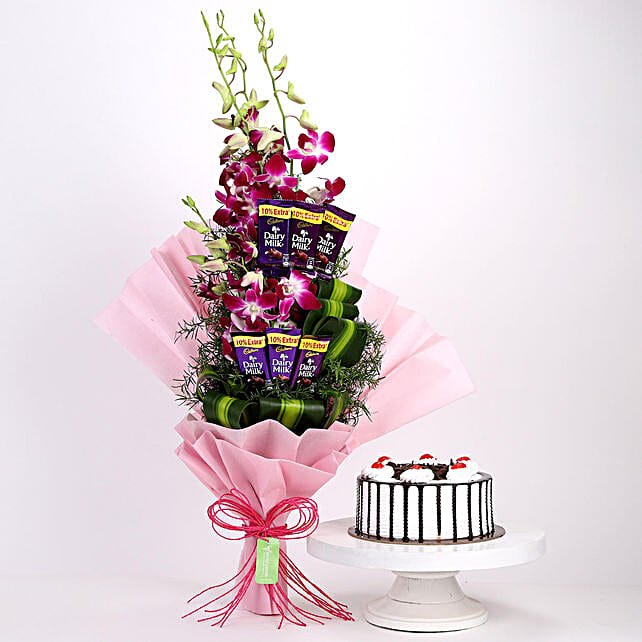 A black forest cake is combined with a bouquet of purple orchids and it will be a perfect gift to greet an unconventional person you know. The USP of this fashionable bouquet is that it comes with Cadbury chocolates.