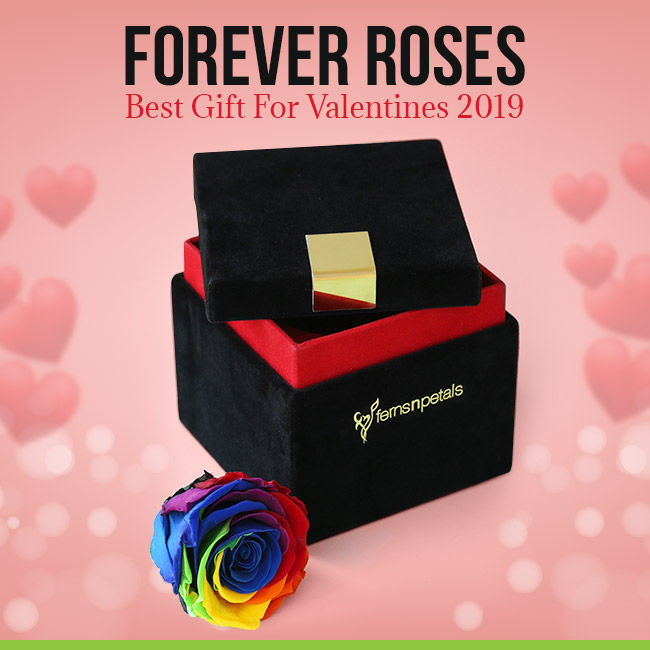 "Love is Forever and so are these Roses! These Forever Roses are 100% natural & well preserved. These Roses will *SERIOUSLY* Last For Two years!. A Forever Rose signifies your unending love for your special someone. It is like a piece of your heart, which is with them for eternity"
Love is the most important feeling in life. In fact, love is the most profound among all human emotions. We can allow love in our lives but we hardly have any control over how, when, and where love starts to express and enhance itself. The season of Love- Valentines is almost here and you might be in search for that perfect Valentine's Day gift to woo the hearts of your special someone. Nothing compares to flowers when it comes to expressing love! Flowers are the epitome of beauty, grace, charm and eternal love. In the world of flowers, roses are the king for their charismatic beauty and heart-warming fragrance. So, to enhance the quotient of love and romance in your life, here we present our latest gift – Forever Roses! These are also known as eternity roses, preserved roses
What Are Forever Roses? Know Some Facts:
We are the number one online gift portal in today's date and our constant aim is to excel our services and bring innovative products to our customers. In that quest to let our customers experience something truly enigmatic and romantic, Forever Roses are introduced. These roses are the best gifts for valentines 2019. Know some more about these roses:
These are Ecuadorian roses which are highest quality roses because of their proximity to the Equator.
These roses are cut in fully bloom stage which are then dehydrated and injected with a wax based non-toxic solution.
This injection helps in retaining the shape and size of the roses in its fresh state for 2 years.
This specially imported rose is a revolution in the world of Valentine's Special gifts and you can get this only at Ferns N Petals.
Why Should You Gift Forever Roses This Valentine's Day?
You scout the market to find out the best gift for your lover – right? Why do you do that? Simply because you love that person truly, madly, deeply, and affectionately, & that's why you are never tired of roaming around and finding the perfect gift for that person. These Forever Roses are those perfect gifts and that's why they are the best gifts for Valentines 2019. We bring you some more valid reasons why you should gift these spectacular Forever Roses to your sweetheart.
You know that your lover is one in a million. This Forever Rose is also a metaphor for that rarity. It is not found easily and when it is in your vicinity, you must buy it to complement the beauty and valor of your partner.
The word "forever" is filled with romance. As these roses come with a longer life, they would become a part of your growing love and everyday anecdotes beautifully. Thus, these roses would be the perfect token of love and strength.
The enticing look of these roses would mesmerize your lover!
These forever roses signify "eternal love" and that's why these roses would be the best gifts that would inspire your "special someone" and you to invest more into the beauty of your relationship.
A Forever Rose signifies your unending love for your special someone. It is like a piece of your heart, which is with them for eternity.
Trivia About Different Colors of Forever Roses:
Forever Roses – our special gift for Valentine's Day 2019 is ready to make new romantic waves in your life for sure. We have 4 fabulous color variations – romantic red, wise blue, classic black, and vivacious rainbow. Four various names are given to these colors and they carry different connotations.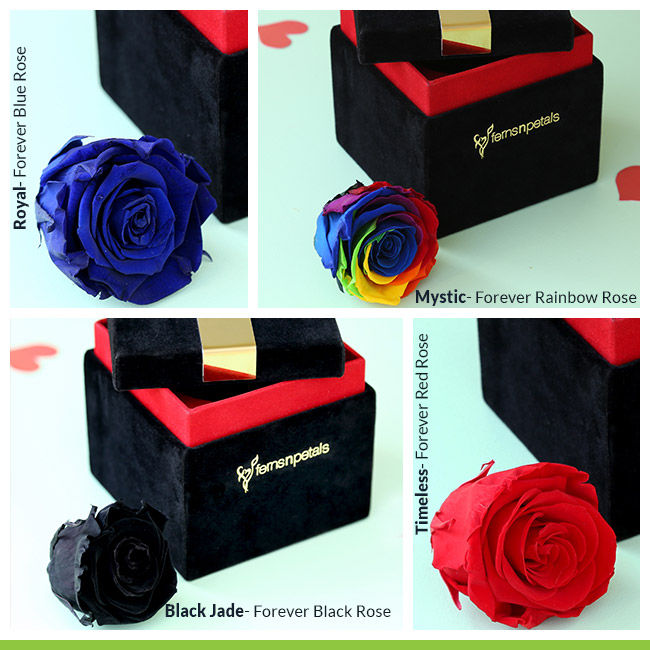 Mystic- Beautiful Forever Rainbow Rose:
The Rainbow Roses was created by Dutch flower company owned by Peter van de Werken, who produced them by developing a technique for injecting natural pigments into their stems while they are growing.
The Rainbow Rose is also called as The Happy Rose. They represent happiness & joy.
Timeless- Beautiful Forever Red Rose:
Red Roses are perfect expressions of love and romance since ancient times! Apart from love and romance, red roses also portray passion, determination, courage, and affection.
High society Roman women used rose petals like currency.
Royal- The Forever Blue Rose:
It took 14 years of collaborative research for by two companies 'Florigene', and 'Suntory' to create the world's first blue rose.
Blue Roses have multiple meanings such as it stands for love, prosperity, or immortality as per ancient literature. In many cultures, it symbolizes royalty, royal blood, and therefore, the blue rose also represent regal majesty and glory. It is also believed that blue roses symbolize mystery, rarity, and magic.
Black Jade- Beautiful Forever Black Rose:
Since a true black rose is impossible to find in nature, it emphasizes utmost devotion and exclusivity in a relationship. One can also see endless mentions of black rose in Gothic literature.
Black represents the end of something, it can be the symbol of the beginning of something new. Moreover, black roses embody courage and resistance, too.
You Might Also Like: