Umaid Bhawan or Umaid Bhawan Palace is in Jodhpur, Rajasthan. It is one of the world's largest private residences. It received "World's Best Hotel" Award at the Traveller's Choice Award organized by TripAdvisor. This marvelous palace is named after Maharaja Umaid Singh, the grandfather of the current owner Maharaja Gaj Singh. It holds 347 rooms and a museum. The Jodhpur royal family resides here even today.
Brief Historical Facts About Umaid Bhawan Palace:
Maharaja Umaid Singh started the construction on 18th November 1929 and was completed in 1943.
This palace was built to provide employment to numerous people during the famine.
History says that once upon a time a saint cursed that a period of drought and famine would follow the Rathore Dynasty. After the rule of Pratap Singh, Jodhpur actually faced a worse drought and famine in the 1920s and this condition continued for 3 years. So, the farmers and local residents walked up to Maharaja Umaid Singh and asked for some work to earn a livelihood. Thus, in order to help the local farmers, he decided to build a palace.
Henry Vaughan Lanchester was the chief engineer- the contemporary of Sir Edwin Lutyens who planned buildings of New Delhi Government.
Chittar Hills- the outer limits of Jodhpur is the place where Umaid Bhawan Palace stands tall. This place had no vegetation and the soil was rocky. The sandstone required to build the palace was also not available nearby. So, Maharaja Umaid Singh first built a railway line for easy transport.
The building materials are- Golden Yellow sandstone with two wings, Makrana Marble, and Burmese Teak.
347 rooms, large banquet hall accommodating 300 people, and several courtyards are unique features of this palace.
This palace is a perfect example of a marriage between Western technology and Indian architecture. The budget was near about 11 million.
Gaj Singh II gave a part of this palace to Taj Hotels in 1971.
This place is a famous spot for Bollywood films and song shoot. It is also a place well-known for celebrity marriages and functions. Elizabeth Hurly and Arun Nayyar chanted their wedding mantras here. Nita Ambani hosted her 50th birthday party here.
Umaid Bhawan Palace is recently in news again for #priyanakakishaadi. Our very own "Desi-Girl" or Priyanka Chopra is marrying international pop star Nick Jonas here. The wedding rituals have begun already and Umaid Bhawan would also dress up in majestic lights to wish the couple a very happy married life.
Here are some more interesting facts to know that would inspire you to visit this palace:
To Feel The Royal Air: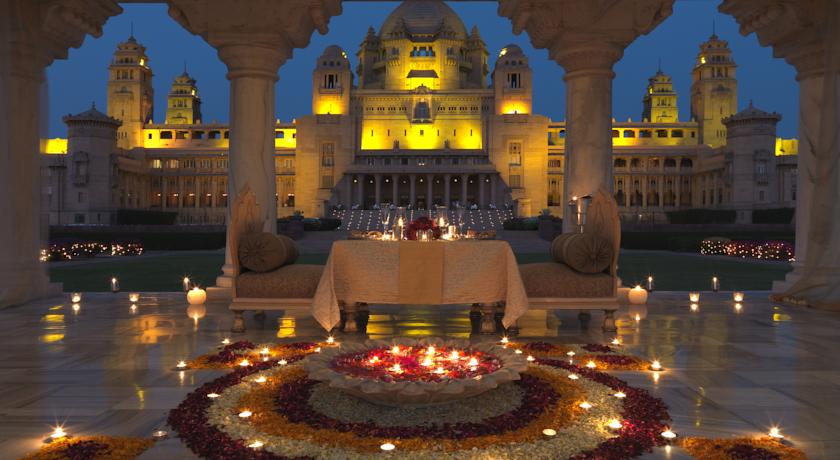 Rajasthan – the name itself says it is the place of kings. You would feel a royal vibe all across Rajasthan but you would feel that royal vibe intensely here in Umaid Bhawan, Jodhpur. The brilliance of sandstone, the shine of Burmese teak wood, or the lush green grass – you would feel completely out of this real technical world. While attending to any of your demand or desire, the hotel staffs address you as "Hukum Sahib" or "Hukum Sahiba". These address actually make you feel no less than a character just out of a Sanjay Leela Bhansali magnum opus.
Luxury At Its Best:
The management of Umaid Bhawan Palace feels that each and everyone dropping there must have the best time of their life. They welcome the guests at first with Rajasthani folk music, a shower of mesmerizing rose petals, and by applying tilak. Additionally, a Ghoomar dance is also there to give you a rustic and elegant feel of Rajasthan. Amidst the sparkling wine, when one enjoys such an ambiance – it is bound to be unforgettable.
Heritage Walk Loaded With Tales Of History: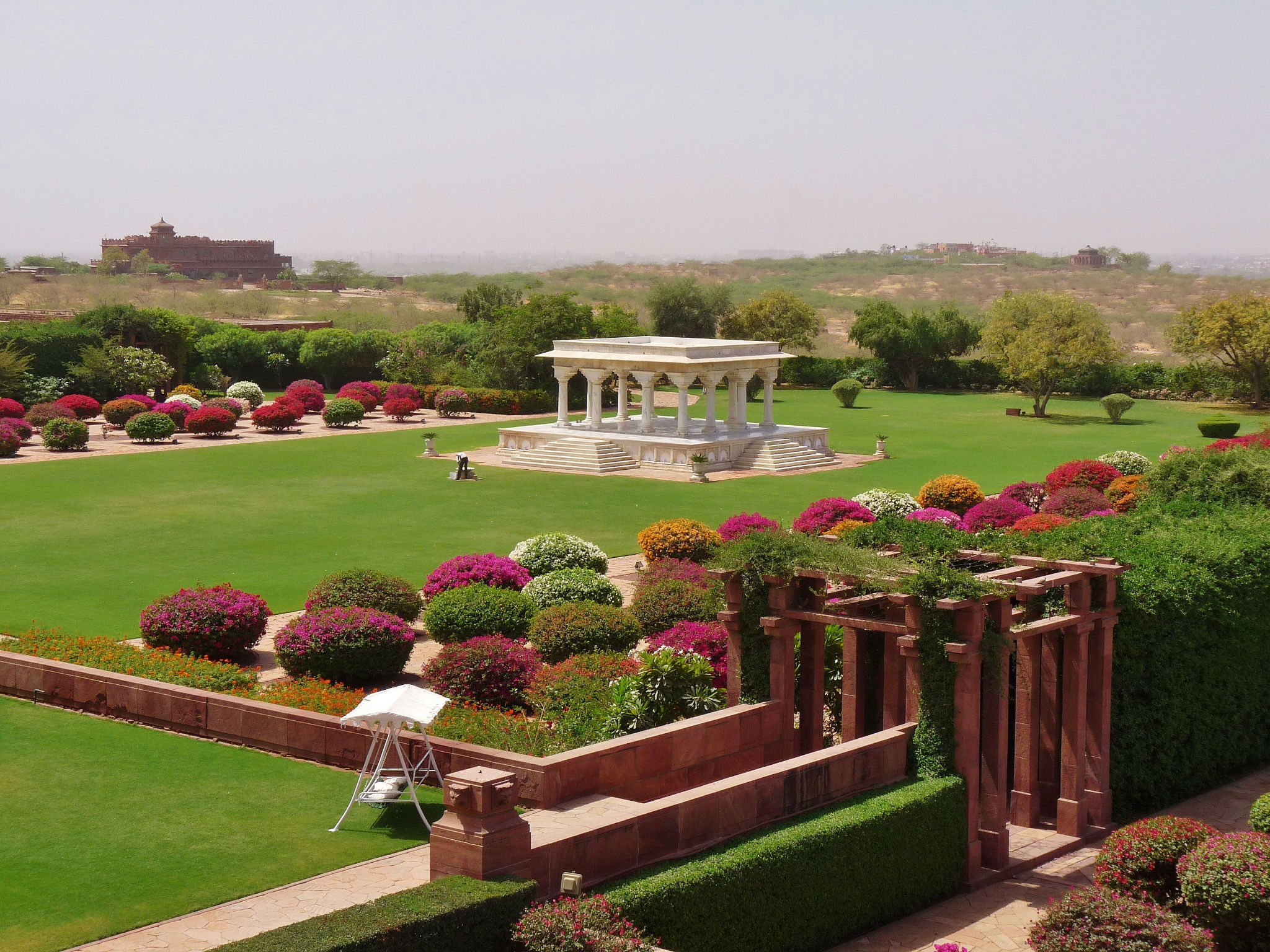 In such an amazing atmosphere, you must be yearning to know some anecdotes of the place. You would get personal butlers who would take you to a heritage walk. These butlers would let you know everything about the palace. This walk is a must to peek into the history of our country. There are things like antique cars, quirky clocks, palm court, etc. which would be forever etched in your memory. Post the Heritage Walk, the luxurious palace hotel organizes a cultural show where local artists perform and you get to have some yummy food and drinks.
A Heavenly Dining Experience: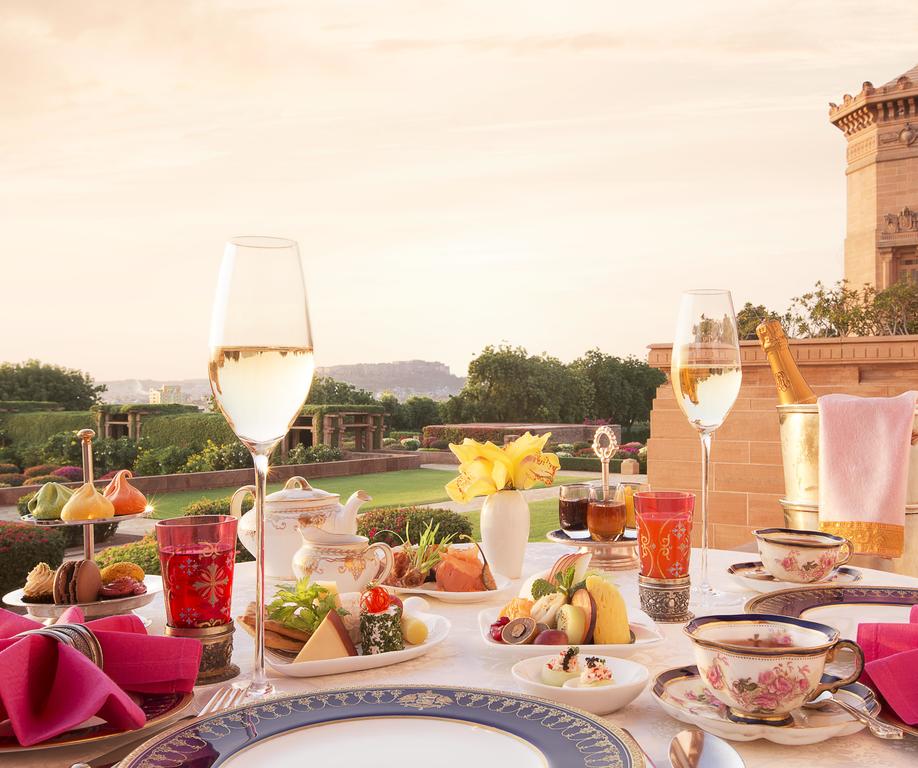 You can get a personalized or customized menu here and enjoy your royal meal at a lawn or any private area. The restaurant "Risala" serves one of India's best vegetarian and non-vegetarian food and snacks. Therefore, you must try each and everything on their menu card here.
Soothe Your Soul & Refresh Your Mind: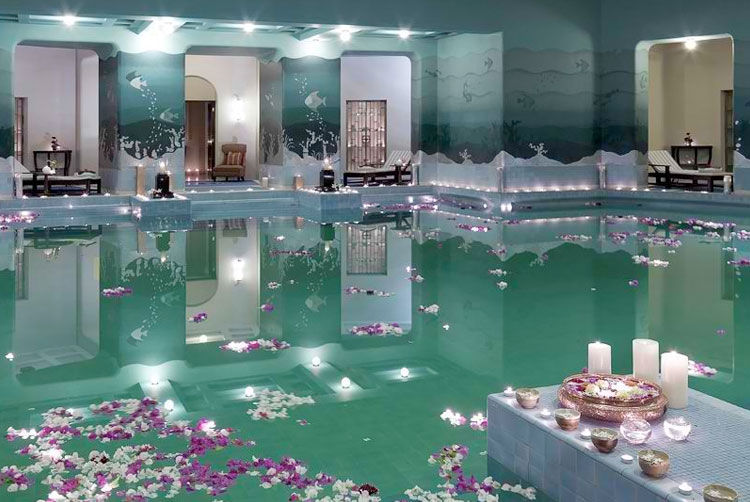 You would get various treatments, massage, and spa here. These allow your mind and body to relax. You would see the fascinating communal indoor pool here which was once used by the royal ladies. Hand-painted murals, fragrant candles, and fresh rose petals elevate the positive vibe of this place. And while you are enjoying a relaxing pool time, this palace surprise you with some snacks and drinks! Therefore, this is the perfect place to simply let your hair down and let every cell and nerve of your body relax.
So, forget all the tensions, anxiety, and workload of your daily life and simply let your hair down while at Umaid Bhawan Palace.