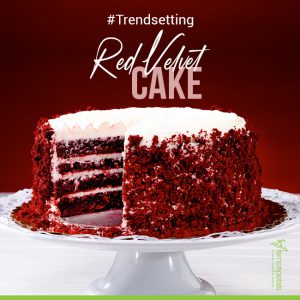 They say life is as sweet as a cake. You just need to add the perfect amount of sweet moments in your life to make it as delightful and enjoyable as a cake. Cakes are not merely desserts. They are the best parts of every celebration that help spread happiness and express our emotions to those who mean the world to us.
The universe of cakes is incomplete without the sensational Red Velvet cake. It is the shining star in the galaxy of cakes that leaves everyone spellbound with its mouth-watering creamy-cheesy flavor. Beautifully adorned with red and white stripes, the Red Velvet cake looks absolutely stunning and irresistible.
Red is an intense color associated with love, passion, and desire. It has a huge impact on our emotions and interpretations, which is also known to grab attention quickly. That makes the Red Velvet cake with dazzling white icing one of the best options to convey your love to your special ones on their important occasions. Whether you want to sweep your girlfriend off her feet on Valentine's Day or make your anniversary celebrations more memorable for your better half, nothing does it better than a scrumptious heart-shaped Red Velvet cake. From texture to flavor, everything about this cake is so unique that you can't do anything but explore more about it. This cake not only tastes wow but also smells great.
Now that you are hooked, we thought of sharing the Red Velvet cake recipe that you can try at home:
Preparation Time: 20 Minutes
Cooking Time: 35 Minutes
Ingredients for Cake:
All-purpose Flour – 3 cups
Buttermilk – 1 cup
Vegetable Oil – 1 ½ cups
Sugar – 1 ½ cups
Unsweetened Baking Cocoa Powder – 1 tsp
Baking Powder – 1 tsp
Salt – 1 tsp
Vanilla Extract – 1 tsp
Eggs – 2
Red Food Color – 1 bottle
Ingredients for Frosting:
All-purpose Flour – ½ cup
Milk – 1 ½ cups
Sugar – 1 ½ cups
Vanilla Extract – 1 tsp
Softened Butter – 1 ½ cups
 How To Make Red Velvet Cake At Home?
Preheat the oven to 350 degrees and grease the bottoms & sides of 3 cake rounds of 8-9 inches. Sprinkle the flour over it.
Take a large bowl and mix all the cake ingredients together and beat with an electric mixer until combined well.
Now divide the prepared batter among the three pans.
Bake it for at least 30-35 minutes. To check if the cake is baked properly, run the toothpick test. Stick a toothpick in it and if it comes out clean that means the cake is properly baked.
After 15 minutes, transfer the cakes into a cooling pan and allow them to cool completely for at least an hour.
To prepare cake frosting- Take a medium-sized saucepan, mix flour and milk and give it a nice whisk. Keep whisking until the mixture turns soft and smooth.
Cook the mixture over medium heat until it achieves a thick uniformity.
Remove the mixture from the heart and let it cool for 10 minutes.
In a large bowl, beat butter and sugar until it gets light and fluffy. Keep adding one spoon flour after the other until you achieve a smooth texture.
Now put in some vanilla and beat it again. The frosting is ready.
Assemble the cake one over the other with frosting well spread between them.
Spread the remaining frosting all over the cake.
Refrigerate the cake for at least 2-3 hours before serving.
Ferns N Petals is a cake-heaven where you can find lip-smacking cakes in every flavor for every occasion. Our Red Velvet cake is a trendsetter when it comes to fan following and is currently one of our best-selling cakes throughout the year. The rising sale of our Red Velvet cakes speaks for its delectable taste and the hygienic process with which our cake experts prepared it using fresh ingredients. So, the next time you want to convey the message of love – do try our Red Velvet cake. It will help you leave an everlasting impression in hearts and on taste buds.
Related Blogs –