Hello Folks! Welcome to the month of "Love & Romance". Out of all the months of a year, February is the most special one. It comes with 28/29 days only which means you have a day or two less than general to enjoy this month. But this month gives you double the chance to love more, express your love meticulously, and make new memories with your lover. Valentines Week is just 5 days to go! So, in case you still haven't planned the gifts to express your feelings of love & romance to your darling, then we are here to help you.
Have a look at the top 8 trending gift ideas for Valentines Week 2019 & make your partner feel special.
Timeless- The Forever Red Rose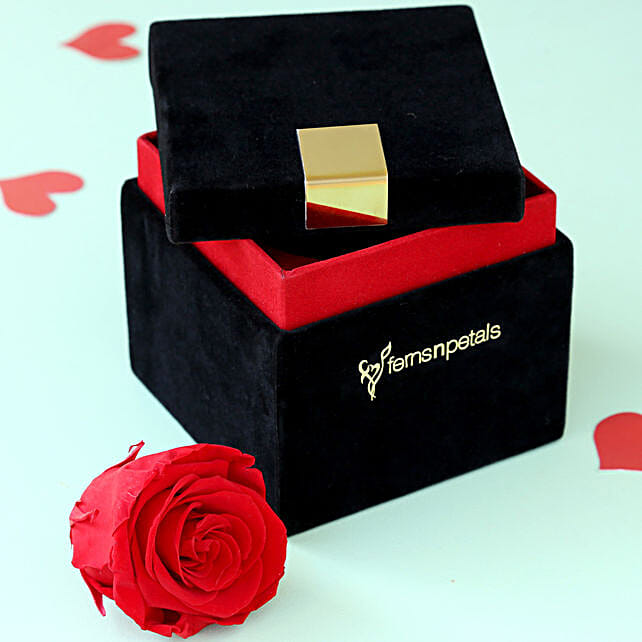 Love is forever! Love makes you push your limits and explore new strengths inside you. That's why the best ode to your love this Valentines Week would be this "Forever Rose" which is named "Timeless". This is an Ecuadorian rose that would remain fresh for 2 years and thus would keep on reminding you of your amazing love story. Apart from this stunning red color, this rose is available in three more colors – blue, rainbow, and black. These roses come securely packed in sturdy boxes in three colors – transparent, black, and orange. So, choose his/her favorite color and surprise your significant other with eternal love & romance!
Engraved Golden Valentine Rose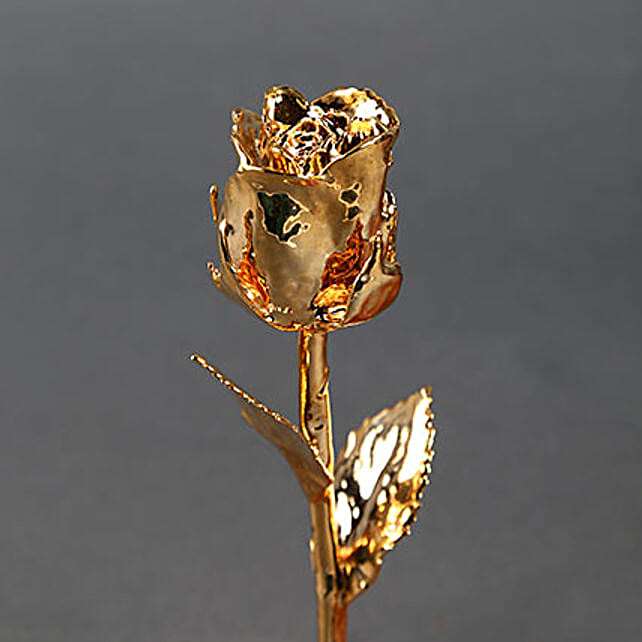 How about a golden rose for your sweetheart this Valentines 2019? There is nothing like a flower when you are thinking to gift something to your darling on a Valentine's Day. Have a close look at this delightful rose that comes with a gold plating. Just like the "Forever Rose" mentioned above, this too will stand the test of time and remind you of your golden love story. On Rose Day, Propose Day, or Valentine's Day – you should thus opt for this beautiful golden rose!
Red Romance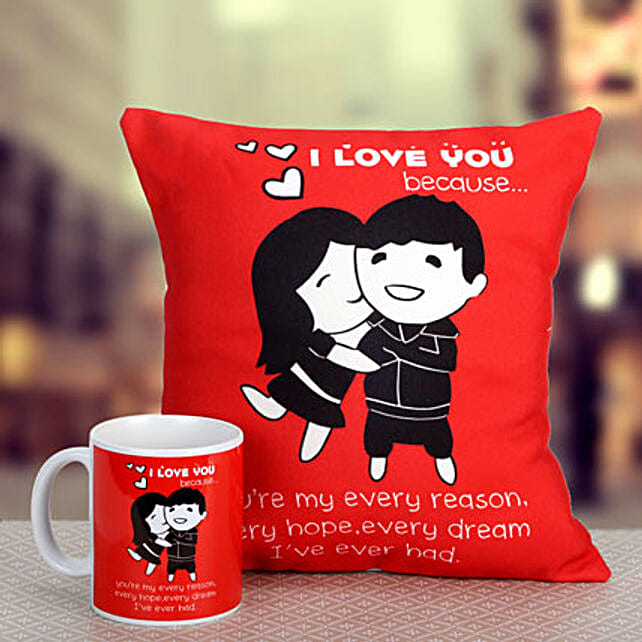 Red is the color of love and romance that also signify passion, courage, desire, strength, determination, and radiance. This is a gift combo of a cute cushion and a mug. The mug and cushion depict a boy and a girl smiling with the glow of love. The gifts read – I Love You because You Are My Every Reason, Every Hope, Every Dream I've Ever Had. Pamper your lover with this adorable gift combo and celebrate your relationship!
Personalised Set Of 2 Wine Glasses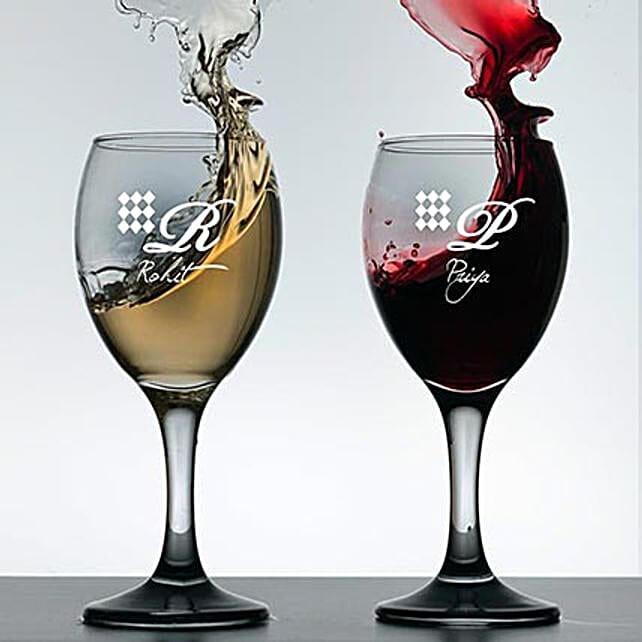 Pour some lovely wine and celebrate all through this Valentines Week 2019. Robert Luis Stevenson quoted- "Wine is bottled poetry". This set of personalized wine glasses would be a classy and elegant gift for your sweetheart this Valentine's Day. Belonging to a reputed brand, great quality is guaranteed. You can print the initials and name of yourself and your partner on these glasses. You can also explore more Valentine personalized gifts options for your loved ones.
Soul Mate LED Cushion Combo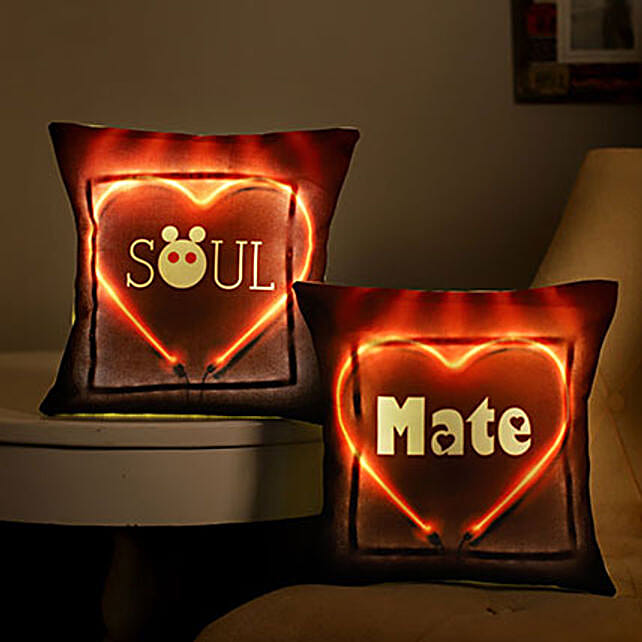 A cushion is cuddly & comfortable, and gives one enough relaxation just like the presence of a caring lover. Here is a special cushion for that special someone in your life. It is a set of 2 cushion that says – Soul on one cushion & Mate on the other. The specialty of these cushions is that they are LED cushions that would glow once you put the switch on. This gift signifies the fact that you complete each other!
100 Reasons of Love book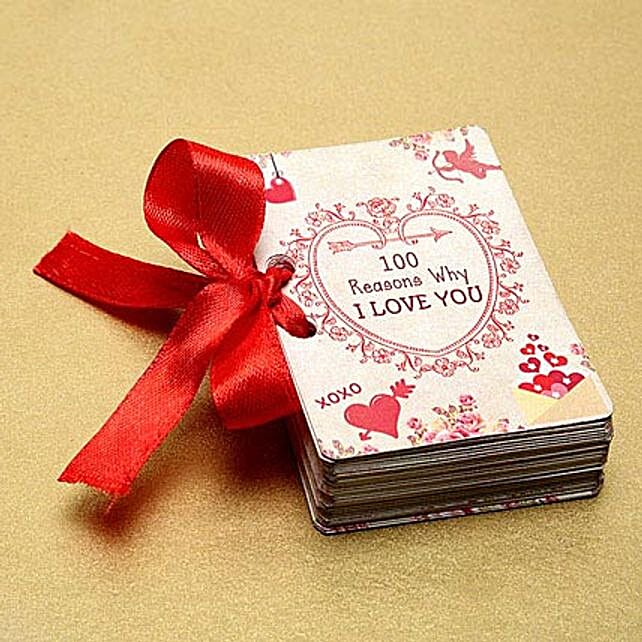 Shakespeare once said- "Love's Reason's Without Reason". But still if asked "why you love your partner?" there can be multiple reasons. This cute and sweet booklet expresses just that. So, let your man/woman know the reasons why you love them so much. Make them feel special because they are truly special.
Love Plant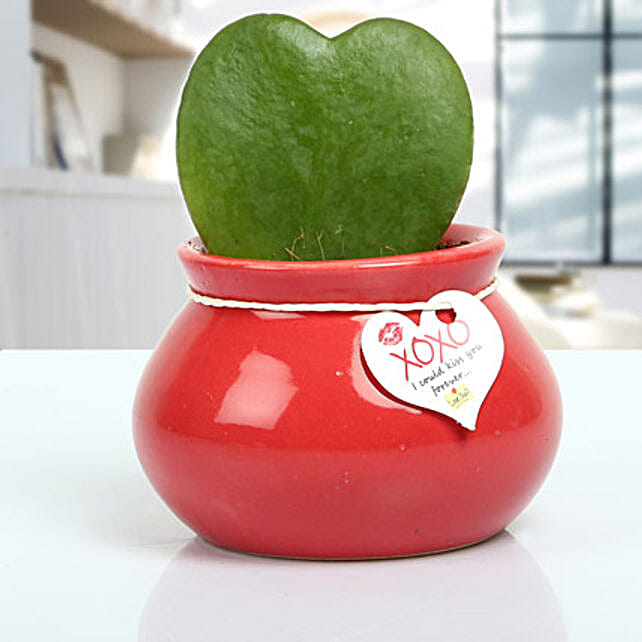 Love Plant is actually a Hoya Kerrii plant. It is a species of Hoya which is native to South East Asia. This plant is named after the British Physician & Botanist – Arthur Francis George Kerr. The uniqueness of this plant is the thick heart-shaped leaves. That's why it has gained popularity in the crowd of Valentine's Day gifts. In Europe too it is sold well during 14th February. If your partner is a plant lover, then you must order this lovely plant for Valentine's day gift.
Two Kisses are Better Than One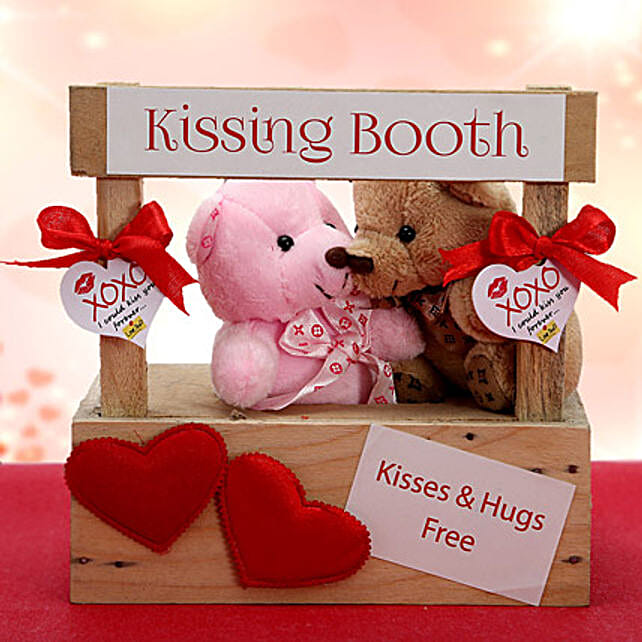 A kiss is one of the most normal expressions of love. This endearing and lovable gift celebrates intimacy in love in a cute manner. It is a wooden kissing booth where two cute teddy bears are kissing each other. The tag saying "kisses and hugs free" is also used on this product. You can order this trending Valentines gift for your sweetheart and greet on Hug Day, Kiss Day, or Valentine's Day. This would be a lovely home décor item and would add more positive vibes to your home.
You Might Also Like: