"All you need is love, but a little chocolate now and then doesn't hurt" Charles M. Schulz
So, yes, love is necessary for life & chocolate simply multiplies this love. And there is hardly any problem in life that a bar of chocolate cannot solve. When it comes to the matters of the heart, chocolates are surely one of the best gifts. From Cadbury to Hershey's, Ferrero Rocher to Lindt, Merci to Handmade chocolates – there are many brands and flavors of chocolates that have ruled the hearts of people. So, taking this legacy of chocolate gifts forwards, we are presenting some of the unique Valentines Chocolate Bouquets that you can gift to your sweetheart on Valentines 2019 and express your love.
Chocolate Heart Bouquet: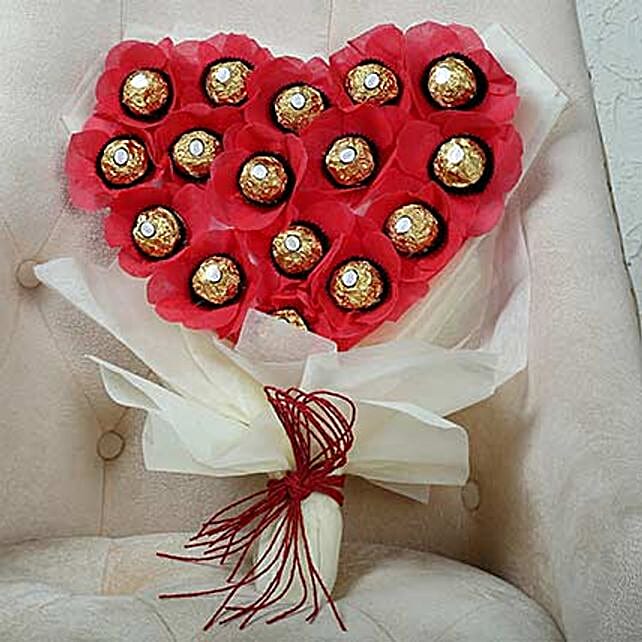 A heart-shaped arrangement of Ferrero Rocher chocolates is all you need to express your romantic love for that "special someone" in your life. The heart is the place where love resides and that's why you would come across various Valentine's Day gifts in this shape. Here is our special gift – a heart-shaped bouquet of Ferrero Rocher chocolates. We have used ravishing red & sacred white papers to add more beauty to this unique chocolate bouquet.
Elegant Ferrero Rocher Chocolate Bouquet: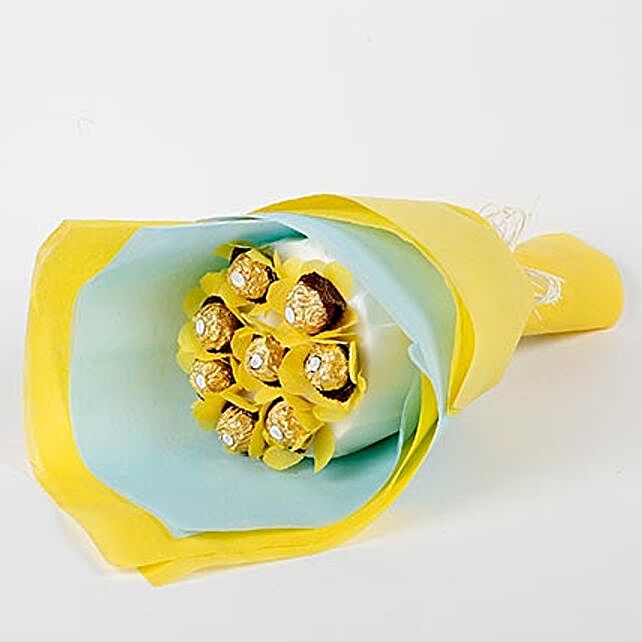 If you are looking out for something elegant, charming, sweet, and romantic gift to greet your significant other on Chocolate Day or Valentine's Day, then you can order this one. Blue and yellow papers are used to wrap the mouth-watering Ferrero Rocher chocolates which are adding that extra layer of grace to this chocolate gift.
Chocolatey Vase: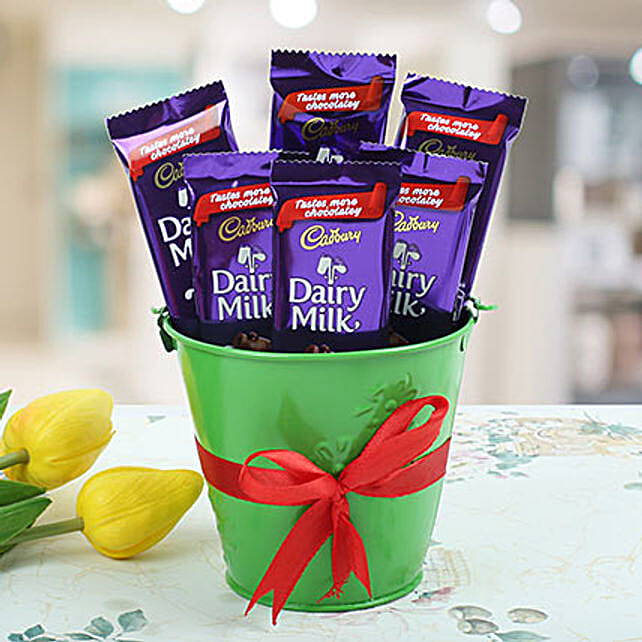 A vase filled with your favorite chocolates – Cadbury Dairy Milk is all you need to express your heartfelt feelings of love to someone special. As a chocolate day gift, you can send this adorable gift to your siblings, best friends, parents, and other relatives too. This vase can be later used and recycled to make funky home décor or desktop décor items.
Chocolatey Love Cone Bouquet: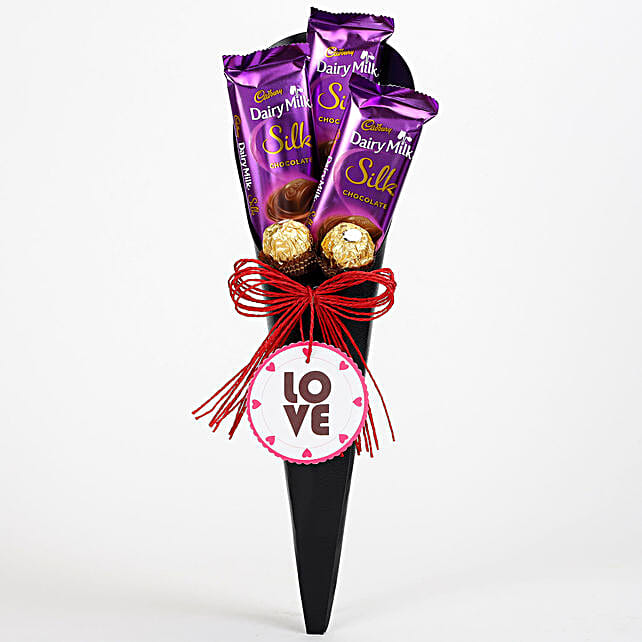 This is a small but sweet, cute but elegant gift for your sweetheart. The bouquet comes in a cone shape and contains Cadbury Dairy Milk & Ferrero Rocher chocolates. If you are looking for something sweet and simple to woo the heart of your loved ones, then this is the best gift. It also comes with a LOVE tag. As a gift for your best buddies also you can order this chocolate gift on Chocolate Day.
Sweet Love Assorted Chocolate Bouquet: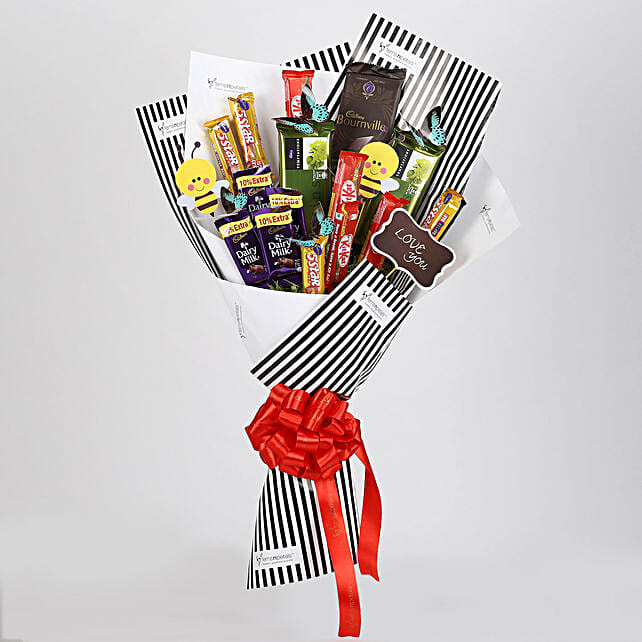 Chocolates express love & sweetness in a calm and composed manner. Here is a smart and stylish bouquet of awesome chocolates that would be a perfect gift for this Valentine's Day. You will find the all special Cadbury chocolates in this bouquet like the Dairy Milk, Kit Kat, Bournville Cranberry, & Temptations. Make your lover feel special with this cute presentation of chocolates.
Ferrero Rocher Chocolate Bouquet: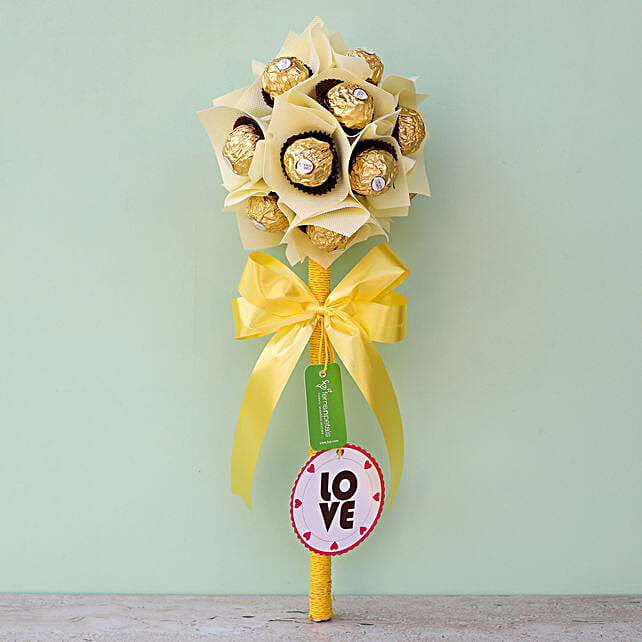 Ferrero Rocher is one of the most favorite chocolates among people around the world. The crunchy, nutty, yet smooth texture of this chocolate win hearts of people very easily. So, our product designers have come up with a unique Ferrero Rocher chocolate bouquet that looks like a blooming flower. 18 Ferrero Rocher chocolates are used to give a flowery appearance and it also comes with a cute tag saying LOVE.
Premium Rocher Bouquet: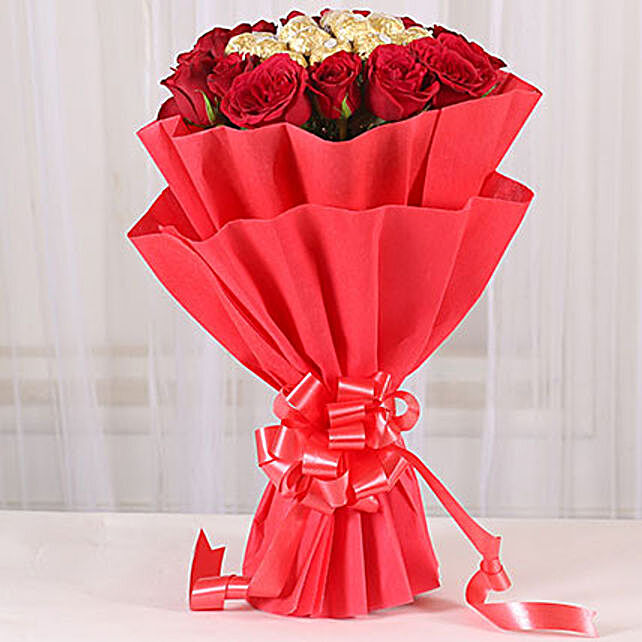 A premium Rocher bouquet involves the combination of some romantic red roses and the crunchy Ferrero Rocher chocolates. For the true lovers of Ferrero Rocher chocolates – this would be a perfect gift of love. You can thus aim to give this gift to your boyfriend or girlfriend, husband or wife on the occasion of Chocolate Day, Propose Day, or Valentine's Day.
You Might Also Like: