When it comes to celebrating certain occasions there are multiple ways of celebrating the same thing by certain people. As we know December is coming to an end and it's time for the big bang that is the New Year. Youngsters go out for clubbing and partying, somewhere clubs organize their parties, even small society gathering are all sorts of celebrations. Old aged people tend to spend this day with either with their close family ones or religious gathering of near and dear ones. As exchanging gifts is considered be a kind of ritual on occasions, it is difficult to think what to send for elders in your house as their taste is far away from fancy stuff.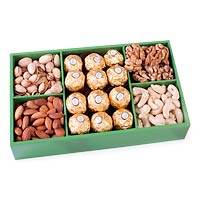 We have brought in a solution to you for this dilemma as well. We, at Ferns N Petals offer you healthy baskets of dry fruits to send to your parents, grandparents and other elderly figures at your home when you are staying away. Make them feel important by sending your warm wishes through our varied option of flowers in different arrangements and available with different items as hampers. Also choose from our collection of spiritual gifts like idols of gods and goddesses, lucky plants and a lot more home décor items. The procedure to reach us is very easy.
Give us a call at the nearest Ferns N Petals service outlet, all which is required on your part is to mention the details of delivery such as time, place and your message to be given. Also you can log in to our official website www.fnp.com. You can even customize your own bouquet. Do not get worried about anything regarding the delivery because we specialize in time delivery of your orders, even if it is the same day. We also have exciting offers and discounts for you in this festive season.
You can also send a personalized greeting card along with your hampers to send your regards to family and friends. This is the best way to mesmerize your loved ones by putting in a little effort and we will do our best to provide you with quality service. We, at Ferns N Petals believe in spreading happiness all around in terms of basic ideas like these. When you make joy, it is incomparable and our notion finds itself fulfilled. We strive to make you happy with our supplies.