Gifts are generally slotted for special occasions and festive moments. But when it is about personalised gifts, you don't really need any special event to gift them. While missing your husband by your side or when you are feeling sorry for something you have done to your best friend – nothing can be better than a personalised gift. These special gifts are no less than a token of love for your loved ones. They express your unconditional love and somehow capture a moment forever. You can never stop loving or cherishing these unique gifts because they always make you travel down the memory lane.
Have a look at some of the most unique personalised gifts and also know about their features.
Personalised Handbag
This White & Brown Zipper Hand Bag would be a perfect gift to surprise any woman. A handbag is a very important accessory that no woman can miss while going out. You can carry almost all your everyday essentials in this bag. Personalizing a handbag thus makes it exclusive for someone.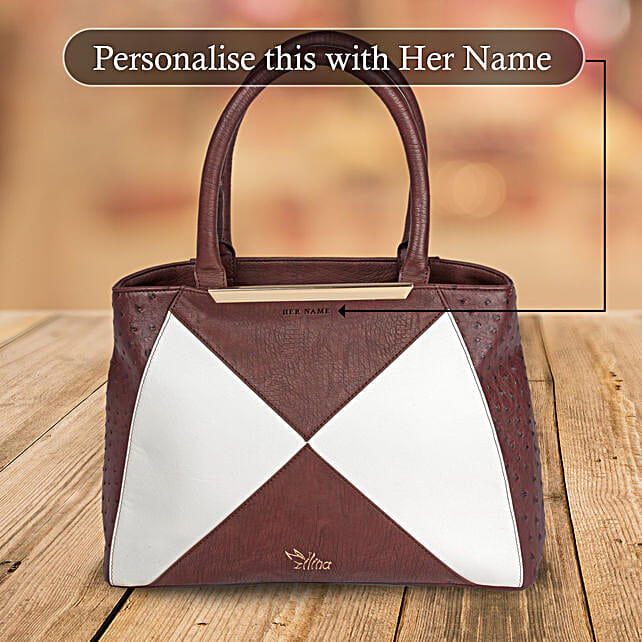 Features & Benefits:
The material used for this personalised handbag is premium grade PU (Polyurethane). This material is resistant to water, oil, and grease. It is also resistant to fungus growth and comes with a long life.
This bag comes with Poly Twill Lining which means it is easy to care and wash.
The size is standard and can hold many things and at the same time would complement both traditional and modern dresses.
Personalised Watch
The prime purpose of a watch is to show us time.  But over the years, a watch has become more than just a mode of showing time. It is a style statement that adds much spark and elegance to one's personality. The overall appeal and look of a watch would definitely increase when it is personalised. Here are some of the salient features of this Personalised Silver & Golden Pretty Watch.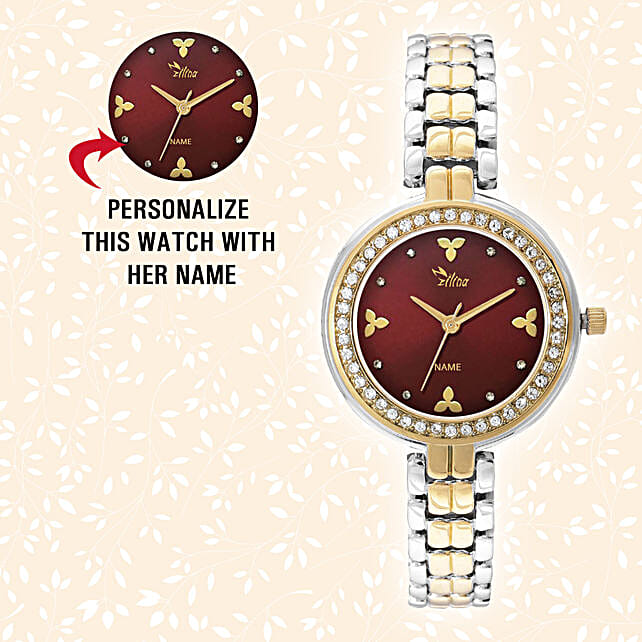 Features & Benefits:
The color – gold and silver make a classic pair. These colors are adding elegance and sophistication to the watch.
The back of the watch is made from stainless steel. Therefore, the major advantage is that it has high corrosion resistance and you can use it rigorously.
This beautiful personalised watch comes with ion plating which makes this watch resilient and durable.
One can wear this watch comfortably with any traditional or modern dress.
A name or special date on this watch will make it exclusive for one person and thus the possibility of a thief stealing it would also be bleak.
Personalised Passport Cover
Carrying passports in hand is so outdated when you can carry them in your unique style with personalised passport covers. It becomes really cool when you are traveling abroad to make wonderful memories – isn't it? A passport is safe inside it and the chances of it getting mixed up with other passports is zero. This makes a passport cover really an important thing to include in your list of important things. Or you may gift it to someone who travels much.
So, you can consider this unique passport cover which is stylish. It will speak of the personality of a person.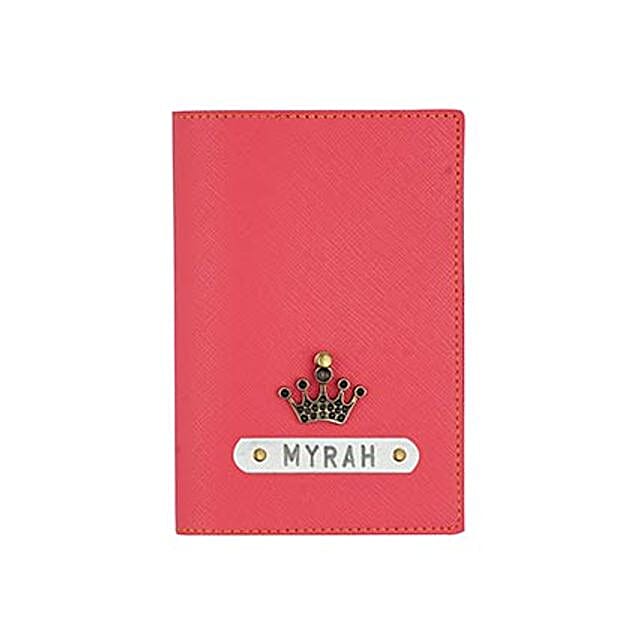 Features & Benefits:
This cover will guard the passport and keep it safe from dirt, dust, or any other wear and tear.
You can easily locate your passport in your bag when it is inside a passport cover.
There are two additional pockets in this passport cover and you can use them for keeping your other ID's, tickets, slips, or some currency.
This cute passport cover is made from PU leather and that means it is sturdy and durable.
You can select a proper charm as per your choice and that would attach another curiosity to this passport. For example, if you are a music lover, then you can settle for this guitar charm and in case you are an ace photographer, you can select the camera charm. If you want to gift it to someone on a birthday, then, you can choose a zodiac sign charm.
It would be a great travel companion. Your passport cover is a small thing but it can make others jealous of your possession because it is a smarter way of carrying your passport.
Personalised Chocolates
Who doesn't like chocolates? You don't need any reason or special event to enjoy a piece of chocolate. They denote happiness, love, laughter, and friendship. It is so easy to spice up any normal day with a piece of tasty chocolate. When your best friend is sort of upset, just hand over personalised chocolate and see the magic. Or simply when you haven't seen your children for a long time as they are away – just send some personalised chocolates.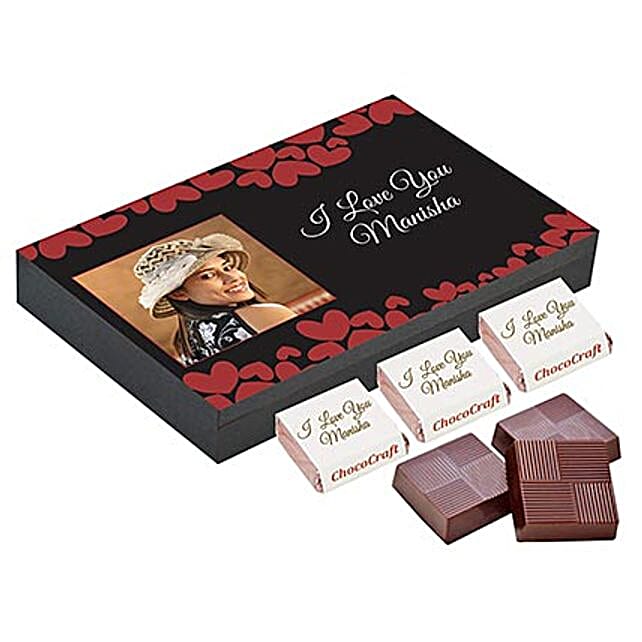 Features & Benefits:
The mesmerizing roasted almonds, butterscotch, fruit & nut flavors make the chocolates really yummy and enjoyable for everyone.
Each piece of chocolate come with a personalised cover and that's the prime USP of this gift.
A beautiful sturdy wooden box holds these mouth-watering chocolates which you can use later to keep your knick-knacks.
The image with a message right on the cover of this wooden box makes this gift a treasure forever.
Personalised Wine Glasses
Life is really wonderful while holding a glass of fine wine at the terrace or balcony in the company of loved ones. You can jazz up your regular get-together moments with a personalised set of wine glasses. If your parents enjoy their evening sip of wine, you can order this set of wine glasses for them. They will be really proud of your choice of gift.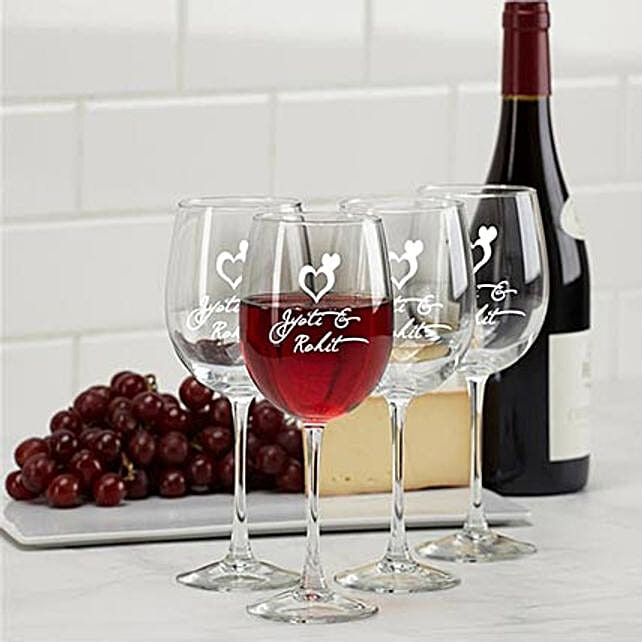 Features & Benefits:
This set of wine glasses can hold at least 200 ml of wine and that's a generous amount.
The name provided will be engraved on these glasses and that means nothing can wipe away the name and cute hearts design on these glasses.
These glasses are dishwasher safe.
Enjoying wine is a lot about the aroma. The aromas release as the alcohol volatilizes from the surface of the wine. The surface area of these glasses are quite good and thus you can enjoy the optimized release of aroma while drinking your wine.
You don't need to say anything at all when you have such beautiful personalised gift ideas at the click of a  button. These gifts would do all the talking of love, care, friendship, harmony, and romance.
You May Also Like It :