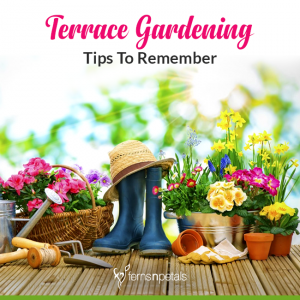 Gardening is a wonderful hobby. In fact, it is the most selfless and charitable hobby. Because a plant that is grown today would aid the upcoming generations by providing healthier and fresher air. This is one of the hobbies that should be encouraged more among people. In ancient times when land space was available in plenty, gardening was easier. But now with the high rise and mass urbanization, gardening as a hobby requires meticulous planning. First of all, you have to find out which part of your house allows you space to carry your gardening activity. As terrace is one of the empty spaces in almost every home, you can use this space for gardening. Here are some valuable tips to remember for your terrace gardening.
Decide A Theme: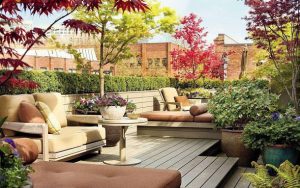 Deciding a particular theme for your terrace garden is very important because that would attach a personality & character to your open terrace space. If you want a quite leisurely kind of look where you want to spend most of your time on a weekend or holiday, then the furniture has to be cozier with space for an artificial pool, some comfortable cushions, etc. If you want a formal look, then use black or solid colors planter and pots with simple wooden sofas.
Use of Space: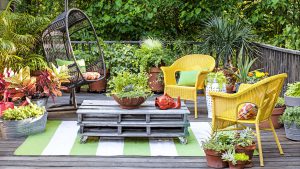 For creating a nice garden on your terrace, one of the prime things to keep in mind is the "space" that your terrace allows you.
For small terrace, use small sized planters, vertical planters, or upside down planters. If you want to enhance your small space, the raise the walls of your terrace a bit so that various climbing plants can be brought. In case, you have a large space on your terrace, then you can divide it into various segments depending on plant types. For example, those plants that require less sunlight can be placed under a shade. There can be a separate part for the vegetables, flowers, and fruits. If you want to utilize your big terrace space for gardening as well as for hosting parties, then use the central portion of your terrace in a circular or square shape to grow your plants. The rest of the place can be used to keep tables, barbeque, tools, or low height beds, etc.
Lighting: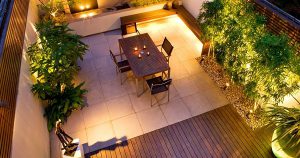 Proper lighting will further enhance the great looks of your terrace garden for sure. And to make your terrace garden look extremely beautiful, smart use of lighting is necessary. Remember that with bright yet warm lights, your terrace would look larger.
Vertical Space: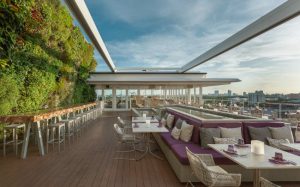 Whether you have a large space on your terrace or small – vertical gardening will always enhance the great looks. For large terrace space, dedicate only one wall for vertical gardening. That will become the focal point of your terrace. It will provide a great backdrop for your numerous photo shoots and also keep your air clean. For small terrace, you can use two walls for vertical gardening. You can utilize the small terrace space and make the atmosphere cozier. How to do that? You use one large planter and maximum 5-6 vertical planter and keeping this vertical planter wall as a backdrop place your comfortable sofa.
Large Trees: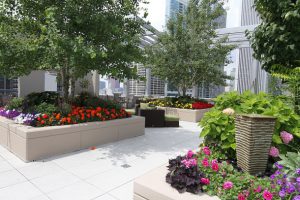 In case you have a very large space on your terrace, then plan to bring a shady tree. Surround these large trees with small annual flowering plants or colorful foliage plants. These would add warm and bright colors to your terrace garden. In case the surrounding view from your terrace is not so nice, then also large trees or shrubs would help you.
You Might Also Like: