The presence of plants in any space helps make the air quality better. Surrounded by plants people breathe fresher air and feel more relaxed. With shrinking sizes of residential spaces, plants are the best ways to decorate home with beautiful pieces of nature. The right kind of planters can enhance the beauty of plants and make them look even more attractive. Our amazing range of colorful pot plants starting @299 will blow your mind off. They'll transform the look of your interiors and make it look more welcoming.
Neon Money Plant in Green Square Pot with Boho Lace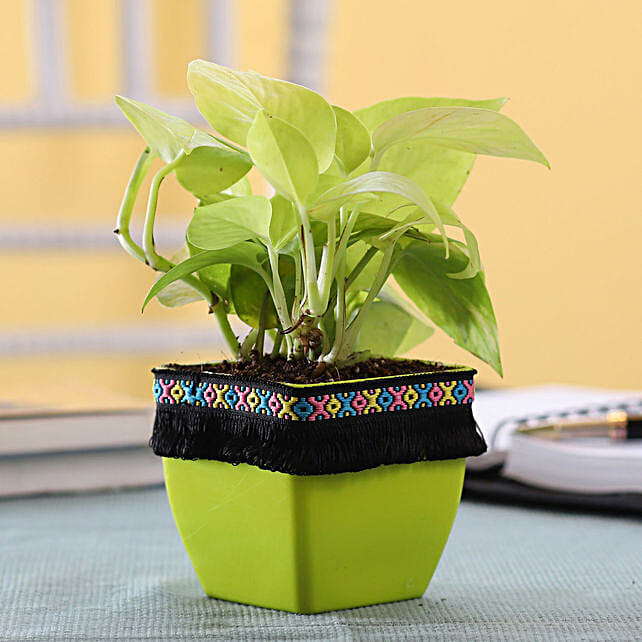 This beautiful money plant is presented in a neon green square pot, which is decked up with decorative colorful lace. The lace surrounding the neck of the planter is greatly enhancing the beauty and appeal of the plant. The compact size pot planter is best to keep at the side table or study table and integrate green color in your home décor.
Spider Plant in Square Glass Pot with Flower Lace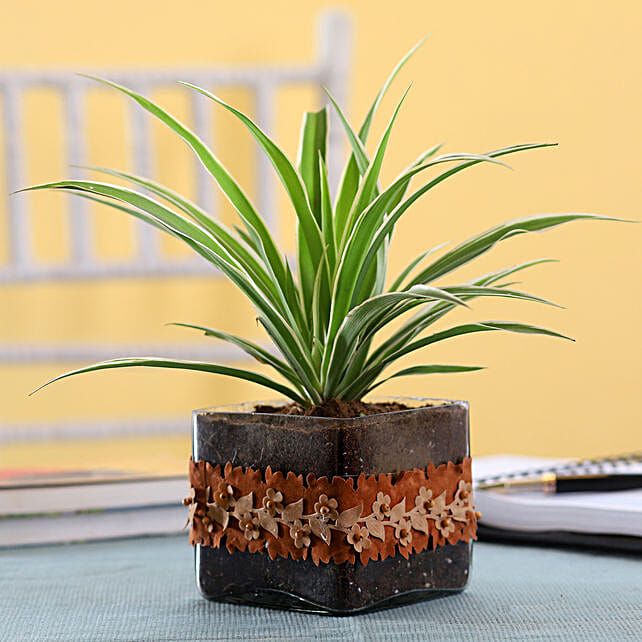 This delightful spider plant comes in an attractive square glass pot decorated with brown flowers lace. The floral lace is giving a bohemian look to the planter and enhancing the overall appeal of the plant. It would make a perfect birthday gift or housewarming gift for a plant lover.
Money Plant in Abstract Print Yellow Pot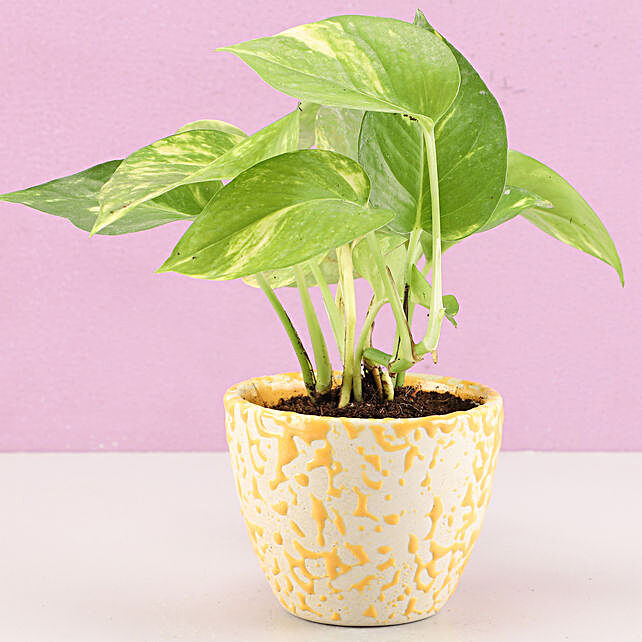 The gorgeous money plant in an abstract print yellow pot will make an interesting addition to your home. The compact size of the pot makes it even more desirable and easy to keep anywhere at home. You can wish a friend or a loved one prosperity and good fortune by gifting this money plant in a yellow pot.
Jade Plant in Orange Metal Pot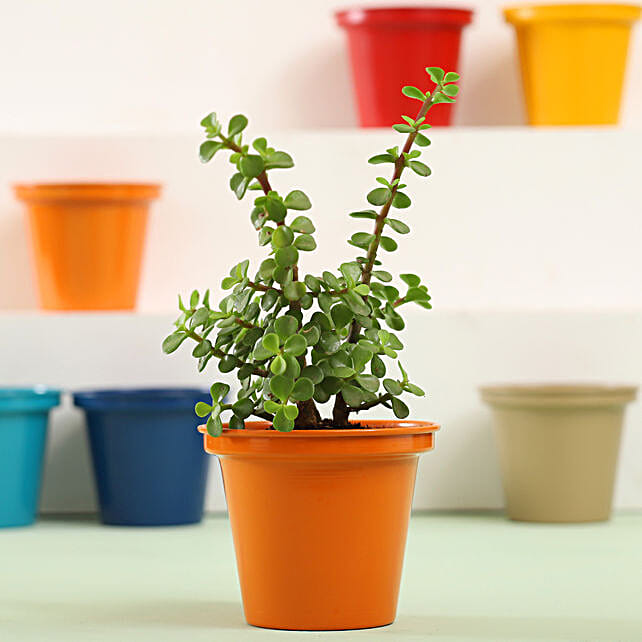 The mini jade plant presented in a bright orange metal conical pot with the border is an absolute delight for eyes. Unlike plastic pots, this metal pot will last longer and keep adding beauty to your abode. You can place the pot in your balcony or living room to add a splash of color that and create a warm atmosphere.
Ficus Compacta In Off White Metal Pot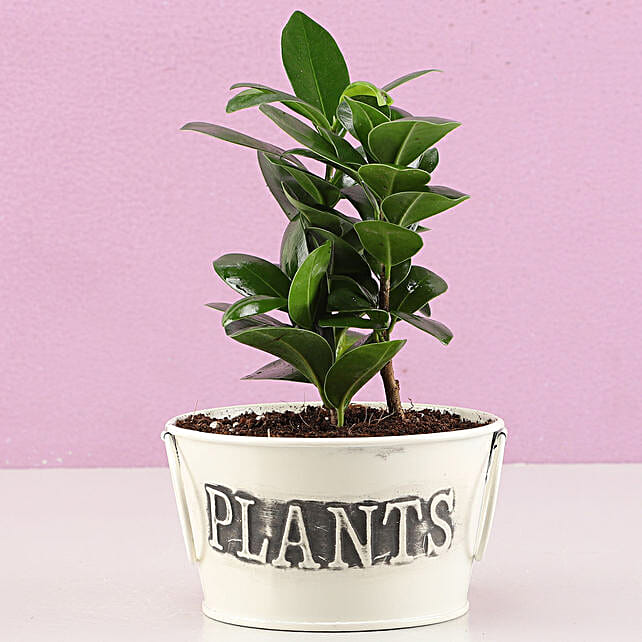 The appealing ficus compacta plant comes in an off-white metal pot. The planter has a vintage look that will add a dramatic and contemporary look to home interiors. The metal planters are durable that often increases in beauty and charm as they age and they do not chip, break or crack like plastic planters.
2 Layer Lucky Bamboo in Brass Pot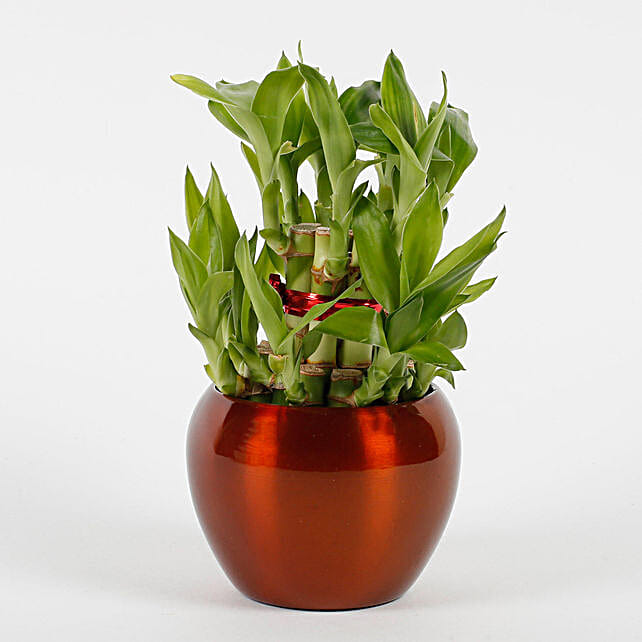 The two-layer lucky bamboo comes in a shining pot made from brass. It would make a great decorative piece for the bedroom and living room and fill the entire space with positive and calming vibes. The brass planters have great strength, hardness, and corrosion resistance that prompts healthy growth of plants and eliminates the risk of the metals seeping into the soil, unlike cache pots.
Sansevieria Hahnii Jade Marginata Plant in Indigo Blue Irish Tumbler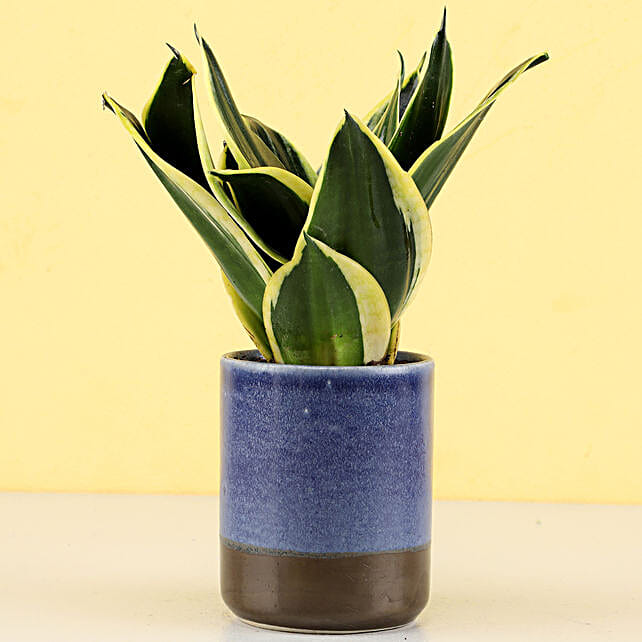 The charming Sansevieria Hahnii jade Marginata plant comes in elegant indigo blue Irish ceramic tumbler. It is handcrafted with the satin-matte and reactive glaze. This modern and contemporary pot is a part of our special handcrafted studio pottery collection that would make a perfect gift for festivals and housewarming occasion.  
Explore our wonderful range of plants online that comes in affordable and colorful planters. They are perfect to give an instant facelift to your living space.