"The environment is where we all meet; where we all have a mutual interest; it is the one thing all of us share."
-Lady Bird Johnson
As quoted by Lady Bird Johnson, the environment is what we all have in common and it's a mutual interest for the entire human race. Good environmental conditions mean, we all survive longer, and live a healthier life.
Just like we take care of our mother and respect her, we should be respecting mother nature as well. But have we forgotten how important she is? Have we stopped embracing her beauty and started taking her for granted? We certainly have. She is sick, and all of us can see the symptoms like air pollution, water pollution, global warming, marine life disturbances, ozone layer depletion, and I can go on.
We all can take little steps towards a greener world, fighting these problems and making sure our mother nature is healthy again. One step taken by the Indian government is banning plastic all over the country, so here is another by us- using plastic substitutes.
Growing up, we all have seen flowers wrapped in cellophane sheet commonly and after the plastic ban, my first thought was- what about flower arrangements and bouquets? But we can change that too.
Here are top 7 Eco-Friendly Flower Arrangements by Ferns N Petals:
Bright Bouquet of Lilies & Alstroemeria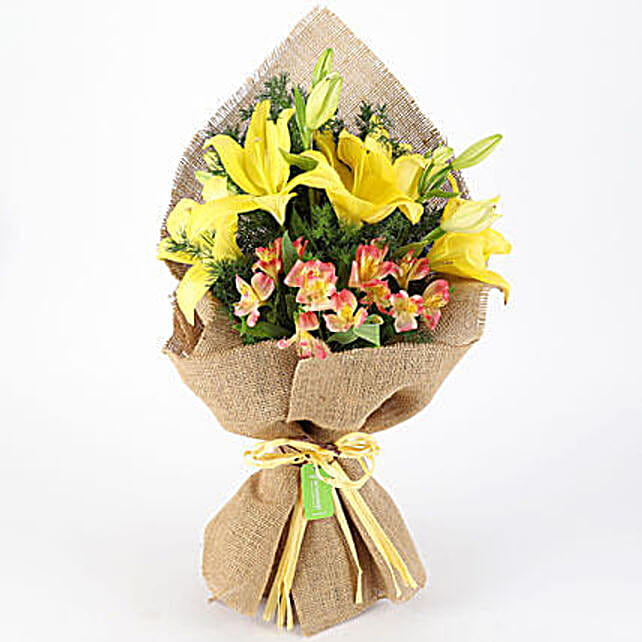 A beautiful bunch of yellow lilies which symbolize happiness, and feeling of walking in the air. Combined with exotic Alstroemerias which symbolize support, friendship, new beginnings, & achievement. This bouquet wrapped in jute is perfect for someone who you wish to cheer up and motivate for achieving their dreams.
Colourful Bouquet Of Mixed Flowers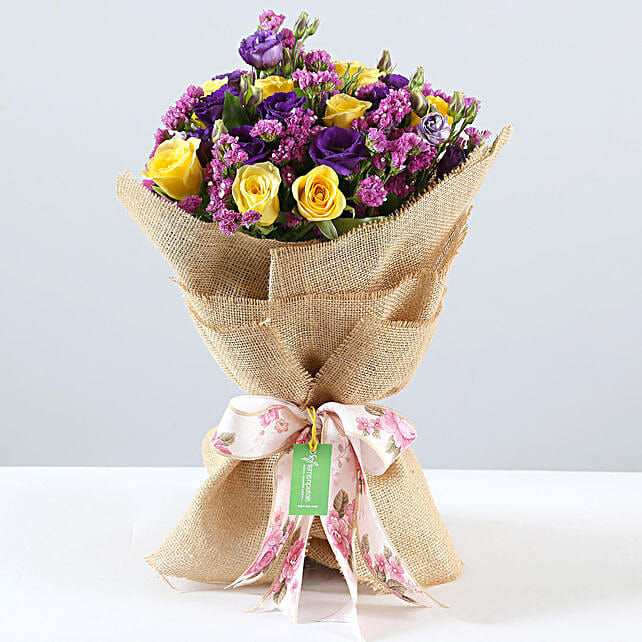 Colourful, eco-friendly, and exotic- this flower arrangement is the complete package. It comprises of yellow roses, Blue Lisianthus, and Pink Statice. These gorgeous flowers are wrapped in jute perfectly symbolizes old fashioned values, combined with calm thoughts and can be gifted to an old friend reminding them you'll always be by their side.
Mixed Roses Bouquet In Jute Wrapping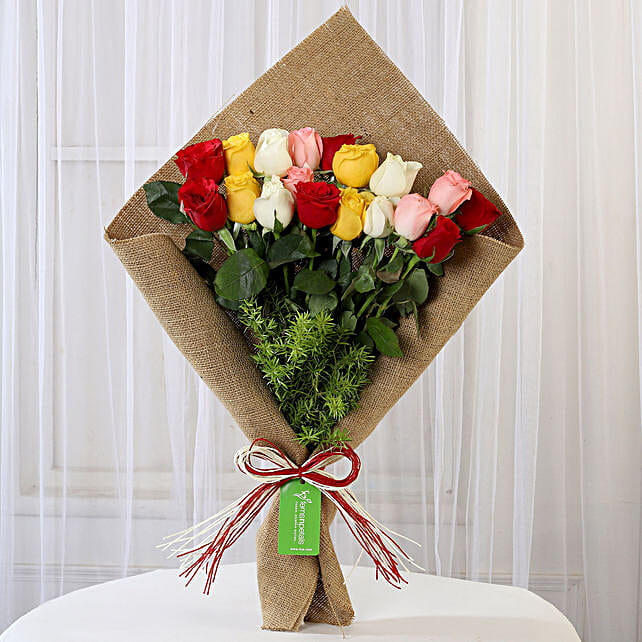 Roses are one of the most loved flowers on this planet. This flower arrangement has red, yellow, white, and pink roses combined and beautifully wrapped in jute. With the colourful roses & elegant jute wrapping, this bouquet looks really refreshing and can add charm to anyone's day.
Layered Red Carnations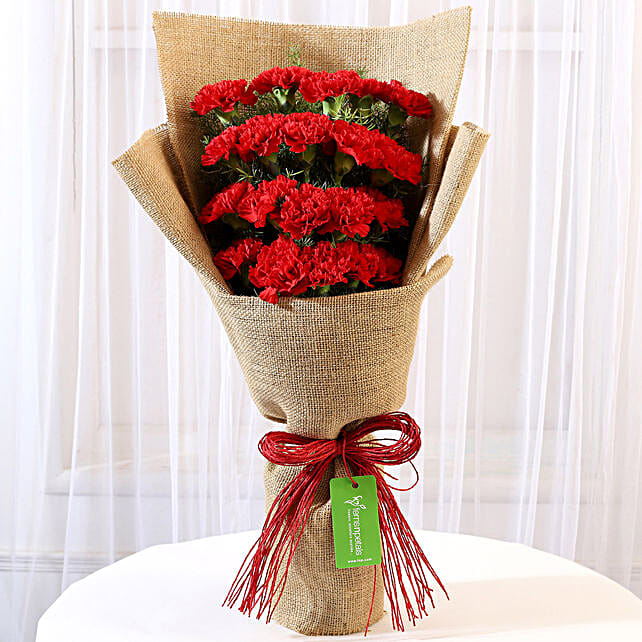 Known as the flowers of god, carnations are a classic fragrance and charm. They have an extremely long vase life which is 14 days. They are found in almost every colour. This layered red carnation flower arrangement wrapped in jute is a flawless expression of admiration and love.
Bunch Of Purple Orchids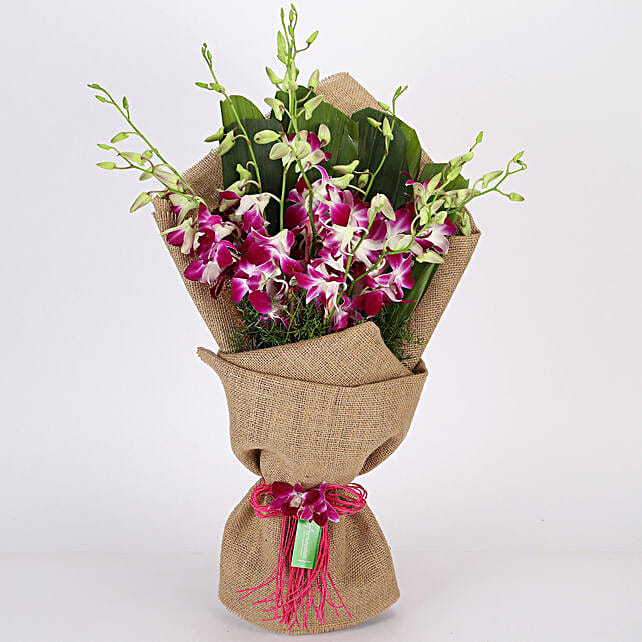 Mesmerizing purple orchids wrapped in jute, this bunch is an exemplary example of royal elegance. This stunning eco-friendly flower arrangement is meant to be given to someone you admire them and respect them. It is a royal expression of love.
Red Anthuriums
Exotic flowers with heart-shaped leaves, anthuriums are also known as Flamingo Flower, Boy Flower, Painted Tongue and Painter's Palette. They are bold bright red flowers which are absolutely enticing and long-lasting. They symbolize hospitality and combined with jute wrapping, they are perfect to be gifted to a friend wishing them luck.
Red Protea Bunch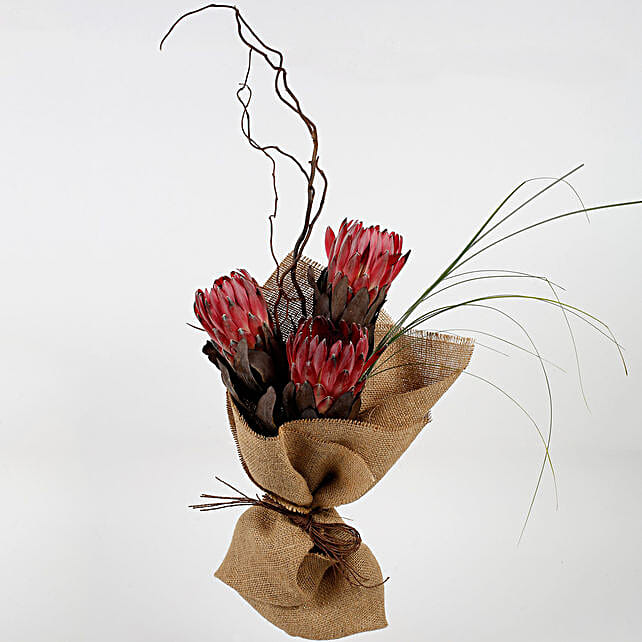 One of the oldest flowers on Earth, protea are beautiful exotic blooms. These striking flowers have various symbolisms in different cultures. Red Protea flower is a classic symbol of passion and love. One can usually present these flowers on occasions of happiness and success.
How is Jute Eco-Friendly?
Why do we shift to jute? Here is the answer to that:
Jute is bio-degradable and compostable.
It is also recyclable.
Jute can be grown without pesticides and fertilizers.
Cultivation of jute enhances the soil fertility which benefits future crops.
You can reuse jute.