Since times unfathomed, flowers have been conveying the emotions of our hearts to our loved ones. In this highly changing world, it is these flowers who have never stopped captivating our minds and hearts. Isn't it?
Being the number one florist in India, it is our utmost duty to bring to you flowers in the never seen before avatar. So, if you are sort of bored by the bunches and bouquets, you can explore our world of premium flower boxes. These premium flower boxes are beyond beautiful and elegant. The hand-picked farm fresh flowers are arranged inside these handmade boxes with care and carry a special tone too.
Experience our latest premium flower boxes and gift a treasured moment to your loved ones.
Chocolates & Shaded Roses Box
Beautiful shaded roses are kept in a special round pink box that has a beautiful pocket at the lower end. This cute pocket consists of 6 pieces of Ferrero Rocher chocolates. Your loved ones would be mesmerised with this thoughtful gift.
Stylish Box Of Red Roses & Chocolates
30 majestic red roses are arranged carefully in a white square box along with the Ferrero Rocher chocolates (8) just like the product mentioned above. It will be a grand romantic surprise for your sweetheart.
Roses & Lisianthus Box
White roses (13) and purple Lisianthus (6) are creating the correct royal vibe and thus would be appreciated by anyone and everyone. Accompanied by 6 Ferrero Rocher chocolates, this combo is worth remembering.
Chocolates & Golden Roses Box
For that most precious person in your life, you can always opt for this grandiose sprayed golden roses (25) and 8 Ferrero Rocher chocolates.
Grand Hydrangea Arrangement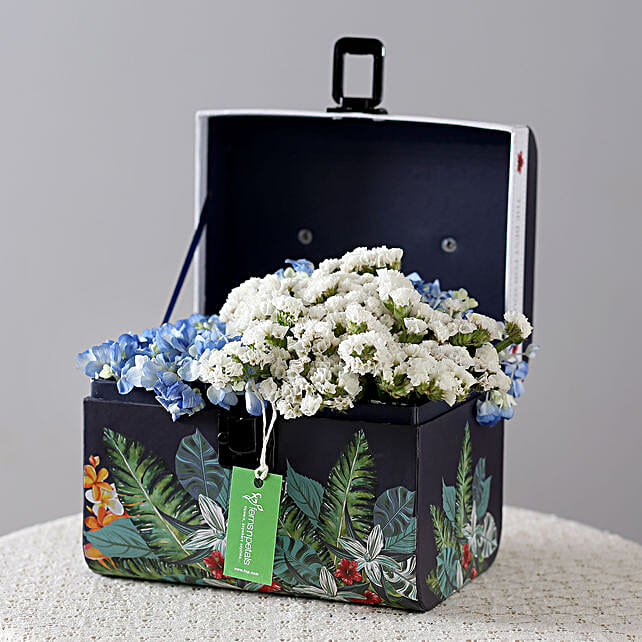 To show your true emotions of love or to apologise to someone special, this splendid premium box arrangement of blue hydrangea (1) and white statice (5) would be just perfect.
Asiatic Yellow Lilies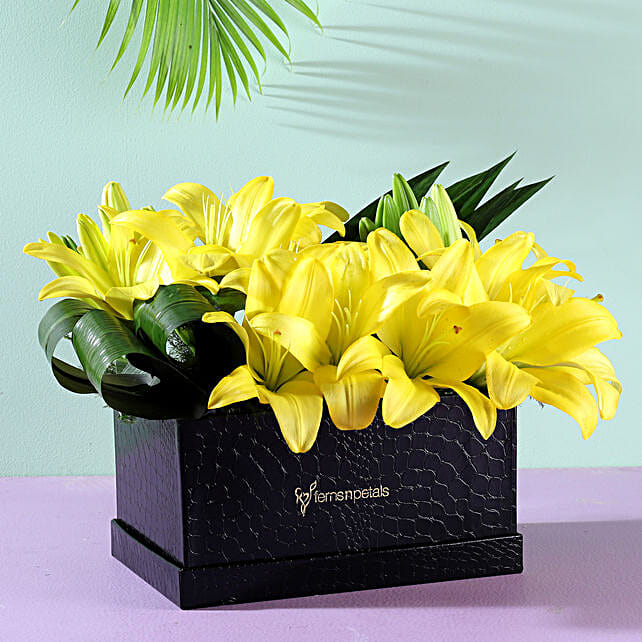 Let your loved ones enjoy the vivacious view of these bright & gorgeous Asiatic lilies.
Hope you mesmerise your loved ones with these gorgeous flower arrangements.