Mini garden in a glass container, that is what a terrarium means. The word terrarium is made up of the Latin words terra meaning "land" and arium meaning "place" or "home". These beautiful earthy wonders are perfect for someone who does not have a green thumb and make as excellent décor for your home and garden.
Since FNP cares about the environment, we have launched a wide collection of Open Terrariums. Do not have an open garden? Need plants to purify the air in the house? Want Plants in the house but lack of space? Do not have a green thumb? Want to improve your home décor with greens? Want to feel closer to nature?
The answer to all these questions is one- Terrariums. These terrariums are compact and will fit any corner of your house. They are beautiful and will help you in purifying the air. Moreover having these gorgeous plants will make you feel closer to nature, while you sit back and sip coffee in your living sip.
Handcrafted with 100% natural layering of preserved green moss, potting mix soil, and riverside gravel, here are few hand-picked terrariums from our latest collection:
---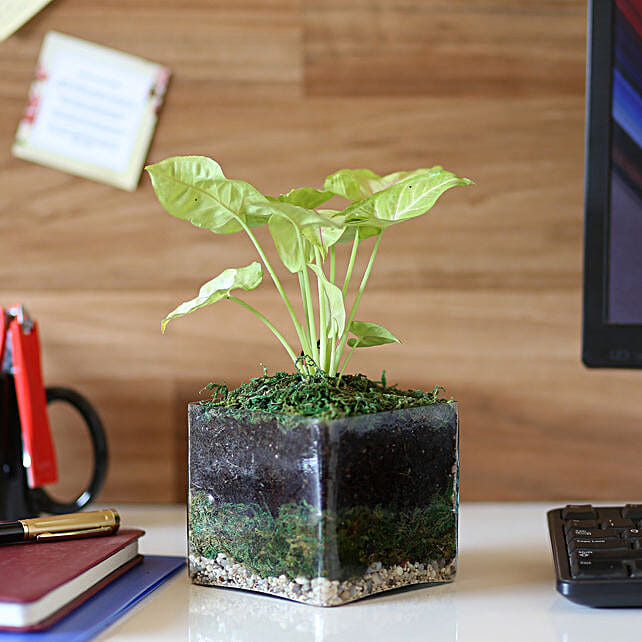 Syngonium is a common house plant, which makes it a perfect choice for a terrarium. This beautiful foliage, with air-purifying qualities, is commonly known as the arrowhead plant due to the shape of its leaves. It is also known as the arrowhead wine and goosefoot. Syngonium plants have a high transpiration rate which helps in increasing humidity in the room. Moreover, it was found in 2013, that Syngonium plant removes benzene from the atmosphere, along with volatile organic compound (VOC)- formaldehyde.
---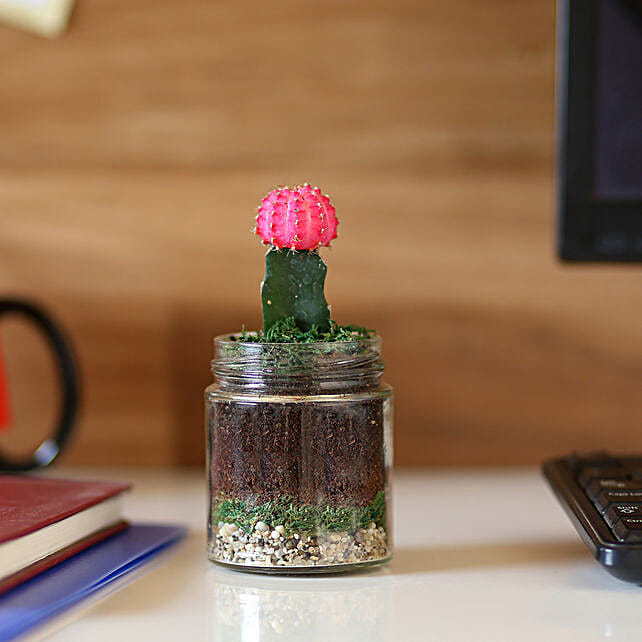 Who said cactus can't be colourful? This beautiful cactus plant comes in vibrant bright colours of hot pink, brilliant orange and even an almost neon yellow. They are coloured because they lack the ability to produce chlorophyll, which exposes the red, orange, or yellow pigmentation. These beautiful terrariums are perfect if you are looking to add some colour to your living room.
---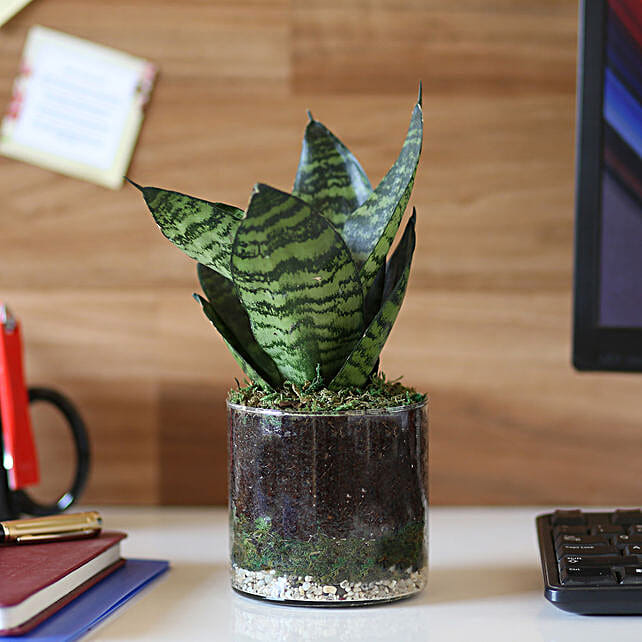 Snake plants do really well in terrariums. It is one of the best plants to keep inside the house because apart from being low maintenance, mother-in-law's tongue has many benefits. Snake plants are excellent air purifiers and absorb toxins like formaldehyde, nitrogen oxide, benzene, xylene and trichloroethylene from the air. The plant is also one of the best oxygen plants, that helps you sleep better.
---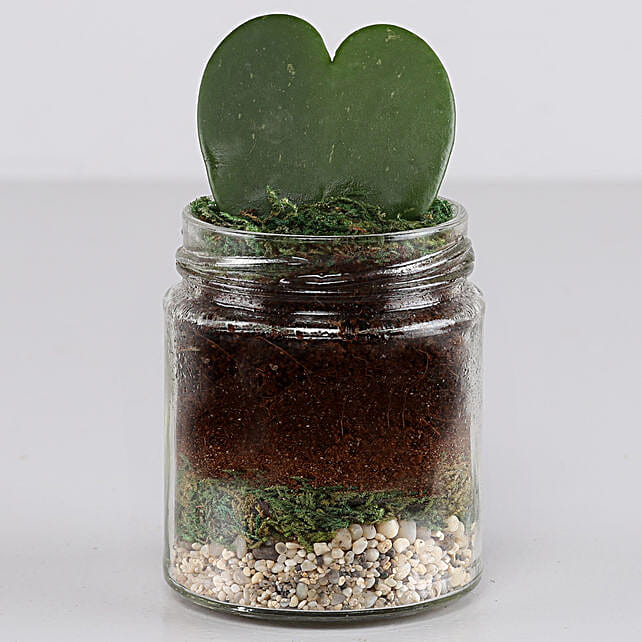 Native to South-East Asia, Hoya plant is a beautiful succulent. The distinctive feature of Hoya Kerri is that the leaves of the plant are thick and heart-shaped, due to which it is known as the Lucky Heart and sweetheart hoya. This low maintenance succulent is sometimes gifted on Valentine's Day as a quirky gift. It often blossoms in summer and is a perfect house décor plant.
How To Take Care Of These Beautiful Terrariums?
Placement– Place your terrariums in a bright spot, possibly where it has exposure to the sunlight.
Watering guideline– 40-50 ml using a water dropper. Water once in 8-10 days depending on whether the soil is moist or dry. Make sure you water only the base and not the leaves.
Cleaning– Remove the dead leaves, and residue regularly for a healthy and happy plant.
Know More About Terrariums
Open terrariums are best suited it plants which prefer less humidity and soil moisture. Also for the plants which enjoy more light, and air.
The very first terrarium was designed by Nathaniel Bagshaw Ward, in 1842.
The longest surviving terrarium was owned by David Latimer, an engineer. It has been living for 60 years now and has been opened only once.
Terrariums have several health benefits like- it helps in the stress/anxiety reduction, uplifts the mood of people around, purifies the air, sharpens focus, and lowers heart rates & blood pressure.
We have a wide range of these mini glass wonders you can choose from to make your house greener.